MD332 Listening Tests and Conclusion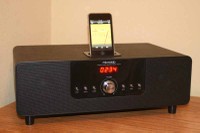 Mr. Mister's "Kyrie" was the first track we brought up (after our initial testing to note distortion and max volume). Like those prior tests, we found that we could actually crank the volume up to 60 (the maximum) without even a hint of distortion. What we liked was the tactile bass hits that came when the second verse kicked in. It's something you'd expect would take a larger driver and certainly not the kind of sound commonly found in an oversized clock radio. Male vocals were clean and precise, much more so than on our iHome iP90 clock radio that we used for comparison (which, oddly enough costs just $20 less than the MD332). Of course, the iP90 is about 10x better in terms of its functionality as a clock radio, but if sound is your preference, then we're going to lean decidedly towards the larger Microlab product. The MD322 is simply a superior sound reproduction device unlike any other product we've yet seen. Next we queued up Michael Jackson's "Man in the Mirror" and settled back to hear the percussive kick drum, topped by crystal clear vocals that showed off an impressive top end. Mid-range was a tad weak, but that's to be expected with a smaller driver configuration, and we could hardly believe how much better it sounded than a majority of other desktop audio systems we'd listened to in the past.
We wrapped up our listening session with Sting's "If I Ever Lose My Faith" which we felt did a great job of revealing the texture and smoothness of the 5.25" ported bass driver that gives the Microlab MD332 its impressively low reach. Cymbals and the bell of the ride came through clearly and without that compressed sound that plagues smaller drivers that try to handle full-range frequencies. It was nice to hear a really smooth transition from the 2.5" speakers to the 5.25" bass driver. The effect was consistent in its ability to render a complete audio soundstage. Stereo separation wasn't stellar, but we didn't expect it to do too much since the speakers are only about a foot apart.
Conclusion
OK, this is where it gets hard. It's not hard to recommend the Microlab MD332 for its incredible sound. It is, however, to enjoy it for a clock radio. In fact, for this radio, you don't need a night stand, you need a night "table". The MD332 is, with the notable exception of its odd quirks, an incredible product. If you want a great radio - this isn't it. If you want an alarm clock that tells time to people who aren't in the military - this isn't it. If you don't want to take over your entire night stand with a radio, this isn't your product. But, if you want above-par sound and a value that can't be beat, this is your product. Now the only question remaining is: Where will you put it?
About Microlab
Microlab Technology Co., Ltd. is an ISO 9001 certified manufacturer. It was established in Jan, 1998 as a Sino-America Joint Venture invested by Shenzhen Microlab Technology Inc. and International Microlab in USA. It specializes in the R&D, Production and Marketing of AV products and computer peripherals. Through years of development, Microlab has set up over 40 production lines to produce Speaker, Case & Power Supply, Keyboard, DVD Player, MP3, USB Flash Drive and Card Readers. From the setting up of factory in 1998, Microlab has started to export its products to international market by establishing the "Microlab Technology (Hong Kong) Co., Ltd." and acquiring the import & export rights from the government. Through 4 years efforts of over 2000 employees , Microlab products now enjoy a good reputation in over 40 countries from Southeast Asia, Europe, North & South America to Middle & Far East countries, meanwhile Microlab Technology has become a long term reliable partner of a lot of famous OEM brands.
The Score Card
The scoring below is based on each piece of equipment doing the duty it is designed for. The numbers are weighed heavily with respect to the individual cost of each unit, thus giving a rating roughly equal to:
Performance × Price Factor/Value = Rating
Audioholics.com note: The ratings indicated below are based on subjective listening and objective testing of the product in question. The rating scale is based on performance/value ratio. If you notice better performing products in future reviews that have lower numbers in certain areas, be aware that the value factor is most likely the culprit. Other Audioholics reviewers may rate products solely based on performance, and each reviewer has his/her own system for ratings.
Audioholics Rating Scale
— Excellent
— Very Good
— Good
— Fair
— Poor
| Metric | Rating |
| --- | --- |
| Analogue Audio Performance | |
| Radio Performance | |
| Build Quality | |
| Ergonomics & Usability | |
| Ease of Setup | |
| Features | |
| Remote Control | |
| Fit and Finish | |
| Performance | |
| Value | |