Marantz TT42 High-Performance Turntable Preview
Summary
Product Name:

TT42 High-Performance Turntable

Manufacturer:

Marantz

Review Date:

February 09, 2012 11:15

MSRP: $399 ($429 w/pre-amp)
First Impression:

Mildly Interesting

Specifications

Fully Automatic Operation
DC Servo Belt Drive
33/45 RPM Operation via top mounted switch
Pre-mounted Audiotechnica 4.0mV Moving Magnet Cartridge
Low Coloration Tonearm
Transparent Dust Cover Included
Three year warranty
Executive Overview
It says something about what we think of vinyl around here that I had to place this preview under "portables and media" rather than a dedicated section. This may very well be the only turntable coverage we've ever done that wasn't gawking in awe at the pricetags of some of the high-end ones we see at shows. Frankly, something like a turntable shouldn't cost as much (or more than) a car. But they do. And know, we don't know why (other than people are willing to pay that and they are drop-dead gorgeous).
But Marantz is looking to turn than around (get it?) with their TT42 High-Performance Turntable. Unlike other low cost offerings, the TT42 doesn't have a USB port for transferring vinyl to digital or any of that. Nope, it's just a turntable. With a DC Servo belt-driven design, the TT42 looks to allow you to get back into your vinyl collection without having to scour garage sales and flea markets for vintage turntables that may not even work.
According to the Marantz press release, vinyl sales were up 26% in 2010. We've heard more and more people talking about vinyl and even current bands releasing their newest albums on vinyl simultaneously. The Marantz TT42 sports fully automatic operation which means all you have to do is push a button and it starts and, when the album ends, the tone arm returns without all that annoying scratching (my dad had one like that back in the late '70's early 80's). It supports both 33/45 RPM records and comes with a pre-mounted Audiotechnica 4.0mV Moving Magnet Cartridge. The dust cover will keep your records clean during playback (and after if you can't be bothered to return them to their sleave), and the fully floating chassis will reduce vibration-induced skipping.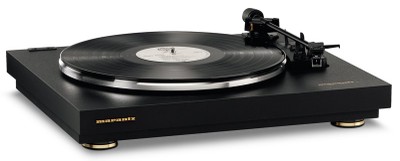 There are actually two versions of the new Marantz TT42. The standard TT42 will run you $399 according to the press release but $329.99 on the Marantz website and at retailers. With the TT42, you'll need to either have a phono pre-amp or a receiver with a dedicated phono input (many mid-level and up receivers have these). If you don't have a phono pre-amp or input, there is a Marantz TT42P that includes an internal pre-amp. Choose wisely, though, because the pre-amp can't be retrofitted nor can it be defeated. The TT42P will run you $429 according to the press release though it is listed on the Marantz website at $359.99.
If you are used to Marantz putting out products that make you want to buy them on looks alone, the TT42 is likely to disappoint. It's black and plain and is so retro you'll probably have to convince your friends it is new. But it is, in the world of vinyl, a very reasonably priced entry into the hobby. If you've been looking for something to play your old LPs or maybe just want to see what all the fuss is about, this may be the product for you. At least everything on it is new.
Conclusion
The Marantz TT42 may be a very basic turntable, but that doesn't mean it isn't a good one. While it doesn't have all the bells and whistles of the high-priced offerings, it also doesn't have the price tag. At $330, you can have a brand new, high-performance, turntable for exploring your old LPs and some of the new ones that are being released. It is a bit to expensive to be an impulse buy but, for those that are wondering what the fuss is all about, it could be the perfect solution.
For more information, please visit www.marantz.com.
3db posts on February 11, 2012 11:42
I would like to see reviews on turntables of the calibre of the ProJect Debut, Rega RP1, Music Hall 2.2 , etc.

Turntables/vinyl have never been an impulse buy. Its a lot of money to invest.
JohnA posts on February 10, 2012 08:01
You guys should do an affordable turntable shootout:

Marantz TT42
Audio-Technica AT-LP60
Pioneer PL-990
and Stanton has some decent priced TT as well