JAMBOX Build Quality and Design
As an Audioholic who now spends around 150 nights a year in hotel rooms, portable sounds have become an important part of my travel kit. (And while I love TobyMac, I'm talkin' hardware, not just tunes) I've become a one-bag traveler, and that means getting seriously lean and efficient when it comes to packing, and more importantly, choosing which gadgets to bring along on a trip. On a recent visit to an Apple store, Jawbone's JAMBOX caught my eye. Could this little dynamo offer me the sound quality and convenient size I have been looking for to fill my hotel rooms with music?

So what is the Jawbone JAMBOX? It's a very portable, wireless speaker and speakerphone that actually sounds good! JAMBOX combines two high quality dome speakers with a passive radiator to produce a very rich sound. The output capacity of this compact package is 85db with a frequency response of 60 Hz – 20 kHz. Part of what drew me to the JAMBOX is the construction and design. Weighing in at 12 oz, the dimensions are a tight 5.95" x 2.24" x 1.6". It is constructed of stainless steel with an molded rubber casing that feels indestructible. The result is a solid, sturdy block that stays put. No sliding across the table or annoying buzz from vibrations, etc. It is available in four colors - each with it's own distinct grill pattern. My review sample is the Grey Hex version. Also available are Black Diamond, Red Dot, and Blue Wave.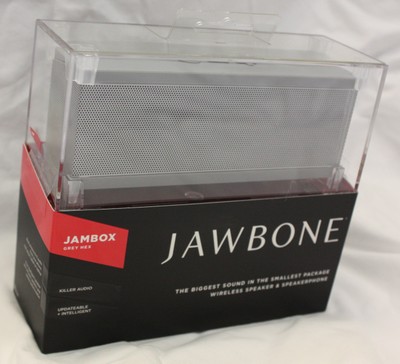 The top of the JAMBOX has three raised rubber buttons - a round TALK button, a "minus" button for Decrease Volume, and a "plus" button for Increase Volume. On the side, a Micro USB port for charging straight from your computer or the included wall plug, 3.5mm audio input, and the On/Off switch. Inside the JAMBOX you will find a stereo pair of acoustic dome speakers on the front, a passive bass radiator on the back, and a built-in microphone.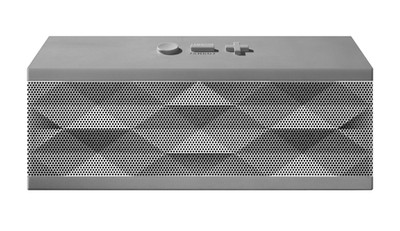 Listening Tests - Basic

Let me start by saying sound quality of the JAMBOX is very good. In fact, it is far superior to anything of it's size, save for maybe the FoXL (which I am guessing might share the components found inside the JAMBOX), although the JAMBOX is a huge design improvement with the molded rubber casing and no flimsy grill/stand. It's fidelity is great at normal listening levels in an hotel room - and by normal, I mean loud enough to cover the room (I can hear it while shaving in the bathroom) while working at my desk, but not so loud that the room next door will call the front desk to complain.
For me, the sweet spot of the unit is singer-songwriter material. While it handled other genres well, the JAMBOX really shines with selections from Jonatha Brooke, Aimee Mann, Shelby Lynne, and one of my new favorites, The Civil Wars. I loved the way the device fills my hotel rooms with music - it is such a great alternative to having the TV on while in the room, whether it be doing work on my laptop, taking a shower, packing, or changing clothes. It is remarkable how much bass comes from the JAMBOX. Listening to Mudcrutch's "Lover of the Bayou" cranked up while I showered and got ready for my day, I worried I might get a call from the front desk (I didn't).