G-RAID with Thunderbolt Drive Review
Summary
Product Name:

G-RAID with Thunderbolt

Manufacturer:

G-Technology

Review Date:

November 30, 2012 07:00

MSRP: $600 (4TB), $800 (8TB)
First Impression:

Gotta Have It!

Specifications

Kit Contents

G-Raid Dual-Drive Storage System
Universal AC Power Supply
Quick Start Install Guide


Details

Interface: (2) Thunderbolt
Disk Drives: Type – 2x SATA III
RPM: 7200
Cache: Up to 32MB per drive (64MB on 6TB and 8TB units)
Cooling System: Thermo-regulated, quiet smart fan
RAID Controller: RAID 0
Size (LxWxH): 9.25" x 5.125" x 3.374"
System Requirements: Mac OSX 10.6 or higher
Executive Overview
Not only am I the face of the Audioholics product review videos, I also have the job of editing them together. That's sort of my niche: editing video. And now that everything shoots in HD and the smallest video file can take up over a gig—sorry, gigabyte—hard drive space is a commodity that is both increasingly cheap yet even more increasingly in demand. I recently switched away from a Mac Pro tower to a faster iMac, but with that came a loss of four hard drive slots. I wanted (needed, really) an external drive solution that could replace the terabytes of internal storage I was using. But I also needed a drive (or drives) that didn't compromise speed. Basically, I wanted a Thunderbolt drive. G|RAID's solution intrigued me, so I decided to try it out.
Their G-RAID with Thunderbolt drive comes in two configurations with the only difference being the drive capacity (4TB or 8TB split across two 7200-rpm Hitachi drives). I reviewed the 8TB, which G-Tech touts can hold up to 8.4 hours of HDV 1080i footage, 1.7 hours of DVCPRO HD video, or 1 hour of Apple's ProRes422 HQ per 100GB. As most companies do, G-Tech also lists the amount of photos and MP3s it can hold, and while everyone's megapixel and encoding rates will be different, let's just say it's a lot.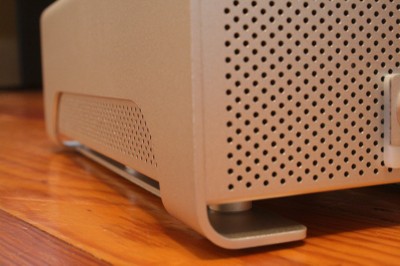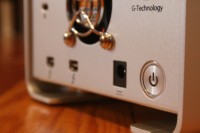 The enclosure is all-aluminum and very simple, yet attractive, and it blends into the current Apple brushed aluminum ecosystem well. It's got a Thunderbolt badge on the front which distinguishes it from G-Tech's other G|RAID drives. On the back is a fan that cools the unit, a power button (I miss the hard toggle switch on other models) and two (count 'em) Thunderbolt ports. If you're looking to use this drive with a computer without thunderbolt, you're out of luck. That's probably the only drawback of this unit except for the fact that it doesn't come with a thunderbolt cable. With a retail price of $999, I expected not to have to drive to my nearest Apple store just to shell out another $49 for a cable. Then I researched what goes into making a thunderbolt cable and found I understood the exclusion a little bit more seeing as they're not your dime-a-dozen USBs. Still, for a grand, please find a cable and throw it in the box.
The drive comes configured as a striped RAID 0 system, although you can also configure it for RAID 1 redundancy, concatenated (JBOD just a bunch of disks that look like one), or use the two internal drives completely separately. I opted to stay with RAID 0 for my performance tests. I should also mention that I raided the drive using 256K blocks since I work with larger files. Blackmagic Design's Disk Speed Test rendered results of 317MB/s write and 316MB/s read speed of a 5GB file. AJA's System Test rated the drive with almost exactly similar results using an 8GB file size. Meanwhile, more practical testing showed me that I could move a 1GB file to the drive while simultaneously writing the same size file back to the computer in about 10 seconds. I'm a very happy editor right now.
If you opt for a mirrored RAID 1 configuration or just use the drives separately, it'll cut the read and write times in half according to both AJA and Blackmagic disk tests. That would still give you better results than writing to most internal drives. For instance, I can read and write to my desktop at 140MB/s and 100MB/s respectively. Now as far as this drive stacks up against other externals, I didn't have other Thunderbolts to test it on. However, as an editor, I had plenty of other drives that I've used that I'm happy to upgrade from. So for those of you looking to know the difference between G|Raid's Thunderbolt and what we've been using, here you go:
Device
Configuration

Connection Type

Average Read MB/s

Average Write MB/s

G|RAID w/Thunderbolt

RAID 0 (Striped)

Thunderbolt
317.4

316.5
G|RAID w/Thunderbolt

RAID 1 (Mirrored)

Thunderbolt
155.2
151.5
Internal 7200RPM Hitachi
NA

SATA 300

100.3
135.2
Western Digital MyBook Studio
500GB 7200RPM
NA

Firewire 800

56.3
56.7
Verbatim 1TB External 7200 RPM
NA

USB 2.0

38.1
31.1
Internal 7200RPM Hitachi
NA

SATA 300
140.3
115.2

During actual use of the drive, its performance was everything I expected. In all likelihood, it probably gave me better results while editing off of it than what I would have experienced editing off an internal drive. Certainly the speed tests on the internals were nearly a third slower. The only hiccup in my editing came during a few intervals where I found myself working on a piece of footage for an extended amount of time. When I went back to working on the entire timeline, the drive had to rev up before I could continue. It only took a couple seconds, but it was noticeable enough to be a tad frustrating.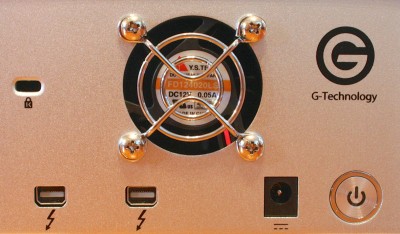 Overall, this drive is a solid choice for anyone looking to upgrade to Thunderbolt speeds and who needs a lot of space in an external solution. Obviously it's ideal for videographers, photojournalists, and anyone else working with huge files and lots of them—editors like me, for example. It's going to set you back a fair amount of cash, but for that money you get unparalleled speed among external drives and a ton of space. Oh, and you get another Thunderbolt port so you can daisy chain to your heart's content.
copperfox posts on November 30, 2012 10:16
Why is the internal HDD listed twice in the chart with the same interface?

Also, people should be aware that these throughput numbers are the best you'll ever get; that is, sequential read and write with a relatively large file when the drives are empty. Try filling the disks 75% full and then do a random read or write with a bunch of 1MB files - the numbers will drop drastically. Part of the reason is because as the drive fills up, the heads move toward the inner tracks of the platters where distance covered for the same angular velocity is lower, thus transfer rates drop.

Thunderbolt is a fast interface, but I still prefer a NAS device because I can access it from other computers and devices on my network.