MicroSystem CD Setup and Use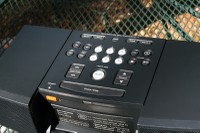 As you can probably guess, setup is as easy as plugging in the power cord. In my room, the provided FM antenna (just a wire) is more than enough to get a wide selection of the crap radio stations around here. The internal AM antenna picked every station that I know of in the area including the bible thumping, fire and brimstone station. I didn't do anything special to the antenna to increase reception but I do live fairly close to just about everything. I appreciated the ease in swapping out for a more powerful antenna (or even using the FM radio signals present on some cable provider's feeds) if you have the need. Personally, it wasn't a problem for me.
Setup: Clock Functions
I really don't know how you'll "need" to open the manual during the initial setup if you've EVER programmed a clock radio before. Next to the Alarm 1 and Alarm 2 buttons there are setup buttons. Between those is a Clock button. Press either of the Setup or the Clock buttons to adjust the settings. Use the track buttons (there are even instructions on the top of the unit telling you this) to adjust the time.
You have some options when setting the alarm. You can set it to wake you up to a buzz, to music, or to both (plays music for a while and then switches to a buzzer). Now, within music you can set it to wake you up to a particular station or you can set it to a specific track on a CD (MP3/iPod player and other Aux In sources cannot be used for alarms). What's more, you can set different tracks/stations for each of the alarms. So my wife, who wakes up when a mosquito sneezes, can set hers to some mellow music that will just lull my "dead to the world" self into deeper REM sleep while I can wake up to angry white guys screaming about the injustices of being raised in Orange County. If someone takes out your CD, the unit defaults to a buzz. On top of all that, you can set individual volumes for each alarm that are independent of each other and independent of the last volume on the unit. So if you were blasting The Used the night before and didn't turn the volume down, you're still awoken to the gentle sound of the traffic report at near inaudible SPL the next morning.
Stopping the alarm (after it goes off) is as easy as hitting ANY BUTTON on the top of the MicroSystem CD or on the remote EXCEPT the ones marked Snooze or Sleep. This seems a little too easy to me but it does have the advantage of forcing those wanting a few extra minutes to really concentrate on finding the right key or risk oversleeping. To me, it would be better if only the On/Off button stopped the alarm. Hitting snooze gets you an extra 10 minutes. If you want more, you need to hit the button again within 3 seconds. Each subsequent push gets you an extra 5 minutes up to 60 minutes. For me, I would just go ahead and program the alarm an hour early 'cause I KNOW I'm going to be mashing that Snooze button like I was playing Track & Field on the old NES. While you're "snoozing," you can tap the Snooze/Sleep button and the display will show you a count down of how much time you have left. This is another thing I like as I often wake up after hitting Snooze and try to do the complex math to figure out how much time I have left and whether or not it is worth it to try and go back to sleep.
If you want to use the sleep function normally, you just hold is down for >2 seconds while the unit is in use and it will default to 60 minutes. If you want it to turn off before that, you'll need to hit the button again and it will decrease the time by 10 minutes. There is no provision or extending that time past 60 minutes however. Normally, 90 minutes seems to be the norm for the longest "sleep" time in my experience.
Battery Backup
Last but not least, there is the 9 volt backup battery I mentioned. How many of us have woken up to the radio and heard an announcement that half the city was without power during the night? Or that some of them are still without power? And how many of us turned off our alarms realizing that we had a built in excuse for being late to work that day. I know I, um, well, plead the 5th. But with the Boston Acoustics MicroSystem CD, those worries are a thing of the past. Not only will the unit remember your settings, but it will also still wake you up – even when the power is out! That's right! No more worries about over sleeping. No more ready-made excuses for why you're late the first day back from a long Christmas… sorry Festivus break. Wait… is that such a good thing…? And get this: you can't even say, "The battery died so it didn't remember my settings when the power came back on." The settings of your alarm are saved even without the battery. It needs the battery to wake you up but not for remembering the settings. When I was taking apart the unit for the interior pictures, I had to unplug it and remove the battery. After dis- and re-assembling the unit, I plugged it in and lo and behold all of my radio presets and all of my alarms were still there! So your only real hope for sleeping in is if the power goes out AND the battery dies. Of course, there is a Battery Low light to let you know way before that happens so…
Oh, and in case you forget most any of this, the directions for programming the alarm are on the unit inside of the fold-down faceplate.
Using the CD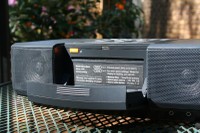 If you've ever used a car radio, you will be familiar with this mechanism. It is a slot loading CD player. It only takes one CD and there is a pretty orange Eject button. The entire mechanism is hidden behind the faceplate so all you'll need to do is fold down the faceplate, press the orange button to eject your current CD, press your new CD gently into the slot, and press Play. And don't worry, you won't have to test the unit to see if there is a CD in there (for you Memento types), there is a little red light that indicates that a CD is present. Just look for that. Playing back a CD is standard fare. You can skip tracks, fast forward/rewind (hold down the skip track button), pause, shuffle, repeat, and shuffle and repeat. The shuffle and repeat functions are only available from the top of the unit and not the remote.
One other option you have is to play back WMA or MP3 files from a CD-R or CD-RW. If you save them in individual folders (rather than in one big glob) you can actually browse the folders using either the top of the unit or the remote. This is a very cool feature and it gives you a great deal of flexibility. You can also use these tracks (they are numbered continuously regardless of folder arrangement) for your alarm just as you would a CD.
Using the Radio
There are six preset buttons on the remote and on the top of the unit. For each AM and FM, there are 12 presets. To store a station all you need to do is locate the channel and hold down the appropriate preset button for a few seconds (works exactly like this in nearly ever car I've owned in the last 10 years). Once you get through the first six, you can set six more by tapping the button once and then pressing and holding it. When you want to access this station, you need to double press the appropriate button.
While I think this is all nifty keen-o, I'd like someone to describe to my why the AM and FM presets have to be separated. It has never really made much sense to me. Even when I lived in Los Angeles I never came close to needing 12 AM presets. Usually three would suffice. There have been times that between my wife and me, 12 FM presets wouldn't be enough. Why can't they just make 24 presets and let us choose whether they are AM or FM? On a unit of this complexity, I don't think it is all that much to ask. And….. end rant.
Connecting other Devices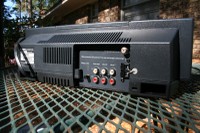 You've got a myriad of options here. You've got the front 1/8th inch jack for your iPod, you've got two more stereo line inputs for just about anything else (TV, DVD player, CD changer, whatever). You've got a line out in case you want to use the unit as a transport or perhaps you want to connect a subwoofer (make sure it has an adjustable low pass crossover). You can determine what type of output is sent by pressing and holding a few buttons at the same time. You can select:
Fixed-level – This ignores the volume on the MicroSystem CD's radio (use with something that has its own volume control)

Variable-level – Adjusts the signal based on the volume control on the MicroSystem CD (use with something that doesn't have its own volume control – like an amp)

Subwoofer – Cuts the bass to the unit and sends a summed monaural signal to both left and right RCA jacks (use with, um, subwoofer).
Lastly, when connecting headphones, the speakers are disabled (as you'd expect). However, if you forget to unplug them, the alarm STILL goes off through the speakers. I swear… it is almost like Boston Acoustics doesn't want you to oversleep!
muellerguy posts on January 02, 2008 16:25
I'm having difficulty storing radio stations into 7 thru to 12 using the buttons on the unit. The instructions say to tap twice on 1 thru 6 holding on the second tap to store desired stations. Maybe it's me but it doesn't work using the buttons on the main unit but it does work using the remote buttons.
Has anyone else had the same problem or is it something I'm doing wrong when pressing the buttons?

Thanks
fmw posts on January 01, 2008 09:22
I agree with Stratman. One Wave radio was more than I ever thought the market needed. I never listen to music in bed and I haven't used an alarm clock in the past 25 years. To me it is a solution looking for a problem. Since the Wave radio has been successful, however, not everyone feels like I do.
muellerguy posts on January 01, 2008 08:41
Yes it was a JVC FS 7000 and yes the cd lid on mine also needed assistance, the odd time, to open. I've been told that was a common problem.The cd player eventually failed and the unit developed a few other problems so I sold it as is on Ebay . Then my search began for a replacement so after an extensive search and reading reviews I purchased the Boston.
Since my last post I've had a few more days to explore and test out the Boston and I must admit it's impressive. The display dimmer problem is actually working out to be a plus for me since it allows me to manually set the display bright or dim. Since it's in a bedroom it's kept always dimmed. The sound quality is stunning and I'm presently running a cd changer and double cassette player through it.
Being able to detach the speaker grills is a nice feature to allow cleaning the dust off the speakers if needed.
Of course I'm still waiting for a reply from BA USA addressing the issues I've stated in my previous post. The Canadian BA distributor has been very quick with replies and helpful plus they let me speak to their tech who told me how to perform an easy to do systems check and reset.I would suggest that BA owners find out how to perform these before returning it or having it serviced.
My present opinion is the JVC was better in certain regards but I'm becoming more and more attached to the BA and what it can do so the verdict is still out which one's the best.
Seth=L posts on December 30, 2007 13:10
muellerguy;349586
It sounds good but not as good as a JVC FX7000 micro system I previously owned.

You mean the JVC FS-7000?
Those systems are very nice, I really liked mine. Unfortunately it had a few of its own problems. The mechanical CD drawer had some issues getting open and required I help it up most of the time.
muellerguy posts on December 30, 2007 12:49
Retailing at $600 cad I expected much more. New out the box mine was defective. The auto display dimmer doesn't work. Boston Acoustics(I called them) tells me some of the latest units have this defect so mine isn't the unusual lemon. Where's quality control? For this money every unit should perform 100%. Also the Aux 3 and Headphone jack line levels are so low I have to crank the volume to 50 in order to have acceptable volume.I'm waiting to hear from a tech to see if this also a defect or can be adjusted.
It sounds good but not as good as a JVC FX7000 micro system I previously owned.
No toll free # for BA and online support hasn't yet responded to my questions.
I was given a 30 day trial period plus a hefty price discount/refund after I told the dealer I bought it from about the dimmer problem but I'm still not convinced it's worth keeping.I have 27days to decide.
Polk Audio's microsystem appears to be a better buy with more features though it's $100 more.
The pros....it's not cheap looking, good compact size , great bass and I like the function buttons on both the unit and remote. The cds I've tried all play without problems and the aux 1& 2 inputs work well. FM stations are easily received even with the supplied wire antenna.
Despite the problems it's still a very high quality unit which I'd recommend to those who need a compact unit and are fussy about sound .