MicroSystem CD Listening Tests and Conclusion
I opted for testing the Boston Acoustics MicroSystem CD in the designed environment – my bedroom. I could have taken it to the theater room but really, that isn't what it is meant for. It was designed for a smallish, intimate room. So I plugged it in, stuck in a few CDs (one at a time mind you) and relaxed. And after my nap, I sat up, drank a little coffee, and repeated the whole process.

I bought this CD long before I ever did a review for Audioholics and I'm certainly glad I did. It has come in handy for testing frequency response, for examining room problems, and for listening tests (with its included high rez recordings at the end). This time, I was just looking to get a handle on how low this MicroSystem "clock radio" could go. Much to my surprise I heard a little output at 50 Hz! It was low, but it was audible. The next two test tones (63 and 80 Hz) had much more volume but were accompanied by the constant whistle of air rushing through the two rear ports. It wasn't until 100 Hz that I got good clean bass output without any port noise. For a clock radio, that's pretty darn good!
Blue Man Group – CES Swag
While walking through the Venetian Hotel during CES, we were all handed a demo CD by the Blue Man Group obviously meant to get us interested in going to the show. It contains four tracks:
Drum Finale Throwdown (from live shows)

Let it Ride (crappy song that should never be listened to twice… or even once)

The Complex (from The Complex CD/DVD) read the review

Klein Mandelbrot (from Audio CD)
Obviously, I skipped track 2. I'm intimately familiar with track 3 from my review of The Complex and the rest are just really good Blue Man material. Lots of fast percussion, low bass, and great use of the stereo/surround formats best describes their music. It is high energy and very interesting to listen too.
Well, kids, I gotta be honest with you. Yes, it presents a stereo image but unless you have your head in that 6 inch space between the two speakers you aren't going to hear it. What I ended up doing was lying on my bed perpendicular to the front, facing the unit, staring at the display. From about 4 feet away, I still experienced a stereo image. Anything past that and the imaging just collapsed. Off axis response was pretty good with a bit less volume and zero imaging.
I'd rate sound quality as a 10 on the "vs. other clock radios" scale and pretty good overall. I am not at all disappointed with how the unit sounds in general. Vocals and the bass seemed pretty good though the high end was a bit attenuated. I noticed a muted quality to cymbals that is an obvious sign of a rolled off top end. Dynamics were decent considering the size of the drivers and the amount of information they were being asked to reproduce. What was really nice, though, was the amount of bass. I ended up fiddling with the Bass trim knob as I had the unit fairly close to the wall (there are no hash marks so if you want to remember your setting, you're going to have to grab a pen or something) which tightened up the bass considerably. After adjustment, I can honestly say that I was more than just "pleased" with the amount of bass – I was impressed. This unit provides a big sound, one that easily fills a bedroom. It owes much of this "wow" factor to this bass response.
Recommendations
For a product at this price point, I'm going to expect a lot. Luckily, the Boston Acoustics MicroSystem CD has a lot to offer. I do have a few suggestions though:
I would rather that the dimmer sort of gradually adjust to the lighting conditions rather than flicker from one state to the other.

As I mentioned, the presets should be band independent (AM and FM intermixed)

Having one or both of the speakers be removable would seriously improve the imaging ability of this unit, though it might break up the elegance of the design

A backlight for the sleep button could be useful

Conclusion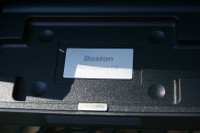 Someone one day decided that there was a market for high-end devices to wake you up in the morning. They figured that people might be interested in higher fidelity than the grating, harsh, compressed, monosyllabic drivel that comes from your "off the self" clock radios. I don't know how big this market is, but the Boston Acoustics MicroSystem CD is a product that delivers. We all know that the MicroSystem CD is competing against a firmly establish, widely advertised product (they even have the same MSRP). But when you look at the specs and features, almost without exception the Boston Acoustics wins hands down. It will wake you up… no matter how much you don't want to. It is pricy, but at the very least, you are paying for a quality product without any fancy gimmicks or marketing snake oil. Just don't let your boss know about it. They may want to get one for everyone in the office! And that will be the end of all those "but my alarm didn't go off" excuses.
The Score Card
The scoring below is based on each piece of equipment doing the duty it is designed for. The numbers are weighed heavily with respect to the individual cost of each unit, thus giving a rating roughly equal to:
Performance × Price Factor/Value = Rating
Audioholics.com note: The ratings indicated below are based on subjective listening and objective testing of the product in question. The rating scale is based on performance/value ratio. If you notice better performing products in future reviews that have lower numbers in certain areas, be aware that the value factor is most likely the culprit. Other Audioholics reviewers may rate products solely based on performance, and each reviewer has his/her own system for ratings.
Audioholics Rating Scale
— Excellent
— Very Good
— Good
— Fair
— Poor
| Metric | Rating |
| --- | --- |
| Build Quality | |
| Appearance | |
| Treble Extension | |
| Treble Smoothness | |
| Midrange Accuracy | |
| Bass Extension | |
| Bass Accuracy | |
| Imaging | |
| Soundstage | |
| Dynamic Range | |
| Fit and Finish | |
| Bass Management | |
| Ergonomics & Usability | |
| Ease of Setup | |
| Features | |
| Remote Control | |
| Performance | |
| Value | |

muellerguy posts on January 02, 2008 16:25
I'm having difficulty storing radio stations into 7 thru to 12 using the buttons on the unit. The instructions say to tap twice on 1 thru 6 holding on the second tap to store desired stations. Maybe it's me but it doesn't work using the buttons on the main unit but it does work using the remote buttons.
Has anyone else had the same problem or is it something I'm doing wrong when pressing the buttons?

Thanks
fmw posts on January 01, 2008 09:22
I agree with Stratman. One Wave radio was more than I ever thought the market needed. I never listen to music in bed and I haven't used an alarm clock in the past 25 years. To me it is a solution looking for a problem. Since the Wave radio has been successful, however, not everyone feels like I do.
muellerguy posts on January 01, 2008 08:41
Yes it was a JVC FS 7000 and yes the cd lid on mine also needed assistance, the odd time, to open. I've been told that was a common problem.The cd player eventually failed and the unit developed a few other problems so I sold it as is on Ebay . Then my search began for a replacement so after an extensive search and reading reviews I purchased the Boston.
Since my last post I've had a few more days to explore and test out the Boston and I must admit it's impressive. The display dimmer problem is actually working out to be a plus for me since it allows me to manually set the display bright or dim. Since it's in a bedroom it's kept always dimmed. The sound quality is stunning and I'm presently running a cd changer and double cassette player through it.
Being able to detach the speaker grills is a nice feature to allow cleaning the dust off the speakers if needed.
Of course I'm still waiting for a reply from BA USA addressing the issues I've stated in my previous post. The Canadian BA distributor has been very quick with replies and helpful plus they let me speak to their tech who told me how to perform an easy to do systems check and reset.I would suggest that BA owners find out how to perform these before returning it or having it serviced.
My present opinion is the JVC was better in certain regards but I'm becoming more and more attached to the BA and what it can do so the verdict is still out which one's the best.
Seth=L posts on December 30, 2007 13:10
muellerguy;349586
It sounds good but not as good as a JVC FX7000 micro system I previously owned.

You mean the JVC FS-7000?
Those systems are very nice, I really liked mine. Unfortunately it had a few of its own problems. The mechanical CD drawer had some issues getting open and required I help it up most of the time.
muellerguy posts on December 30, 2007 12:49
Retailing at $600 cad I expected much more. New out the box mine was defective. The auto display dimmer doesn't work. Boston Acoustics(I called them) tells me some of the latest units have this defect so mine isn't the unusual lemon. Where's quality control? For this money every unit should perform 100%. Also the Aux 3 and Headphone jack line levels are so low I have to crank the volume to 50 in order to have acceptable volume.I'm waiting to hear from a tech to see if this also a defect or can be adjusted.
It sounds good but not as good as a JVC FX7000 micro system I previously owned.
No toll free # for BA and online support hasn't yet responded to my questions.
I was given a 30 day trial period plus a hefty price discount/refund after I told the dealer I bought it from about the dimmer problem but I'm still not convinced it's worth keeping.I have 27days to decide.
Polk Audio's microsystem appears to be a better buy with more features though it's $100 more.
The pros....it's not cheap looking, good compact size , great bass and I like the function buttons on both the unit and remote. The cds I've tried all play without problems and the aux 1& 2 inputs work well. FM stations are easily received even with the supplied wire antenna.
Despite the problems it's still a very high quality unit which I'd recommend to those who need a compact unit and are fussy about sound .