Bheestie Bag Build Quality
Whether or not we want to admit it, we've all been there. We've all had that sinking feeling when we hear the plop of an electrical device hitting the water. Maybe it is in a toilet (a quick Internet search will tell you this is where a surprising number of electronic devices end up), maybe a puddle, or maybe you got rained on. Regardless, we all know what happens when an electronic device hits the water - we start checking out our warranties and hoping but mostly shopping online for replacements. As waterlogged devices tend to be cellphones and iPods, these can be hefty charges.
The Bheestie company decided to do something about this problem by inventing a bag. Well, it isn't the bag, per se, but the little pellets that are in it. This bag is compact enough to be taken nearly anywhere. The directions are simple - place waterlogged device in bag, seal tightly, wait. While they didn't add "pray" onto the end of that, you probably won't need to be reminded to do so (especially if it is your brand new iPhone).
Build Quality
Bheestie_backWhat is in a bag? Well, traditionally air but in the case of the Bheestie Bag, it is air and a smaller bag of pellets. There are clear instructions NOT to open this second bag of pellets. This makes sense as free pellets could work themselves into the nooks and crannies of your device, creating a different, though probably just as deadly, problem. The bag itself looks like something people on the space station would open to get a napkin or drink out of. The silver material is very space age in appearance with the blue and black highlights only adding to the effect.
The bag arrived sealed in another bag (that makes three so far) which was then sealed in a shipping bag (up to four). I couldn't see if the mailman carried the package in a bag (five) though that seems likely. Each of the top two bag layers need to have the tops ripped off before use: The top bag to get the Bheestie Bag out, the Bheestie Bag top to get the device in. There is a zip top closure on the Bheestie Bag to keep the device in and moisture out.
This is apparently a very key feature of the Bheestie Bag - the pellets on the inside are highly absorbent and will lose that absorbency quickly if exposed to the air for prolonged periods of time. Here in Florida, this is especially true as even in the winter the humidity can be quite high. This is why I conducted the tests first before I removed the interior bag of pellets for my picture. Each bag of pellets has a number of "indicator" pellets. These let you know when your Bheestie Bag needs to be replaced. While the pellets are still good and able to absorb moisture, they are blue. Once they turn gray, it is time to get a new Bheestie Bag. This is actually a feature I was hoping to see with the Bheestie Bag as it takes the guesswork out of replacement times.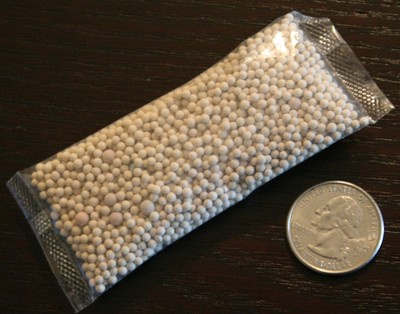 With the supposed high absorbency of the pellets such an issue, I was surprised at how hard it was to close the zip top. Some of the newer bags these days have actual sliders which would have made things a bit easier, though I suppose those may not offer as airtight a seal. On the other side of the spectrum, there are also double zip tops out there for extra protection. Again, this seems like it would be a good step and one that shouldn't take a huge chunk out of the profits.
Hints for your wet electronic devices
Before we go any further, let's talk about some general hints. If you are to, say, jump into a pool after a drowning kid or maybe forget your cell phone is in your pocket and send it through the wash cycle - what should you do?
Do NOT turn your device on to see if it works. This will quite possibly make things much worse. Instead, immediately remove the battery and any memory cards.

Pat the device and all of the removed pieces dry.

Do NOT use hot air (hair dryer) to dry the device. You're very likely to melt something important.

Salt water is particularly bad. If your device has entered the sea or some other brackish body, you'll want to rinse it first (I know, counterintuitive but if the salt stays in the device, it is sure to die, with a rinse, you have a chance of saving it).

Alcohol is good (I know, I didn't need to tell you that) at displacing water. If your device has been submerged for long, a quick bath in alcohol will help displace the water. It also dries faster than water and doesn't rust. While this all sounds like a great quick fix to a waterlogged cell phone, alcohol has a tendency to dissolve some of the adhesives used inside many such devices. I don't recommend this technique unless you are really desperate.
Experimentation and Use
OK, let's get down to it. I know what most of you are saying, "$20 for a bag? No WAY!" but let's think about this objectively. We all know (or at least most of us do) that there are DIY solutions for the wet cell phone problem. We'll address those in a moment but first let's talk about the benefits of the Bheestie Bag.

It's small. Well, the bag isn't small but the contents are tiny. The little bag of pellets inside or so small that you'd think they couldn't possibly absorb that much water. That remains to be seen at this point in the review but from a transportability standpoint, the small amount of contents of the bag means it can be easily placed in a laptop case, a gym bag, or just about anywhere else. Try lugging around a bag of rice "just in case." The compact size of the Bheestie Bag must be considered a huge plus.
At this point is where I run into a wall. Sure, it's small and transportable but for $20, it should work like a charm too. Well, that's where the test comes in. With help from Audioholics Editor-in-Chief Clint DeBoer, a unique test was devised to uncover just how good this Bheestie Bag was. We wanted to know not only if it worked, but how well and compared to the most obvious competition - a bag of rice.
So, at this point you've got your device off, apart, and as dry as possible. You've got a choice, a Bheestie Bag or a bag of rice. Here is the tale of the tape:
| | |
| --- | --- |
| Bheestie Bag | Bag o' Rice |
| $20 | $1 (probably less but whatever) |
| 1 ounce | 1 pound |
| Cool high tech design | Rockin' old school Ziplock |
| Absorptive pellets kept separate from device | Rice gets everywhere |
| Easily transportable, thin, compact | Bulky bag that if it breaks will make a huge mess |
bheestie posts on January 17, 2010 18:36
Hi Tom and all,

We appreciate your reviewing the BHEESTIE Bag and also posting our response to your testing methods. BHEESTIE's value comes in its size and power of adsorption. When tested with an amount of water that is within its adsorption capacity BHEESTIE outperforms rice, kitty litter, and air. Now I will admit we haven't gone head to head with a pound of rice - because that doesn't fit the intent of our product, which is to be portable, convenient and effective. It does work very well, and has saved many of our own cameras, iPods and cellphones (more than once I sheepishly add ), not to mention our customers. Again, we appreciate you reviewing it and letting us explain our position on your testing methods. Cheers, the BHEESTIE bosses
mtrycrafts posts on January 15, 2010 15:39
Since this test was somewhat easy to do, I wonder what the cost of desiccant is and how that would compare?

Also, how would an oven at about 100F do? or perhaps 150F.

One could also test an old broken cellphone, how much water would it really pick up after a dunk, then test again.
mtrycrafts posts on January 15, 2010 15:35
Adam;671735
...Anyway, there were more germs on cell phones than in toilets.
Oh, that is so wonderful to read after some posts saying it would be dead to them.
I wonder after this if they will ever use a cellphone again.
gonk posts on January 15, 2010 13:49
I would say that the manufacturer has a point about the actual application for which the product was made: a piece of electronics will retain much less water than a sponge, so providing a package that will absorb a ton of moisture is overkill. You had 16 times as much rice as you had of the desiccant pellets, and that extra mass provided at least 3.5 times as much absorption after three days (and three times as much after two days). The pellets would seem to be more efficient. A few other tests might be of value.

The first is to adjust the quantity of water involved. Find a broken (or breakable) device, weigh it, drop it in a bowl of water for a few minutes, shake it to get rid of the collected puddles, and then weight it again. How much water will tag along will depend on the device, but a test or two like this would give a good measure of how much water might be left to remove. Then you could re-run your sponge test to see how the two stack up and if the Bheestie Bag can eliminate the critical moisture in a timely fashion. The one possible wrinkle here is that the way the sponge is trapping moisture may not be the best parallel for how a device like a cell phone holds water.

Another test would be to try to create a rice-based equivalent to the Bheestie Bag: put around four to eight ounces of rice in a porous bag (maybe thin cloth or even the foot from some panty hose) and toss that into a zip-lock bag. If the rice can still absorb a useful amount of moisture while in the porous bag, then you avoid the one big pitfall of rice: getting it stuck in the device. It may be that a DIY package like that (with rice as the desiccant) could do a satisfactory job. It may also be, however, that rice isn't efficient enough a desiccant and doesn't get the moisture out as effectively when deprived of that "stuck in all the inner workings" contact or reduced to such a small quantity.

Of course, the best test would be to do all of the above and determine the optimal DIY solution, then take two actual devices and throw them in the drink.
Davemcc posts on January 09, 2010 09:11
Adam;672183
innuendo.
I don't get it.
Back to the OP, if you save all the dessicant packs that come with all your electronics and put them in a plastic bag, would you not have a product the same as this product?
I'm going to have to read the whole article now to see if this has been addressed.
Edit...I guess the teaser is the whole article.