Aluratek Full Review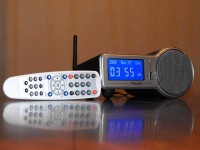 Decisions and I do not get along. Give me options and I will need about an hour. I am the last one to order at a restaurant. Before Internet movies were available through the mail, I would spend more time at Blockbuster than what the length of the movie would be. My wife's entertainment is not the movie, but watching me decide on one. Though decisions take a long time, having options is what I am about. I don't like being told what to do. I want to be able to think about things; try stuff out. That is the American dream, having options.
In the music world, we also want options. That is why iTunes does so well. We don't have to commit to the whole album; we have to option to pick and choose. I believe that is what the Aluratek Internet Radio gives us. They do not want us to be bound by our region, or be bound by satellite radio fees. They want to provide the freedom to quickly search for music all over the world, fee free.
Setup & Build Quality
Setting up the radio is not difficult, however, a troubleshooting manual is provided. If you have a wireless network at your home or office, it is simply just a matter of screwing on the provided four inch antenna and turning on the system. Aluratek will automatically recognize your network and connecting is done with a push of a button on the top of the radio or with the provided remote. Don't have Wi-Fi? Simply plug in your Ethernet cable to the back. Again the Aluratek will auto detect. If the network is password protected, the radio will prompt you for a password which can be input through the provided remote.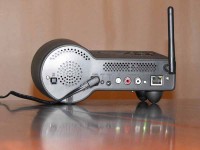 The Aluratek comes in a black plastic body with a silver face plate. A 3" x 1.5" blue LCD screen with white lettering indicates time, day and date. Once a connection is made to a network, the screen gives you six functions to choose from: Internet Radio, FM Radio, Media Server, MP3 player, Alarm, and Setup. The functions can be selected from either the radio itself or the included remote. The remote, which has a long range, comes in an all white body, and is 6.5" x 1/2" x 2". Unfortunately, the only way to adjust the volume on the radio is through the remote which we feel is a huge oversight. One 3.5" speaker is included with the Aluratek, although expansion is possible through USB 2.0, or the included 3.5mm or RCA line out connections.
Using the System
Listening to the system could not be easier. With the ability to search music by genre, country, or state, listening options are seemingly endless. There are 56 genre options, and even the pickiest of listeners should be easily appeased. Navigating the genre, country or state is performed simply with the arrow keys on the radio or the remote. With the bright blue/white display, reading and selecting music is a breeze. The Aluratek also comes with a feature which blacks out the screen for nighttime use.
Sound quality is crisp for the size of the included speaker. The system can fill a room with sound or can be quiet enough to wake a person up gently. Even with the system volume maxed, the integrity of the speaker stays in place. The speaker provides basic, balanced sound with good highs and mids. Bass is somewhat nonexistent, and there is no EQ available, however the sound is consistently good for an Internet appliance. Keep in mind that if you really wanted to, you could combat the lack of bass by making use of the included RCA outputs and connecting a sub. Now THAT would make for a punchy alarm clock!
Once a radio station is selected, connection to that station takes about five seconds. I found a couple of stations that were listed, but were unable to connect. This was seemingly due to the radio station and not the Aluratek. Of the 100+ stations that I tried, about 99% were able to connect with near CD quality sound - at least any CD I've heard played on a clock radio device. The range of different music available is outstanding. Finding music to match your mood should be no issue. In a span of five minutes, I was able to listen to an Iraqi talk show, then switch to Celtic chants from Ireland, pump up Bluegrass music from North America, and then dial in some sports from Latin America. The selection is pretty much endless and you will definitely have to spend some time searching the stations to see what appeals to you. What is nice is that setup takes only a minute, so the rest of the time can be spent listening to music.
With all of the options of different stations that the Aluratek gives you, changing the station can take a moment. It is not just a matter of turning the dial to get a new frequency. Changing the station can be done through the remote or radio. There are not many things wrong with this system, but one issue is the text on the screen is very hard to read from far away. Even with 20/20 vision, from about five feet away the text is difficult to make out. Because of this, it somewhat negates the range of the remote since, to know what station you are changing to, you need to be up close. Fortunately, you are able to you're your favorite radio stations - a feature that is imperative with a system like this. You can also shuffle through saved stations using the remote; however, if you want to list to something totally out of your norm, you will have to get up close to read the display once more.
Conclusion and Overall Perception
With a price tag of $160, this may seem expensive for a clock radio, but this is no normal bedside alarm clock. Aluratek offers an Internet Radio with built in Wi-Fi, claiming to be able to receive over 11,000 different stations from all over the world. And from sampling over 100, clear radio stations, I believe that 11,000 number is likely at least close to the truth. The Aluratek also gives you the option to have it be an FM radio, MP3 player, or stream music directly from your computer through a 2.0 USB cable. And by including an alarm clock feature, this radio gives you the option to wake up to soft Celtic music from Ireland, throw a party with dance music from Germany, and then go to bed with the soothing sounds of new age music from Amsterdam. Or perhaps sports talk from China, or weather reports from Latin America is what you desire... it really doesn't matter since you're all but guaranteed to find it.
The format of the Aluratek does a great job of sifting through all of the different styles of music, and selecting them is not difficult. Aluratek definitely gives you the options to take charge of the music you like. Overall, the Aluratek Internet Radio Alarm Clock with Built-in Wi-Fi radio is a smart design and a smart buy. If you like music, you will like this radio.
Aluratek Internet Radio Alarm Clock with Built-in Wi-Fi
MSRP: $159.99
Aluratek
12A Mauchly
Irvine, CA 92618
1-866-580-1978
949-419-6504
sales@aluratek.com
About Aluratek
Aluratek was formed by a group of industry veterans who believed that computer peripherals and consumer electronic devices can be both sophisticated in their function and user-friendly in their usage. Aluratek's motto - "Simple Elegance" - precisely conveys this point. The goal of Aluratek is to embody "Simple Elegance" in every product it designs, manufactures and sells.
The Score Card
The scoring below is based on each piece of equipment doing the duty it is designed for. The numbers are weighed heavily with respect to the individual cost of each unit, thus giving a rating roughly equal to:
Performance × Price Factor/Value = Rating
Audioholics.com note: The ratings indicated below are based on subjective listening and objective testing of the product in question. The rating scale is based on performance/value ratio. If you notice better performing products in future reviews that have lower numbers in certain areas, be aware that the value factor is most likely the culprit. Other Audioholics reviewers may rate products solely based on performance, and each reviewer has his/her own system for ratings.
Audioholics Rating Scale
— Excellent
— Very Good
— Good
— Fair
— Poor
| Metric | Rating |
| --- | --- |
| Audio Performance | |
| Build Quality | |
| Ergonomics & Usability | |
| Ease of Setup/Programming/Integration | |
| Features | |
| Remote Control | |
| Performance | |
| Value | |
See also:

WoodLark posts on December 10, 2008 07:48
I just received the Aluratek radio a couple days ago (purchased from Amazon for $99.99), and it works great with a couple of gripes.

If you leave the display on all the time, it will keep you awake because it is so bright. If you turn it off, then you can't see what time it is without turning it back on. I would really like to be able to dim the display without turning the backlight completely off.

The sleep timer doesn't seem to work. I like to fall asleep to music so I set it to turn the radio off after one hour. Unfortunately, the radio continues to play all night long.

So far, I have only been streaming radio from the internet; that works fine. I tried FM, but it doesn't find my favorite station when it scans (it only finds 3 stations and I wouldn't listen to any of them on a bet). I haven't tried streaming music from my computer yet. I am interested to see if that is going to work since I do not use Windoze .
yettitheman posts on December 10, 2008 04:45
AHHHHGHHH!!! Bright blue!!!

I had a Timex Indiglo alarm clock from 1998 or so... didn't like it because blue light like that.

I ended up buying a Sony "Buzz-And-Beep" for $15. Green LCD digits... won't blind you at night.

Then I got a Pioneer DT-555 to control the DSP-A1000, the Tuner and CD player. Now THAT'S a loud alarm clock.