SimpleTOUCH USB Drive Full Review
If you're reading this it's a good bet that you have a PC. Either that or you're at the library or school and probably should be studying instead of reading product reviews - but I digress. If you're like me, you have lots of music and data files that would make life difficult if they suddenly up and disappeared. I was thinking of that possibility when ADS Tech sent me an interesting product for review. The USB 2.0 SimpleTOUCH HDKit is a simple USB 2.0 enclosure that is designed to hold just about any size ATA-IDE, Ultra DMA, or AT-6 hard disk. It also has a feature which includes a backup function that can be activated with the push of a button. I like the concept. It's simple (now that's an aptly-named product) and it makes sense. Now it was my job to test it out and see if it held up under my kind of use.
The Hardware Requirements

The hardware requirements are like reading the requirements for cereal: get a bowl and some milk. Well with this SimpleTOUCH USB 2.0 drive it's: get a PC with USB and add a disk. And if you want to make use of the fast USB 2.0 transfer rate then, guess what, better make sure your PC has an available USB 2.0 port, not just USB 1.1. The drive works on both Mac and PC - and I'd wager that there is at least one Linux geek out there who could get it working (sans backup software) in about 10 seconds and 1 line of code.
The USB 2.0 SimpleTOUCH HDKit Hardware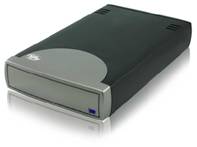 The USB 2.0 drive kit comes with the USB 2.0 enclosure, a USB A-B cable, DC power supply and a nicely designed box (I've designed retail boxes in a past life so I like to point them out and say nice things when they are done right). The kit does not come with a hard drive, but that's the point - you can get it cheap and decide what size drive YOU want to put in there. ADS Tech offers a link to a friendly neighborhood etailer showing drives from 40GB - 320GB with prices ranging from $55-$133. If you can't find a really big drive for just over $100 you aren't looking very hard. Check out www.passwird.com or www.techbargains.com for excellent deals on hard drives which pop up from time to time.
The Software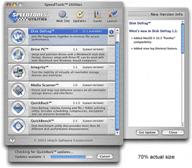 The SimpleTOUCH HD Kit comes with SpeedTools for the Mac, allowing you to automate backups of any files of folders to a set schedule. The software was easy to use and didn't take a degree in advanced cable metrics to figure out how to configure an automated backup scheme that would keep my important files protected (if "redundify" was a valid verb I'd use it here). You simply select your folders and source directories, specify the destination (in this case the SimpleTOUCH drive) and schedule the times (daily, weekly, etc).

If it were any simpler it would have to read your mind - hmmm - now THAT would be a cool piece of software.
For the PC I use a program called NTI Shadow . This program works in exactly the same way but is designed for the PC. You can select or exclude certain file types from the backup process - a feature that is very handy - especially if you don't care to backup, for example, .cache files or .log files which may simply take up a ton of room and resources. I found NTI Shadow to be very handy. One problem with it was its tendency to "lose" its schedule when the computer went to sleep. As a result, it often started the archival schedule up when the computer resumed - whether or not the process had already been completed.
Practical Use and Observations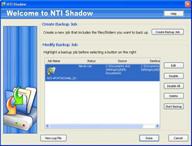 The SimpleTOUCH system works as advertised, though I tended to not use the "touch" feature and simply utilized it as an external USB 2.0 drive. I inserted a 120GB ATA133 Maxtor drive and connected it to my PC via USB 2.0. The process was very straightforward and the net effect was that all of my critical files were backed up. There really didn't appear to be much to write about, in all honesty. When a product works - it simply works. After several days of use, however I noticed a few things that were worthy of noting.
First, the drive was extremely quiet. I didn't realize just how quiet it was until I took home an old 80GB external Firewire drive (also made by ADS Tech but no longer manufactured) and parked it next to the SimpleTOUCH USB. In addition to being nearly three times the size and weight, the older drive sounded like a jet plane taxiing to the runway. Sometimes it takes a poor performer to make you realize how well a good product performs.
One thing I ran into that was a big problem for me was the DC power cable connection. It's a multi-pin DIN connector that comes out easier than an s-video connection (and those are highly unstable). In my mind there is simply no excuse for this. My desk sits behind my home theater chairs and I frequently disconnect the power to the drive when I recline my seats. The top of the seat just brushes the power connector - but that's really all it takes to make it come loose. There is no strain relief, so the weight of the cable pulling down to the floor seems like it almost wants to pull it out without any help. This stuff isn't brain surgery and I would hope that ADS Tech makes this the last product EVER with this type of connection. A simple EIAJ or barrel DC cable power connection will blow the pants off any Mini DIN connector, providing a more robust and secure fit and less hassle.
Conclusion

For $60 (plus hard drive) you can make sure your music, movies and personal files are backed up safely, automatically and securely. For anyone who has ever lost data to a hard drive failure this is a no-brainer purchase. With the rapidly falling price of hard drives getting something with plenty of room is as easy as bringing up your favorite online retailer. We were disappointed with the fragile power connection, but if you aren't planning on disturbing the connector with anything you should be OK. ADS Tech has a proven track record with regards to innovative storage solutions and the USB 2.0 SimpleTOUCH HDKit is no exception.
ADS Tech USB 2.0 SimpleTOUCH HDKit Review
MSRP: $59.99
http:/www.adstech.com
The Score Card
The scoring below is based on each piece of equipment doing the duty it is designed for. The numbers are weighed heavily with respect to the individual cost of each unit, thus giving a rating roughly equal to:
Performance × Price Factor/Value = Rating
Audioholics.com note: The ratings indicated below are based on subjective listening and objective testing of the product in question. The rating scale is based on performance/value ratio. If you notice better performing products in future reviews that have lower numbers in certain areas, be aware that the value factor is most likely the culprit. Other Audioholics reviewers may rate products solely based on performance, and each reviewer has his/her own system for ratings.
Audioholics Rating Scale
— Excellent
— Very Good
— Good
— Fair
— Poor
| Metric | Rating |
| --- | --- |
| Network Features/Performance | |
| Build Quality | |
| Ergonomics & Usability | |
| Ease of Setup/Programming/Integration | |
| Features | |
| Performance | |
| Value | |