Harman Kardon BDS 800 HTiB System First Look
Summary
Product Name:

BDS 800 Home Theater System

Manufacturer:

Harman Kardon

Review Date:

April 11, 2011 03:20

MSRP: $1499
First Impression:

Mildly Interesting

Specifications

Complete, integrated home theater system
Décor-complementing design
Compact, powered subwoofer
Preprogrammed/learning remote control
Digital-amplifier technology
Four identical, two-way, dual-driver satellite speakers
Dedicated two-way, dual-driver center speaker
Three digital inputs and two line outputs
"Dot-matrix" information display
Gold-plated, binding-post speaker connectors
Wall-mount hardware
Magnetically shielded transducers
Intuitive playlist memory
Headphone jack

Executive Overview
When dealing with newcomers to the world of Home Theater, it is hard to get away from the inevitable questions about Home Theaters in a Box (HTiB). We believe there are two reasons for this and that they both stem from the same emotion - fear. First: convenience. A newcomer looks at something like the Harman Kardon BDS 800 and knows that everything they'll need will be inside. They will only have to make one purchase and be done with it. Of course, that's what the box promises, but often that isn't the case. You'll probably need more (longer) speaker wires, you'll need lots of HDMI cables (we hope, though oftentimes you'll also need component video cables as well) and any number of additional do-dads and what-nots that were left out. But the newcomer is afraid. Afraid that they won't know what they'll need. Certainly, the HTiB will get you most of the way there, but it is rarely the one-purchase solution the marketing material promises.
Second: a wall of receivers is intimidating. It's scary. It's a whole bunch of black boxes with knobs that all look the same. Then there is all the other stuff. Speakers, wires, subwoofers (do we really need one of those? The wife doesn't like it), Blu-ray players, set-top boxes, 3D... the list goes on. Sure, once you've set up a theater or two it is all old hat but the first time it is a daunting amount of things to worry about. So, if you are a true Audioholic you'll have a couple of good recommendations for HTiB's for your friends that won't be deterred.
Harman Kardon, a company that has a great name in AV and Home Theater (which means your friends might have heard of them), has recently started selling two new HTiB's, one of which will be talking about. The BDS 400 is a 2.1 system that uses many of the same components of the larger 5.1 BDS 800 but it obviously isn't a full Home Theater. That said, in specific situations, a 2.1 system is perhaps all that you can fit and might be a solution (especially if you think the situation might change later on).
The Harman Kardon BDS 800 comes with four identical satellite speakers, a matched center, a sub, and a combo blu-ray player and receiver. Harman's material says that the speakers are a "two-way, dual driver" but we can clearly see three drivers on the front. That probably means that there is a tweeter and a woofer that are powered with the other woofer operating as a passive radiator. This is a nice design for a speaker that is meant to be placed near a wall (as these wall-mountable satellites often are) as it extends the bass without the addition of a port. The center shares the same design but is meant to be lying on its side. The speaker terminals on the satellites are the gold-plated, push type which you push down to reveal a hole for your wire. This limits you to really only bare wire connections and usually to no larger than 12 gauge wire. There is a panel which you can remove to hide the connections on the satellites - a nice WAF feature. The drivers consist of two 3" flat panel drivers and a single 1-inch "Lite dome" tweeter. All the drivers are magnetically shielded.
We had to go to the user manual to get information about the sub. It is downfiring and small sporting an 8" driver. It is, surprisingly, not ported having a sealed design. It has phase and volume controls plus auto on/off and bass boost. The bass boost is probably included for larger rooms and to offset the lack of port. There seems to be no crossover control indicating that it will be handled by the receiver/Blu-ray unit. The sub weight just under 20 pounds and has a 10.5" square footprint and is just under 14" tall.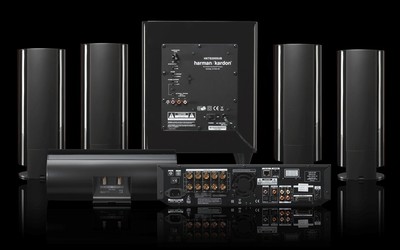 The receiver, for lack of a better word, assumes that the only HDMI device you'll have is a Blu-ray player as there are no other HDMI inputs. The integrated Blu-ray will decode all the latest HD audio formats and will output 1080p. There are no video inputs at all on the back but Harman has included a pair of optical and a single coaxial digital audio inputs plus a pair of RCA analogue audio inputs. The speaker terminals are 5-way binding posts which is a nice feature. There is a FM antenna input as well as a Ethernet port for BD-Live features. The front panel has a USB port that can access music and pictures. The BDS 5 receiver can put out 65 watts per channel, 20Hz – 20kHz, @ <0.1% THD, both channels driven into 6 ohms which should be more than enough power for the speakers. The HDMI version is 1.3a which means no 3D support or any of the latest features.
One of the things we harp on when looking at a HTiB solution is upgradeability. We always suggest that you purchase something that can have features changed as you feel the need to upgrade. With the Harman Kardon BDS 800 that is going to be very hard. The onscreen menu makes setup a breeze but it doesn't give you a lot of flexibility. The speakers could be utilized with a different receiver (provided it has bass management or you risk blowing up the woofer) but you didn't buy a Harman Kardon product for the speakers right? You did it for the receiver/Blu-ray combo. On that end, unfortunately, the BDS 800 falls a little flat. You can't add so much as a HD cable box to this system as the unit doesn't support any additional video inputs. Instead, you'll have to send your cable box and all other video sources directly to your display and send the audio to the BDS receiver via coaxial or TOSlink digital audio (or analogue audio if you're really old school). Not a convenient solution by any means.
Conclusion
So who should buy a Harman Kardon BDS 800 Home Theater System? Someone looking for a Blu-ray player and speakers - and who doesn't have a lot of source components with a desire for a one-solution-does-all audio/video switching solution. If you are planning on adding anything else to the mix, you're going to have to work around the limitations. This makes this a great solution for a second system where you ONLY want to watch movies or don't mind a little creative wiring. For $1500, we'd think they could have included an HDMI input or two. It certainly would have made this an easier recommendation. Still, the unit system looks nice and it certainly has enough of the features that we like to see. Without the ability to splash 3D all over the box like every other manufacturer is doing, we'll have to see how well it does. The question is what sells better- 3D or the Harman Kardon name.
For more information, please visit www.harmankardon.com.