Denon S-101 Overview and Setup
Let's face it. We all love surround sound, but can't always find the space for a full-fledged system. I can personally relate while I am staying at my beach condo for the next two months awaiting completion of my new home. While my condo is pretty accommodating for the three of us, it has little space to accommodate a 5.1 surround system, well, perhaps a dinky cubed system, but I'd prefer my clock radio as an alternative. Don't laugh, it has decent fidelity and certainly jump starts my mornings each time the alarm goes off to the local hard rock station. That being said, I was on a quest to continue doing reviews of home theater gear despite my living constraints. I quickly had flashbacks of the Denon Summer Conference where we walked away very impressed with their new DVD Home Theater Systems, particularly their S-301 (MSRP: $1599) and the S-101 (MSRP: $999). Thinking about this, I requested an S-301 for review and within one week the S-101 showed up at my office. Oh well, so it's not flagship, but it is surround sound that will integrate perfectly in my condo and hopefully satiate my desire for home theater while I await completion of my new home.
Editor's Note
For a tabulated comparison of the major feature/performance differences between the S-301 and S-101 Denon DVD Home Theater Systems, search for our article titled Denon S-101 Vs. S-301 DVD Home Theater Systems
Set-Up

The S-101 showed up in a moderately sized box. This was a sigh of relief for me to finally take a break from monster speaker systems and amplifiers and be reviewing manageable sized gear which is easy to setup and place in the room. To test the alleged ease of setup of this system, I had my wife connect it up. Normally she would clear the room when I bring in a new AVR receiver or DVD player, but not this time. Following the single paged connection guide which is the first thing that greets you when you open the box, she located all of the components and cables required for the setup. The subwoofer module did have a bit of heft so I helped out and placed it in the most ideal location in the room which happened to be midway off the front wall concealed behind a chair.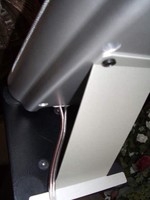 Connections were a snap thanks to the color coded and keyed cables. They insured you couldn't reverse the polarity of the speaker leads or misconnect the DB25 system cable. This large connection supplies the DVD module power and audio connectivity to the subwoofer's internal amplifiers which power the satellite speaker system. You can even change out the speaker cables for something more exotic, or to simply lengthen them if the speakers are located further away from the subwoofer.
About the only criticism I had on ergonomics of set up is if you use the supplied speaker stands to sit your speakers on a table top or auxiliary stands, they get in the way of the wires. I would have liked to have seen a perforated slot on the middle of the stand to snake the wire through. Other than that, setup couldn't be any easier or more straightforward, as evident by the fact it passed the wife acceptance test with flying colors.



The heart of the S-101 system resides in its rather potent, yet compact, 8" high-excursion powered subwoofer that also serves as the demarcation connection point for the satellite speakers and DVD unit. Thanks to the unit's down firing woofer and port topology, it opens up more flexible placement options since you don't have to worry about installing it in situations that may be blocking the woofer or port.

The rubber feet were a nice touch and not only added a good aesthetics factor, but also added a functional one by allowing the sub to make firmer contact to the floor which helps tighten up the bass response.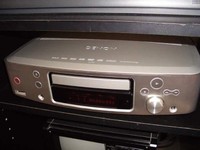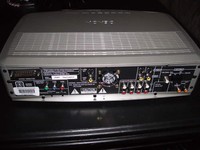 Front/Back Panel Views of the Denon S-101 CD/DVD Controller Unit
This is one jacked HTIB unit as evident by multiple analog and digital audio I/Os, and provision for component video. It even has a front panel connection for iPod. I was a bit disappointed to see a back panel switch to select between progressive scan and interlaced video as I would have preferred the ability to select this via the OSD in the menu setup like most DVD players do today.