Bowers & Wilkins Mini Theater MT-50 Speakers Review
Summary
Product Name:

Mini Theater MT-50 Speakers

Manufacturer:

Bowers & Wilkins

Review Date:

June 18, 2012 05:20

MSRP: $1700
First Impression:

Gotta Have It!

Specifications

Technical features: Nautilus™ tube loaded tweeter with aluminum dome, Woven glass fiber cone bass / midrange
Enclosure: 2-way vented-box system
Tweeter: 1x 25mm (1in) aluminum dome high-frequency
Woofer: 1x 100mm (4in) woven glass fiber cone bass / midrange
Frequency range: -6dB at 55Hz and 50kHz
Frequency response: 64Hz - 23kHz ±3dB on reference axis
Dispersion (horizontal): over 60º arc (within 2dB of reference response)
Dispersion (vertical): over 10º arc (within 2dB of reference response)
Sensitivity: 85dB spl (2.83V, 1m)
THD: 2nd and 3rd harmonics (90dB, 1m), <1% 120Hz - 30kHz
Nominal impedance: 8Ω (minimum 4.0Ω)
Crossover frequency: 4kHz
Recommended amp power: 20W - 100W into 8Ω on unclipped program
Dimensions (table stand): 9.8in H x 4.5in W x 6.4in D (248mm x 114mm x 162mm)
Weight: 5lb (2.3kg)
Cabinet: Matte Black or Matte White
Grille: Matte Black or Matte White perforated steel to match
Executive Overview
Most people who are into home theater and speakers will have heard of B&W. The company is known for its high performance speakers and they have a reputation for quality products. Recently, they've demonstrated a knack for making smaller speakers that sound bigger than they are. For example, we reviewed their MM-1 multimedia speakers and found them to be absolutely astounding. I mean, they're "this big"... Now, they've taken that same approach with their new M-1 Mini Theater Speakers. This is their MT-50 system which we reviewed. It includes five M-1 two-way speakers and an ASW608 8" subwoofer.
So what is this system. Well, it's two products, the very versatile M-1 speakers and the ASW608 sub. The M-1 speakers have a 1" metal dome tweeter and a 4" midrange woofer that's made out of woven fiberglass. They can handle amplifier power up to 100 watts, so they're going to work with just about any AV receiver. And when we said they were versatile we meant it. Each speaker can be tabletop mounted or wall mounted and the base has a rubber plate (for lack of a better word) that comes off to expose an included Torx wrench and push-spring type binding posts. These terminals are placed in a way that allows you to run bare wire into the base to the speaker without showing any connectors on the outside it's nothing short of brilliant and we hope they didn't patent it because we'd like to see this from others manufacturers as well.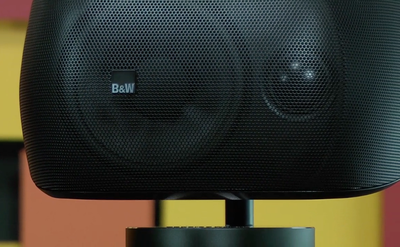 The reason they included a Torx wrench is so that you can remove the base and reorient the speaker for use as a center channel or to attach it to the included wall mount. B&W is clearly in the design business and they literally thought of everything with these speakers.
The ASW608 subwoofer is a sealed design with an 8" paper/Kevlar long throw woofer. There are a billion controls and connections on the back of the sub. OK, not a billion, but there are both line level and speaker level inputs, and controls include Volume for both the line and speaker inputs, a defeatable low pass crossover frequency dial, and a phase switch. If that were all, then we'd be exaggerating our description of how much configurability there was. But that's not it. The ASW608 sub also gives you a bass extension switch that limits the lower frequency response of the subwoofer in situations where you may have a larger room or want to run the sub at volume levels that would cause too much distortion in the maximum extension mode. That means you'll have less extension, but more output - it's a great option.
There is also an EQ switch that lets you apply an auto EQ curve for normal sub placement and also a setting for less resonant rooms or non-corner placement. The sub also has a 12V trigger for those who want to make sure the sub only comes on when the system is powered up. Fitting all of this technology into a 10x10x13 box is more than a little impressive.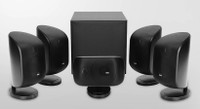 Of course, as always, it was the sound that impressed us. The B&W MT-50 system sounds a LOT bigger than it is. And while playing back movies like How to Train Your Dragon, Inception, and Men In Black, really showed off the great imaging and the excellent bass response of the ASW608, it was music that really got our attention. The M-1 speakers, when coupled with the sub, produced a rich, smooth sound that had excellent midrange, and clear highs. But that wasn't our initial experience. It took some tweaking. You'll want to experiment with setting your crossover around 100Hz or so to make sure that you send enough of the required frequencies to the subwoofer where they'll get better treatment than through the M-1s. Though the specs claim a 3dB point at 64Hz, we didn't get the best results from an 80Hz crossover, the mid-bass was a tad lacking. Once dialed in, however, the system came alive. We think it's going to be a combination of taste and your room acoustics that determine where you set the crossover in your particular application.
This system runs somewhere around $1700, but expect that price to vary by dealer. The bottom line is that the MT-50 system crushes your average home theater-in-a-box speakers. This is a real system that, while not cheap, will give you a great looking set of speakers that sound as good as they look.
Now listen, we've got a question for you this week: Do YOU think it's possible to get full, rich sound out of a small speaker system? Visit our YouTube page and leave a comment letting us know what you think. And also subscribe to our channel for more great videos (well, WE think they're great). Also 'Like' us at Facebook.com/audioholics and Follow us on Twitter @AudioholicsLive.
B&W posts on December 09, 2012 05:31
I have the Marantz NR1603 and it's nothing less thatn brilliant, though the price in Europe is around 630 euros, I believe in the US I saw it sells for 600 $....you can get an audition at magnolia (Best buy) as it is one of their high end AV receiver....best of luck you will not be disappointed...
B&W posts on December 09, 2012 05:28
Thank you for your review that helped me pull out a considerable amount of pennies order to step forward and purchase this system. I purchased this system in Europe where I do live and believe me the firm I purchased was very efficient informative and definitively helped the experience, so hat off to B&W dealers...they are hand picked at least in Slovakia.
Now I did pair this great system to a Marantz NR1603 another compact AV system that is nothing less then brilliant. I had the chance to demo this system (very briefly) while in NYC and I was so impressed that I did decide to move away from Martin & Logan and KEF.....I mean this is something or what!
The system come very well packed I did get the white version and the entire solid feeling is there since you open the box and start fiddling around on how to connect the wires and adjust the angles of the stand I did wall mount all of them but the center one). Once the 16 gauge silver wires (Jaimo manufactured) were pulled behind the wall (preinstalled since the house was custom built) the installation was a whiff, it took abut 30 minutes for the first one, the other 3 less than 10 minutes each. I did connect the subwoofer with a 25 feet shielded SW wire nothing special just good brand, connect the Cat 5 to the internet, the HDM's to the LG Plasma 50 Inches HD TV, to the SAT RCV, the DVD and ready to go, the audissey did his brilliant calibration part and now after breaking in the speakers at a very moderate volume level, I am starting to fine tune the system.
I have to say that with your reccomendation and the manufacturer ones the system sound extremely accurate, the level of separation between instruments, voice, bass, mi and high is really incredible, I did some runs with DVD "Men in Black, Saving private Ryan, some TV HD shows like National geographic nature and MTX Iconcert....I did play some very high quality DDD Cd from the hey days "Pat Metheney group" and few other and the sound it's of a clarity that would have been unthinkable in a small system like this few years back. My living room it's not small, the walls are solid and built with 45 cm (18 inches) cinder bricks) and the ceiling is double and insulated. Dimension approx 24' x 24' x 9'.
Personally apart the fact I have yet to set up thinks like airplay in the Marantz....the B&W MT50 system as described at the hefty price that sell for (however shop around and you'll find decent deals) is a fantastic piece of audiophile EQUIPMENT FOR YOU HOME, clearly has it limitation (very few and yet to be found), so on my side, thumbs up to Bowers & Wilkins for an excellent speaker and SW system that will please you for years...Oh I almost forgot, if you have an important other one Mow or Wife) living int he house....well the size, the design and the quality of the system not too intrusive and crystal sound will impress them as well and if you are married...well you know what I mean!!! Best of luck and enjoy the system....
thinkican posts on September 06, 2012 22:15
I just went out and ordered this system.

Can you recommend a good AV that will work well with this?

I spoke to the sales person and they said to use pioneer. I had just ordered a harman kardon 3600 (on sale for $400 from $900), but Im thinking of returning it and go with a pioneer vsx-42.

My budget for the receiver is $400-$500.
BoredSysAdmin posts on June 22, 2012 07:50
We only test small speakers in smaller rooms. In our opinion, small speakers aren't appropriate for larger rooms. Video reviews necessitate a different approach to reviewing in order for them to remain engaging and watchable. I have yet to figure out how to insert measurements, etc without dulling the video down to intolerable levels for the majority of viewers.

Skip all tech stuff in the video - it's probably not interesting for most people, but how about putting the measurements in the article AFTER the conclusion page and only interested people would read it.. Without the meaty tech stuff such review seems a bit shallow...
Clint DeBoer posts on June 22, 2012 06:26
Weedmonkey;891362
Seems like the review leaves out some important information, i.e., the size of the room. A HT sound system like the system reviewed with small speakers and a relatively small subwoofer might do well in a smallish room, but how about in a larger area with high ceilings?
We only test small speakers in smaller rooms. In our opinion, small speakers aren't appropriate for larger rooms. Video reviews necessitate a different approach to reviewing in order for them to remain engaging and watchable. I have yet to figure out how to insert measurements, etc without dulling the video down to intolerable levels for the majority of viewers.