SPI Build Quality & Use
I'm a bit rabid about my projector mounts. Universal fit is a must - particularly for die-hard front projector aficionados (and product reviewers) who wouldn't be caught dead without having the latest technology. But it doesn't stop there. In addition to universality, a projector mount has to be easy to install, simple to adjust, and preferably, capable of supporting that super-size heavy projector you may or may not one day be able to afford. Premier Mounts' SpiroLock Low Profile Projector Mount addresses all three of my "must-have" criteria pretty well. In fact, they pretty much nail two of them and the third I found that I could live with. At $178 it may not seem as affordable as some generic models, but it's a robust mount, and you can find it a lot cheaper than MSRP from dealers and authorized retailers. And, if you're a pro, this is a mount you can count on to be there, one you can get used to installing, since Premier has a history of longevity and installer support for its products.
Build Quality and Use
The SpiroLock (SPI) Low-Profile Projector mount comes in black or white and has several different form factors. You can get it standalone - as we did - or you can bundle it with any number of accessories or hardware. For example, the UNI-SPIB is a black version that is configured for use with a short-throw projector mount and integrated audio system. The SPI-FCMA is the SpiroLock mount with a white drop-ceiling plate to make the mount super-easy to place in commercial environments. In short, the SpiroLock SPI system has been integrated across Premier Mounts' entire line of products, making it easy to order and customize to whatever situation you may find yourself in. Wood stud, solid ceiling surface and short-throw projector wall mounts are ready to take it and if you pick up the SPI-PRO model, you can even couple it to 1.5" NPT pipe.
The SpiroLock base kit ships in a ruggedly-packed box that is foam-filled and includes everything you need to get up and running with a basic ceiling installation. The base SPI kit includes the mount, which is the projector plate, the ceiling plate, four legs, Lock-It security barrel, an Allen wrench, and a whole host of hardware for installing any projector imaginable. There is no cable safety wire harness with this system (nor do you really need it if used correctly). It's not a "tool-less" installation, but it only takes one tool once the plate is mounted to the ceiling, and that tool is included. If it were any easier, they'd have to package a guy to install it for you.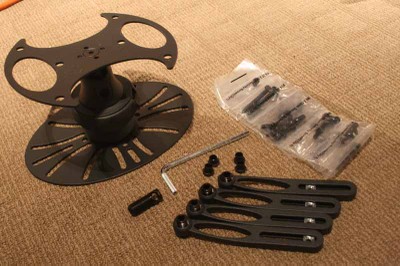 The mount itself is made of powder-coated steel and is deceptively tough. It can support projectors weighing up to 45 pounds, but if past history is any example, that's just the limit Premier puts in there and has likely tested it with greater loads. With four legs, we doubt it would have trouble holding up more. The system's claim to fame is its innovative SpiroLock mechanism which rotates 15 degrees to lock and unlock the projector plate from the ceiling plate. And, of course, you can secure it by adjusting the locking tab and Lock-It screw with the included Allen wrench.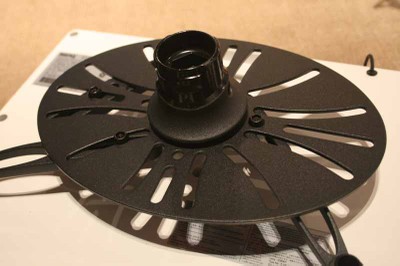 The ceiling plate has 6 mounting holes, for a variety of options to get it where you need it, and the projector plate works really well with either 3 or 4 mounting legs. The legs are made so that they can accept all of the various screws and thread-types used by the major manufacturers (all of which are included) and you can even adjust the height with integrated leveling barrels. This is important, as the mount is rather low-profile and often the mounting points aren't the lowest point on the bottom plate of the projector (feet may extend past, for example). In this way, you can get the SpiroLock mount as low as possible and really squeeze that projector closer to the ceiling (for those of you very high vertical offsets - you know who you are!). After you have everything configured, the leg barrels even come with plastic caps to keep dust and dirt build-up from getting in.