OmniMount PROCFCART Media Cart Review
Summary
Product Name: PROCFCART Media Cart
Manufacturer: OmniMount
Review Date: March 13, 2012 07:10
MSRP: $799
First Impression:

Pretty Cool

Specifications

Fits most: 37—55" flat panels
Supports: 50—90 lbs (23—41 kg)
Lift: 20" (510mm)
Tilt: 20º
Rotation: 90º
VESA compliant: 200mm, 300mm, 400mm, 500mm or 600mm wide and 200mm or 225mm to 400mm high
Warranty: 3 years
Color: Black
Executive Overview
One of the things we haven't really talked about is the OmniMount Pro CF Cart. This is The name is kinda weird, but it stands for Professional Constant Force Cart, OmniMount's new design for mounting a TV that can be moved around from room to room. The Pro CF Cart features 20" of vertical adjustment that literally takes just a touch. There are no knobs or levers - everything just... works. You can also rotate your display between portrait or landscape at-will by releasing the rear lock and twisting the mount 90 degrees. The cart is super-easy to roll thanks to oversized wheels that lock and we found it to do well over channel drops and cable covers and other small obstacles.
It's the smooth tilting and height adjustment that really caught our eye. OmniMount uses something called Ergotron Constant Force technology. This is a new technology for the company and it's showing up in all sorts of mounts. We like it as it basically results in tool-free adjustment - in this case, of both tilt and height.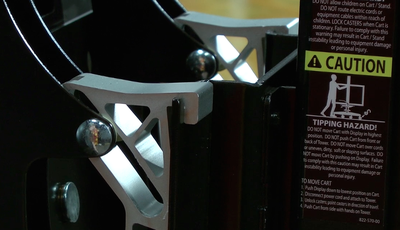 On the back of the Pro CF Cart you've got this integrated cable management system that can route both power and audio/video wires and cables safely and in a way that hides them from view. You can even get a shelf that stores a Blu-ray player or other device that can remain with the cart and the display.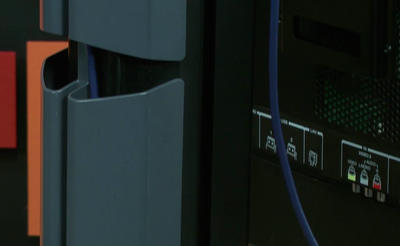 Retailing around $799 (though we're pretty certain you can pick it up for less), the Pro CF Cart is a brand new take on the old TV carts of days gone by. I mean, seriously, which type looks like it's part of the 21st century and which one really needs a serious push down a flight of stairs?
If this video made you rethink your life and what's really important to you... well, you're in pretty bad shape... If you found it entertaining, however, please comment or hit the like button in YouTube - it'll help us bring you even more great videos. And while you're at it, check out all the great stuff going on at Audioholics by "liking" us at facebook.com/audioholics and following us on Twitter @AudioholicsLive.