Functionality Conclusion
Now that the lift was securely anchored in and all the plugs were safely connected, it was time to play "Let's see what this button does".  One push of the "Down" button revealed the lift magically dropping from the ceiling.  Looking at the mechanisms driving the cage (very industrial, as earlier mentioned), I expected a not-so-pleasant sound when in use.  I was surprised to hear a very slight hum when in motion.  The cage dropped to its full "down" position and stopped.  Pressing the Up button had the same positive results. Now we moved on to the fine adjustments. 

There are manual and electrical adjustments for the drop of the cage.  We did not need to use the manual adjustments, which only require loosening a 7/16" bolt on each leg of the cage.  The included hex-wrench was used to make the adjustments on the electric motor.  With a few twists of the wrench, the travel of the lift was dialed in perfectly.  It really didn't take too much back and forth and we were able to get exactly thr height we needed. With the ceiling tile attached to the lift, when the cage reaches the top, you could never tell that there was 100 lbs. sitting over your head.

Now that the cage was dialed in, it was time to install the projector for testing.  Using our existing projector and mount, it easily bolted into the sliding mount on the cage.  The only parts needed were two 1/4" x 1" bolts with 1/4" nuts and washers.  Included on the cage were two outlets to supply the required 110V.  Plugging the projector in, we fastened the wire to the cage securely with zip-ties. We then connected the wires from our source, in this case, VGA from a laptop. Everything worked flawlessly.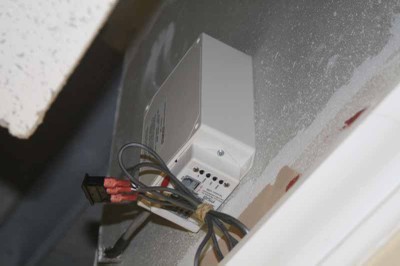 Conclusion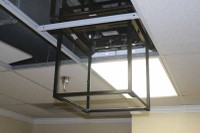 Whether you are needing to circumvent a fight between you and your wife about hanging a pole from the ceiling (not for dancing purposes), or for concealing a business tool when not in use.  Auton has the product for you.

Sure, there is some hard work and thinking involved, but it is well worth the time and energy spent. In fact, we'd go so far as to say it's well worth hiring a professional custom installer to put it in for you. It's not only a well-functioning, solid-built tool; it is also a very nice conversation piece.  Your clients will be very impressed when they enter your conference room, and at your command (and touch of a hidden remote) the projector drops, ever so quietly, from the ceiling. 

The price may be out of reach for personal use, but for commercial installations it's simply a no-brainer and will add tremendous value to any conference of board room.  With the appeal of the aesthetics, and teamed with the robust functionality; this makes for a definite recommendation in my book.

About Auton Motorized Systems
Since 1955, AUTON Motorized Systems has been manufacturing the world's finest rack and pinion systems that are used to hide, reveal, and automate a wide variety of products including plasma and LCD televisions, traditional television sets, speakers, paintings and art panels, and are used in customized furniture designs. AUTON Motorized Systems services the world's leading architects, designers, builders, fine-furniture makers, and audio/visual integrators.
The Score Card
The scoring below is based on each piece of equipment doing the duty it is designed for. The numbers are weighed heavily with respect to the individual cost of each unit, thus giving a rating roughly equal to:
Performance × Price Factor/Value = Rating
Audioholics.com note: The ratings indicated below are based on subjective listening and objective testing of the product in question. The rating scale is based on performance/value ratio. If you notice better performing products in future reviews that have lower numbers in certain areas, be aware that the value factor is most likely the culprit. Other Audioholics reviewers may rate products solely based on performance, and each reviewer has his/her own system for ratings.
Audioholics Rating Scale
— Excellent
— Very Good
— Good
— Fair
— Poor
| Metric | Rating |
| --- | --- |
| Performance | |
| Build Quality | |
| Ergonomics & Usability | |
| Ease of Setup/Programming/Integration | |
| Features | |
| Remote Control | |
| Performance | |
| Value | |
See also:

mtrycrafts posts on July 03, 2009 19:41
So.... a sleek streamlined projector was a no-no... but a huge wooden crate attached to the ceiling was acceptable? I will never understand some women.

Yep, some don't have an attic to place that monstrosity up in or the space between the ceiling joists between floors
Clint DeBoer posts on July 02, 2009 21:19
So.... a sleek streamlined projector was a no-no... but a huge wooden crate attached to the ceiling was acceptable? I will never understand some women.
mtrycrafts posts on July 02, 2009 19:48
ned;590585
mtrycrafts, what is your model ?
Boy, you made me dig through all that paper, manuals, etc
It is a Draper Aerolift50, load lift to 50lbs. The projector is about 42lbs.
This box extends 15.5" down from the ceiling in the closed position.
I think this lift can drop 42" but best to check them on line
Oh, and it was about $2300 not that long ago.
ned posts on July 02, 2009 19:30
mtrycrafts, what is your model ?
mtrycrafts posts on July 02, 2009 17:49
admin;590319
You've already purchased your front projection system and all your components, and now you're left with a daunting task. How do you mount the projector, without hearing an earful from your significant other; or in this case, in a conference room with a commercial drop-ceiling? Many mounts and stands can be not-so-appealing to the female eye, such as a pole dropping from the ceiling, a stand behind the couch, or a box sitting on the conference room table. You ask yourself: does visual perfection really have to come at such a price?

].
Not sure how that would fit in a residence unless there are other models
Forgot what I paid for mine but a bit of woodworking will tilt the scale to that WAF