TH-1040-VFM Build Quality
There comes a time in everyone's lives where they run out of space. It might be in the closet, the tool shed, or the office, but it is bound to happen. If you are into a certain area, if you tend to collect more than you need, it is inevitable. If that "something" is shoes... well, you're going to need more closet space, if it is tools, a bigger shed, but if it is office equipment, it's a bigger desk or office. But what if you can't afford to get a bigger office, more closet space, or a larger shed? What if you have to make due with what you have?
The obvious solution is organization. You have to make better use of the space that you have. If you can maximize that, then you can keep your collection at a certain (or even growing) size without having to spend a ton on major upgrades or renovations. My problem was my office - specifically my desk. You see, podcasting equipment takes up a lot of room. I've got speakers, mics, preamps, and compressors to deal with. That doesn't include all the normal gear like my modem, router, keyboard, printer, and laptop. Add in a few pairs of headphones, a notepad and random writing utensils, a dock for my wireless mouse, and all the other clutter and you can see that space really is at a premium. Recently, I'd upgraded from an aging CRT (so old I bought it when you could get 3rd party MacIntosh computers) to a flat panel. That was a help but I still needed (my wife would put "needed" in quotes but I don't agree) more. Wall mounting the new flat panel was the perfect solution.
First Impressions and Build Quality
The Atdec Telehook TH-1040-VFM came in a rather bulky but attractive box. The TH-1040-VFM was protected by loads of cardboard and covered in a plastic bag to protect it from the elements. With it came two multi-section bags. One contained display mounting hardware including screws of various sizes and washers. The second contained everything you'd need to mount the TH-1040-VFM to the wall. Also included in the packaging is a drill guide, a tightening tool, and an installation guide.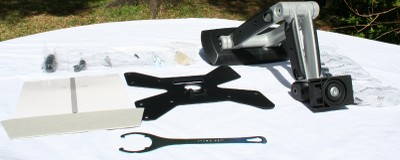 The TH-1040-VFM is an attractive mount that comes in a combinaton silver and black color scheme. The articulated arm has three pivot points - one at the wall, one in the middle of the arm, and the last just behind the mounting plate. Between the last pivot joint is a ball joint for up to 20 degree (one direction) angling and 360 degree rotation. This gives the TH-1040-VFM a range of motion that needs to be experienced to be believed (check out the Atdec TH-1040-VFM page for a Flash movie showing it in action).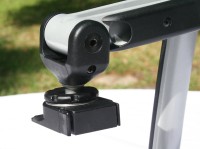 While the main structure is all silver, the display mounting plate, the last pivot joint, and the wall cover are all black. There are also black plastic trim/coverings that run the length of the arms. This black and silver motif is very industrial in design and goes well in conjunction with most flat panel displays. My overall first impression of the Telehook TH-1040-VFM mount was one of quality. It isn't overly heavy but instills a feeling of something that is built to last. The plastic cover for the wall mount was the least impressive part of the mount in that it felt a little flimsy but, then again, it's a cover. It's not like it is a structural element.
palmharbor posts on May 04, 2010 19:03
Why could the manufacture not offer color photo graphs that actually
show the mount attached to a flat panel set? They should have
provided 6 different jpegs that show the tv in six different orientations.
I wonder what the product manager was thinking. Based on just a picture of the mount, I will NOT be a customer.... This was poorly prepared.
How many women would buy a dress without seeing worn by a real
actual women?