Atdec Telehook Use and Conclusion
I can't tell you how much I've been enjoying the TH-1040-VFM mount. I think the thing that I've been enjoying the most is the articulation. If you notice I mentioned how you needed to be careful about how you mounted the plate on the display but not how you mounted the arm to the wall. That's because of the ball joint at the end. I know that some people have a problem with the ball joint because they have a tendency to loosen up over time, but I haven't found that to be the case. The wrench that Atdec supplied for adjustments has been great. If I had a complaint about it, it would be that it is overly large and really can't be used for anything else. If I had a suggestion for Atdec, it would be to include some storage on their mount. With the TH-1040-VFM, the perfect spot would be the back of the plate. With the allen wrench they supply for the locking screw, I could just store that in the wire tracks without problem. The ball joint wrench is way too big for that.
If you are on the market for the TH-1040-VFM, you likely want articulation. You want to be able to pull your mount away from the wall. You might also want to be able to shift your display from landscape to portrait mode. The TH-1040-VFM can do all that without a problem. What it can't do is allow you to push the display too flush. The closest I could get the back of the display was just over 5". For some, that might be a problem but for me it wasn't. I wasn't worried about how close I could get the monitor to the wall, I was concerned with how close I could get it to me. With how good the TH-1040-VFM looks, I don't really care if people see it. It has such a good aesthetic, I'm proud to show it off.
At 17 inches of extension, that's pretty close to the user. I could basically decrease the distance between me and my monitor by half. If you are typing all day long like I do, this is a huge plus. If you are working with large graphics and pictures, it's even better. This way, you can physically zoom by moving it toward you rather than having to lean forward or magnifying the image.
Conclusion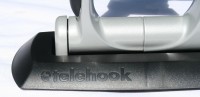 Let's be honest, if you are going to pay upwards of a C-note for a mount, you should get something for it. It should be the hottest, coolest thing around. I don't know if the Atdec Telehook TH-1040-VFM is that for you, but for me, it seems like a very reasonable price. I did a quick search online and I couldn't find anything at any price that has all of it's features (almost nothing has a ball joint). From an ease of installation standpoint, the Atdec Telehook TH-1040-VFM is tops. The only caveat is that you need to have a wall stud in the vicinity. For just south of $100, you expect a lot. In my opinion, the TH-1040-VFM delivers.
Atdec Telehook TH-1040-VFM Flatpanel Mount
$99.99
Atdec
Level 1, 26 Castlereagh St
Liverpool NSW 2170
Australia
Phone: +61 (02) 8729 5000
About Atdec
Atdec is an Australian company that designs and manufactures flat screen (LCD and plasma) mounting systems providing a better visual experience in the home, office and public space. Established in 1998, Atdec is Australia's largest flat screen mounting company and a world leader in mounting innovation and design. Exporting to over 15 countries in North America, Asia, Middle East and Europe, Atdec product can be seen worldwide. Our mounting systems boast superior design, unique features and product flexibility make our products ideal for a broad range of applications in various markets including commercial space and POS, home entertainment, education, digital signage, healthcare, and the audio visual marketplace.
The Score Card
The scoring below is based on each piece of equipment doing the duty it is designed for. The numbers are weighed heavily with respect to the individual cost of each unit, thus giving a rating roughly equal to:
Performance × Price Factor/Value = Rating
Audioholics.com note: The ratings indicated below are based on subjective listening and objective testing of the product in question. The rating scale is based on performance/value ratio. If you notice better performing products in future reviews that have lower numbers in certain areas, be aware that the value factor is most likely the culprit. Other Audioholics reviewers may rate products solely based on performance, and each reviewer has his/her own system for ratings.
Audioholics Rating Scale
— Excellent
— Very Good
— Good
— Fair
— Poor
| Metric | Rating |
| --- | --- |
| Build Quality | |
| Build Quality | |
| Features | |
| Fit and Finish | |
| Ergonomics & Usability | |
| Performance | |
| Value | |

palmharbor posts on May 04, 2010 19:03
Why could the manufacture not offer color photo graphs that actually
show the mount attached to a flat panel set? They should have
provided 6 different jpegs that show the tv in six different orientations.
I wonder what the product manager was thinking. Based on just a picture of the mount, I will NOT be a customer.... This was poorly prepared.
How many women would buy a dress without seeing worn by a real
actual women?