LT25 Installation and Conclusion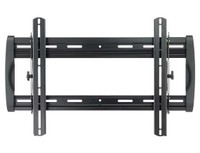 Installation was a breeze. This mount was one of the easiest products I've ever installed. In fact, with the ProSet system, we slapped up a torpedo level, marked our holes and went to town. After locating the studs and pre-drilling the holes for our lag bolts, we put the mount up on the wall and secured everything in place. Because the mount is so wide, it's very easy to catch studs at all four primary mounting points. The entire aluminum mounting plate has openings at top and bottom across the entire length in order to facilitate an easy installation, regardless of your location. Sanus also included mounting hardware for both wood and masonry, complete with washers, bolts and stand-offs.
About the only thing to even watch out for during installation is the location of the mounting holes on your television. If they are less than ~16" then the tilt mechanisms should be located on the outside of the mounting brackets. If greater than ~16" they should be on the inside. All this means is that you may have to reverse the tilt adjustment knobs by removing them completely and inserting them on the other side, so you can switch the tilt arm brackets around. The tension knobs should always, for obvious reasons, be located on the outside so that you can get to them for easy adjustment.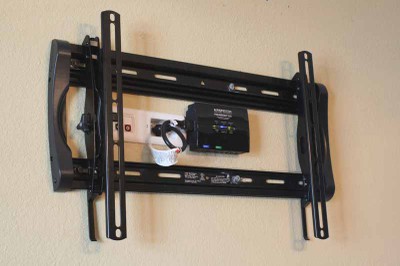 Once everything was in place, we made good use of the ProSet height-adjustment screws and dialed in the mount to be perfectly level. This was done while holding our torpedo level on the top of the display and adjusting the ProSet screw with the included allen wrench. In less than 2 minutes our television was perfectly level and installation was completed. Now all that was left was installing the myriad of devices and wall plates we had in store to wrap up our installation. One note - while positioning any peripherals, be sure to check your clearance and ensure that your tilt brackets aren't going to interfere with cables or anything you plan to place behind the screen.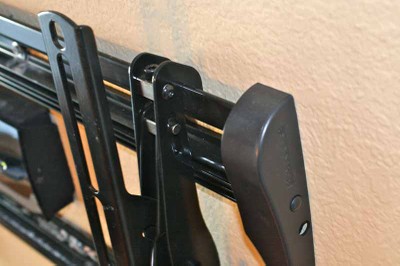 The ProSet screw is on top of the tilting bracket and adjusts easily for 2 degrees of positive or negative roll.

Conclusion
The Sanus Systems LT25 is very possibly the best tilting flat panel mount you can buy. It's easy to install, looks great, will support nearly anything you throw at it, and removes the most common hassles associated with flat panel display mounting. Given the price of just $199, I'm confident you can dig around and find something for less money, but it won't have this level of quality or features. And when you figure in your time and energy, and the importance of a product that has takes a difficult job and makes it easy, then the Sanus LT25 is a downright bargain. Highly recommended.
Sanus Systems LT25 Tilting Flat Panel Wall Mount
$199.99
Sanus Systems
Milestone AV Technologies
2221 Highway 36 West
St. Paul, MN 55113
(800) 359-5520
www.sanus.com
About Sanus Systems
Sanus Systems, a division of Milestone AV Technologies, designs and builds a broad variety of audio video mounts, furnishings and accessories that will satisfy even the most demanding audio/video enthusiast or interior designer. Every Sanus product is engineered to enhance AV systems and the surrounding decor. Today Sanus offers more than 300 products, including on-wall furniture, home theater furniture, TV stands, audio racks, wall mounts and speaker supports. Sanus products are available at thousands of retail locations nationwide; a store locator is available at www.sanus.com.
The Score Card
The scoring below is based on each piece of equipment doing the duty it is designed for. The numbers are weighed heavily with respect to the individual cost of each unit, thus giving a rating roughly equal to:
Performance × Price Factor/Value = Rating
Audioholics.com note: The ratings indicated below are based on subjective listening and objective testing of the product in question. The rating scale is based on performance/value ratio. If you notice better performing products in future reviews that have lower numbers in certain areas, be aware that the value factor is most likely the culprit. Other Audioholics reviewers may rate products solely based on performance, and each reviewer has his/her own system for ratings.
Audioholics Rating Scale
— Excellent
— Very Good
— Good
— Fair
— Poor
| Metric | Rating |
| --- | --- |
| Build Quality | |
| Ease of Setup/Programming/Integration | |
| Features | |
| Fit and Finish | |
| Performance | |
| Value | |

tn001d posts on August 25, 2010 16:54
$200 for a wall mount? Are you serious. The highest rated wall mount on amazon is $30 and i got it. Its holding my 46'' just fine on the wall and its tilitable has a built in leveler. Have fun wasting your money..
Bismarck posts on August 23, 2010 23:05
I couldn't agree more with the review. As an installer, I get a chance to use a lot of different wall mounts and Sanus makes some great products. Sure, even a really cheap mount will hold up a TV, but it is worth the extra money for a good mount like this one.

Whenever I have to mount on brick I try to use this wall mount because making sure the TV is level is not as easy as mounting on drywall, but with this wall mount i can get the TV level 100% of the time.

great review and a great wall mount


However, i will say not all of their mounts are perfect. Their new full-motion mounts for large TV's have a number of problems.