LT25 Build Quality and Function
Flat panel mounts are common, but there are a lot of challenges associated with putting your plasma or LCD TV up on a wall. For one, those "super-thin" mounts are great, but most people don't realize that you need recessed power and low voltage connection plates in order to utilize them. Then there are those who need a mount that tilts, so that the TV is at the proper trajectory in situations where the set may be elevated - perhaps above a fireplace or simply to clear a piece of AV furniture. Another common problem is that, with most flat panel TV mounts, you have to get the mount absolutely level or your television will look crooked... permanently. Sanus addresses several of these issues with the LT25 Tilting Flat Panel Wall Mount.
This mount provides a myriad of features and is well-built and simple to install. Of all the flat panel mounts we've tried, this is probably one of the more ergonomic, efficient, and inexpensive tilting mounts we've used. Considering there are dozens of models to choose from - that's high praise.
Build Quality & Function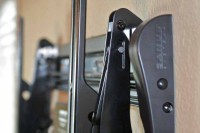 The Sanus LT25 Flat Panel Wall Mount is an open-back design, which I prefer over those mounts which provide a solid plate across the back. Open-back mounts give you some interior room to use for centering wireless HDMI receivers, recessed power plates or other modules or devices such as Sanus' ClickFit surge protector. They also tend to be easier to maneuver and weigh less. The mount is made from heavy gauge extruded aluminum, which makes it strong and light. The end caps, which bear an embosses Sanus Systems logo, are made of plastic to further reduce weight and give the mount a nice finished look. This is a beautifully machined piece of equipment.
The mount works by installing the back plate to the wall and then hanging the two Virtual Axis tilting arms which are designed to be pre-fastened to your television or display. Tilt adjustment tension can be set using the knobs located on the side of the tilt arms, and adjustments are easy, either by hand or via an allen wrench. The two arms slide along the mount rails, both top and bottom, so you can actually center the TV in your space, even if the mount needs to move to the right or left during the installation process.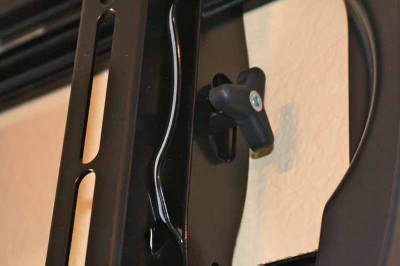 A ClickStand mechanism means that you can release the bottom of the mounting brackets and swing out the TV for easy installation of power, AV and network cables. This is one of the most convenient features we've seen, save for the next one I am about to mention. A ProSet post-installation height adjustment screw is located on each tilt bracket. This means that you can basically slap the mount up on the wall any which way (more or less) and you will have 2 degrees of roll in either direction in order to assure your television is level. I cannot stress enough how important this is. A natural and accepted part of mounting flat panel TVs involves a torpedo or 2-foot level, which you place on the mount as you mark it out on the wall. This assures a level positioning of the mount bracket. The trouble is, screws drift and, particularly in older homes, floors and ceilings aren't always straight. When you finally mount your TV on the wall, it is not uncommon to note that it is slightly out of sorts and not at all level. The built-in adjustment provided by Sanus removes all worry and you can finally just install the mount as needed and handle the fine-tuning afterwards (we still recommend you use a level, but if you're even remotely close you are good to go).
The ClickStand disengaged the bracket from the lower rail and then swings around to stand off the TV from the wall, allowing you to make cable connections easily and quickly.
tn001d posts on August 25, 2010 16:54
$200 for a wall mount? Are you serious. The highest rated wall mount on amazon is $30 and i got it. Its holding my 46'' just fine on the wall and its tilitable has a built in leveler. Have fun wasting your money..
Bismarck posts on August 23, 2010 23:05
I couldn't agree more with the review. As an installer, I get a chance to use a lot of different wall mounts and Sanus makes some great products. Sure, even a really cheap mount will hold up a TV, but it is worth the extra money for a good mount like this one.

Whenever I have to mount on brick I try to use this wall mount because making sure the TV is level is not as easy as mounting on drywall, but with this wall mount i can get the TV level 100% of the time.

great review and a great wall mount


However, i will say not all of their mounts are perfect. Their new full-motion mounts for large TV's have a number of problems.