Yamaha MusicCAST2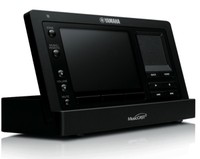 Summary
Product Name:

MusicCAST2

Manufacturer:

Yamaha

Review Date:

June 26, 2009 03:20

MSRP: $varies
First Impression:

Pretty Cool

Specifications

MCX-RC100 Network Music Commander

3.5" full-color display
Interactive touch pad
Simple menus with easy-to-use GUI
Full color album art display
Full 2 way metadata communication
1 Commander controls up to 32 zones
Support of Yamaha Network AV receivers (RX-Z7, RX-V3900)
Compact size and light weight

MCX-P200 Pre-amp Network Music Player

Play any available network music content
Support music stored on USB flash drives
Alarm clock feature
Control buttons on top for easy access
Subwoofer output for added bass
iPod/Bluetooth compatibility via optional accessories
Line output (pre-out) for external amplifier
IR outputs for controlling other connected devices such as amplifier/receiver

MCX-A300 Amplified Network Music Player

Play any available network music content
Support music stored on USB flash drives
Alarm clock feature
Control buttons on top for easy access
Subwoofer output for added bass
iPod/Bluetooth compatibility via optional accessories
Built-in amplifier
Executive Overview
We've reviewed the Yamaha MusicCAST offerings in the past and have found them to be good preforming if a bit on the expensive side. Also, other competitors like Sonos have offered more flexibility at a more reasonable price. One thing that had been a boon for Sonos and a bust for the MusicCAST was the remote. All your information and controls were on the Sonos remote while you were required to use an on screen display for the MusicCAST. No more.

The new MusicCAST2 (or squared, it looks like squared from the graphics) introduces a completely new MusicCAST system redesigned from the ground up. The system consists of three different products, the MCX-RC100 Network Music Commander remote, the MCX-P200 Pre-amp Network Music Player, and the MCX-A300 Amplified Network Music Player. In order to have a functioning zone, you'll need at least the remote (MSRP $500) and one for the players (both priced at $400). The system supports up to 32 rooms (which is about 28 more than most of us will need) and works on a WiFi signal. This is one of the immediate missed opportunities we saw with the new MusicCAST2 was that they operate on the 802.11b/g rather than 802.11n. This would have given the MusicCAST2 a step up on the Sonos g connection.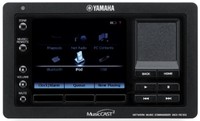 While $500 seems like a lot for the MCX-RC100 Network Music Commander remote, let's look at what you get for that. The remote has a 3.5" LCD screen and a trackpad along with a number of predefined buttons. Play, skip forward/back, volume and mute controls, and zone functions are all present. The LCD screen can display an icon based menu system, album art, and more. There are also three buttons under the bottom of the LCD screen whose functions change based on what menu you are in (the labels appear on the screen). It controls all the MusicCAST controllers through the WiFi connection so line of sight is not necessary. On top of that, if you have a newer WiFi enabled Yamaha receiver (RX-Z7 or RX-V3900 - look for more in future models), the remote is pre-programed to control those products as well. In fact, the MCX-RC100 is stuffed full of remote codes so that you can control your existing components. While there is no indication that there are macro or universal remote functions, the MCX-P200 players do have IR blaster functions which is how MusicCAST2 system controls other components rather than through IR control from the remote. The P200 only has three IR outputs which might be too limited number of devices for some users.
The styling of the new MusicCAST2 system is surely intriguing. The players have a sort of "X" look to them sort of like the markings on a black widow spider. The black color of the units certainly separate them from their main competition (the white Sonos) and the overall look is much more serious. The MCX-A300 and MCX-P200 share a price tag and many of the playing functions but different fairly significantly otherwise. The A300 has internal amplifiers and is designed to be a standalone unit connected to speakers. This is the unit for a bedroom, kitchen, or other room that is looking for music but little else. The P200 is a preamp so it lacks amplifiers completely. It does have analogue outputs for amps (both units have a subwoofer output for additional bass) and has the 3 IR outputs for controlling other devices. The IR functions are probably designed to turn on a receiver/amplifier for playback when you are out of the room (think of an set of external speakers powered by a receiver in the home theater) rather than as a universal remote.
The MusicCAST2 system gives you access to up to 16 different computers for streaming content along with a connection for an iPod dock (not included) and a USB connection. What is missing is analogue inputs to accept music from a connected CD/DVD player - something we liked on the Sonos but not a fatal omission. This gives you access to music without having to burn it to your computer. There are all your standard functionalities here including Rhapsody, Internet radio, or tracks stored on your Mac, PC, USB sticks,  and Bluetooth devices (with additional BlueTooth receiver). iTunes support is enabled via a bundled TwonkyMedia. File support includes MP3, WMA (no lossless or PRO), AAC (no Apple lossless or FairPlay DRM), FLAC and WAV audio files. We'd like to see at lest Apple lossless though we're happy to see uncompressed WAV and lossless FLAC included.

Conclusion
Yamaha has taken a bold step with the MusicCAST2 - They've completely redesigned their system from the ground up. You will in no way be able to confuse the previous incarnations of the MusicCAST with this current one. Sure, it looks and plays much like its competition, but it doesn't seem to be doing anything wrong. The aesthetics are different, the pricing is similar, and the functionality is expanded. We look forward to getting on of these systems in for test and direct comparison with their competition (since we've experienced nearly everyone else out there).

Boerd posts on June 28, 2009 10:34
MUDSHARK;586983
Does that make my mcx-1000 an antique. Seems like the squeezebox but somewhat more expensive.
Instead of the yamaha MusicCAST2 simply buy a desktop + router + Squeeze Box 3.
The SB3 is way better, the software is open source and has been around for years. Plus, anybody's got a computer these days - just install Slim Server and buy SB3. I really don't see a point in the pricey Yamaha MusicCAST2.
They are late with this product and the product is very expensive. Plus I don't see this product having half the features and support of the SB3 or Transporter.
DigitalNut posts on June 26, 2009 17:53
- MCX-P200 missing some sort of digital out .e.g. coax, optical or even HDMI
- Hi-Res format support would be great (96/24) and support Hi-Res 5.1
ratso posts on June 26, 2009 17:49
no one has still managed to put together the whole package and i don't understand why. it's not like it would cost a ton to get it right the first time?

1. wireless
2. all popular file formats INCLUDING lossless
3. capable of playing hi-rez files (96/24)
4. competitive price (i.e. in the squeezebox/sonos ballpark).
scott911 posts on June 26, 2009 08:41
I agree that the missing "n" wifi is an omission. Someone at this device's target income level has probabaly already bought a new laptop in the last 6 to 12 months with "n" included and is of the mindset that "g" is old fashioned.

And if the device can be configured to broadcast to 32 zones or rooms, you're likely talking about a huge, huge house where the range advantages of the "n" standard would actually be useful if not neccessary.
MUDSHARK posts on June 25, 2009 12:40
Does that make my mcx-1000 an antique. Seems like the squeezebox but somewhat more expensive.