MusicCAST MCX-2000 Overview, Setup and Functions
I remember my first epiphany in digital playback convenience when I purchased a CD changer nearly 20 years ago. I was the cool kid on the block serving up labeled and categorized 6 disc magazine cartridges like they were going out of style. Pop one in, hit random, and you've got nearly 5 hours of music playback for up to a half dozen of your favorite artists. Little did I know, I was taking a mere baby step in music distribution. Welcome to the 21st century where science strives to make bigger and better tomatoes and the audio industry presses on to win over your hard earned dollars on the latest and greatest technological "must have" advancement.
Enter Yamaha's MusicCAST MCX-2000 Digital Audio Server. Yamaha's successor to the MCX-1000 previously reviewed by our own Clint DeBoer.
Some of the major added features of the MCX-2000 compared to its predecessor (MCX-1000) include:
Larger Harddrive storage space (up to 160GB from 80GB)
Integration of FM tuner and XM radio functionality
Networking capability to play content from other computers' internal network
Internet radio support
Support for a larger client Network with up to 15 simultaneous clients (5 wireless)
According to Yamaha, they wanted to incorporate many of the recommended features their customers were asking for such as a larger hard drive. With 160GB of storage, the MusicCAST MCX-2000 now has the capability of storing up to 60,000 songs. MusicCAST also now incorporates an FM tuner and has XM-ready features. They also added local area network (LAN) compatibility for use to stream and play content from other computers via an internal network (now you can use all those MP3s you downloaded and paid for). Finally, Yamaha added Internet radio support to offer users greater flexibility and almost endless choices for their streaming content.
Set-Up

Setting up the MCX-2000 couldn't be any easier. Gone is the hassle of running 3rd party software on a PC to copy CDs. Enter the era of convenience with a single front panel push button labeled " CD AUTO STORE ". Finally, someone developed a music storage system that doesn't intimidate my wife. Her comments when uploading CDs to the MusicCAST were along the lines of " That's it? Wow that's cool!".
Before ripping CDs, some critical setup is in order. Let's take a look at the back panel to explore all of our connectivity options - which on this system are plentiful.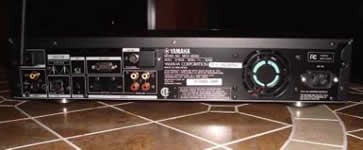 Yamaha MusicCAST MCX-2000 back panel view
From left to right, we have the 802.11b/g antenna for wireless communications, composite and s-video connections, LAN (Ethernet/RJ45) connection, toslink I/O, analogue I/O, and RS-232. I would have liked to see provisioning for a digital COAX output in addition to the toslink connections. In my situation, I connected the MCX-2000 to my family room system (where most of the partying will be done) and also wanted to connect it to my main theater room upstairs but could only do it via analogue. Most users will opt for the wired or wireless clients, so my configuration scheme was a bit unusual as was trying to route the MCX-2000 as a source component through all of my audio systems rather than using its ancillary devices such as the MCX-A10 Wireless Digital Audio Terminal or the MCX-C15 Distributed Audio Controller.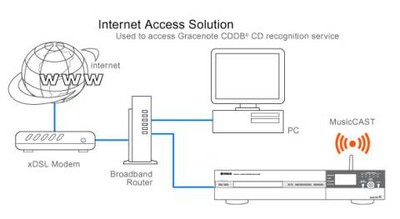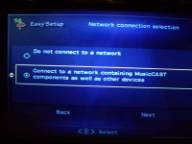 I connected the MCX-2000 to my router using a straight-thru Ethernet cable as seen in the figure above. This is how you connect your MCX-2000 server to the Internet to take advantage of the Gracenote CDDB CD recognition service.
MusicCAST comes armed with a very good GUI (Graphical User Interface) which has the same look and feel of what is in their most recent receiver line up. The first thing you will want to do is engage the "Easy Setup" feature to configure your music server and wireless/wired clients.
Note: Don't skip this step as I found out the hard way that it was impossible to get Ethernet connectivity to run Internet radio without running through this. It's quick and painless, and very straightforward.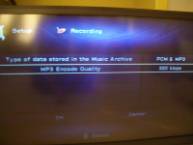 Next you want to select your encoding preferences in the Recording menu under Setup . I chose "PCM + MP3" that way I had the option of retaining the uncompromised PCM transfer for high quality recordings that I planned on doing critical listening to, or discarding it in favor of the MP3 compression scheme which frees up considerable hard drive space. I discarded PCM data for all of my party music, 80's rock recordings and most of the wife's stuff since MP3 works just fine for her (she isn't as critical as I am with fidelity.) And yes, I did get permission with the wife for doing this, unlike some of you other folks out there that would attempt to pull a fast one on your significant other. I selected 256kbps since it was virtually indistinguishable on the recordings I chose to implement compression on. According to the stats page on the MCX-2000, this freed up hundreds of recording hours for us, which was needed given our vast musical tastes and collection.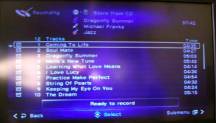 The first thing you will notice when ripping a CD into MusicCAST is that it almost instantly recognizes artist, title and song lists. This is no coincidence. The MCX-2000 is powered by Gracenote. Gravenote is an onboard (over 350k titles built in) and Internet-based database system (originally developed by volunteers, but then later licensed off) that contains informational content on virtually any CD you throw at it. The beauty of the MCX-2000 is it even works the album-labeling and categorizing magic with no Internet connection. You will still want to wire up the system to the Internet as I found several CDs that were not recognized until the MCX-2000 pulled the info from the Gracenote server online.
Wanna be slick? The MCX-2000 allows you to configure a Yamaha RS-232 equipped receiver automatically for use with the MusicCAST system. You can select the AV receiver input to which the MusicCAST will be connected, synchronize/slave power on/off of the receiver to the MCX-2000, change surround programs based on music genre, and even allow MusicCAST clients to broadcast audio from your receiver's tuner section. You can even set automatic playback and shutdown on each of your remote clients. How's that for custom configurability? It makes you wanna stay in the Yamaha family of products for your entire theater solution. Yes?
XM, FM, Internet Radio 舑 Oh MY!
Did somebody say Radio? The MCX-2000 has that (FM at least) and much more. Manufacturers have made the push recently to integrate XM into their product lines. Yamaha is no different as they were one of the first to implement XM in their receivers and have now added it to the MCX-2000's arsenal of supported formats. Also new to the plate, is Internet radio. The MCX-2000 was preconfigured with URLs for five Internet radio stations via sky.fm.com. Browse the Internet for more free radio services, enter the URLs into the MCX-2000, and presto, you've got free radio with no commercials or annoying DJs. With just a few clicks on the remote, I was soon listening to Salsa, Jazz, 70's and 80's hits absolutely free. Well, not free of compression though. Just like XM, Internet radio is highly compressed. While it may be unpalatable for audiophiles such as myself, I found it mildly entertaining provided that I didn't do any critical listening and just enjoyed it as background music. The Salsa channel was very cool indeed and opened me up to music I was unfamiliar with- inspiring me to spend more time in the Salsa section at the record store. I was a bit disappointed that this Internet radio didn't include song info such as title and artist like XM does (as do most of the PC Internet radio players),. I was a bit perplexed that the 70's and 80's channels were being broadcast in 128kbps while the Salsa and Jazz channels were at a mere 96kbps. I'd rather see, or more appropriately stated - hear - less compression on the more demanding music. XM was no different. Most of the channels suffered excessive compression (no fault on the MCX-2000, mind you), making the vocals sound metallic and causing instruments to lack any real punch. Again, if you aren't that critical, you'd likely be satisfied with the fidelity of these services. At the very minimum, they expand your listening palette to new music which you could then purchase.
See my editorial on The Dumbing Down of Audio for further elaboration on pitfalls of compression playback.
Web Browser Editor Feature
Once you've got the MCX-2000 connected to your PC network, you can edit text information in your music archive using a standard web browser that is running on a computer within your network. Text information including artist name, album title, song title, playlist name, and Internet radio station names from the preset radio list are editable. This is a very useful feature when you need to edit a large amount of information. I'm guessing, though, that a majority of users will simply opt to plug in a computer keyboard via the front panel of the MCX-2000 to do quick edits of music files.
To access the MusicCAST music archive from a PC, simply type the MCX-2000's IP address into your browser.
Streaming Music From Your PC
The original MusicCAST MCX-1000 lacked a critical feature for the more computer savvy customers which was found on other music server / HTPC solutions. This was the ability to stream audio from a networked PC. DiXiM Media Server software enables this ability. This software, after being installed on your PC, begins to operate immediately whenever the computer is booted up to publish the content contained in pre-specified folder(s). The content delivered to the MusicCAST MCX-2000 is processed specifically for delivering music over the PC network so that the original files aren't actually copied onto the MCX-2000 hard drive, but instead streamed from the linked PC on the network. Music streaming is available for mp3, m3u, wma and wave files.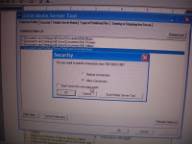 After you load up the DiXiM software on your PC, the software will prompt you for a media server name. Of course I labeled mine as "Audioholics". It is important to label this, especially if you plan on streaming music from more than one PC on your network. You then have to permit access for the MCX-2000 to link up with your PC as seen in the picture to the right. On the MCX-2000 simply enter the Network menu and select the music server you want to stream music from. One cool thing about this software is it actually automatically identified most of my music folders on my PC that contained mp3 or other compatible music files. Additionally, on the MCX-2000 it actually retained the folder structure found on my PC where I had the bands all categorized. With this feature set in the MCX-2000 arsenal, the music delivery capabilities are virtually endless. I was loving the fact I could now rekindle some of the old progressive rock music I downloaded to my PC and haven't listened to on a stereo system in nearly a decade. I quickly navigated to my Peter Gabriel era Genesis folder and played cuts from Trespass, Nursery Cryme, and Foxtrot. Despite the fact it was playing a compressed mp3 file, I still loved Watcher of the Skies from Foxtrot, and listening to it in PLIIx Music Mode was simply awesome!