Yamaha MusicCAST 2000 First Look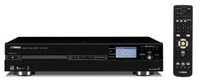 Yamaha MusicCAST MCX-2000 and Remote
In the digital age we live in, where we have wireless growing out our noses, it was only a matter of time before manufacturers started to produce wireless music server systems to distribute whole house audio.  While the Yamaha MusicCAST system isn't the first to step up to the plate, Yamaha has added unique feature sets currently not found on other product solutions.  In preparation for our detailed review, we conducted a mini First Look / FAQ article to whet your appetite.
We also encouraged our readers to look at our review of the original Yamaha MusicCAST MCX-1000 System.
FAQ with Alex Sadeghian (Sr. Product Marketing Manager YEC)
Please describe the major differences between the orginal Yamaha MusicCAST System and the newer MusicCAST 2000.
We wanted to incorporate many of the recommended features our customers where asking for. They wanted a larger HDD, so we went from 80GB to 160GB providing the capability of storing 40,000 songs. We implemented an FM tuner with XM-ready features, and network compatibility for use to play content from other computers an internal network and internet radio to offer the greatest flexibility to our end consumer.
Please provide connection diagrams that illustrate typical wireless and wired home system solutions.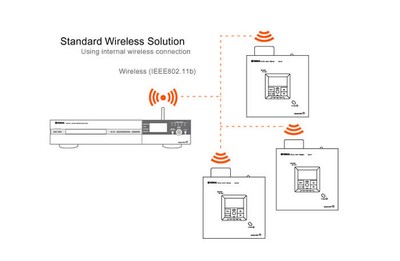 Figure 1: Standard Wireless Solution


Figure 2: Dual Network Solution
Figure 1 is the configuration to use with wireless clients (MCX-A10). You then connect your loudspeakers (recommended > 89dB efficient; 8 ohm) to the client or use Yamaha ones to aesthetically match the system' look.
Figure 2 represents both a wireless configuration from Figure 1 and a simultaneous wired system using a hub to connect multiple wired clients.
Note: If running just one wired client, you can connect via an Ethernet cross-over cable instead of a hub.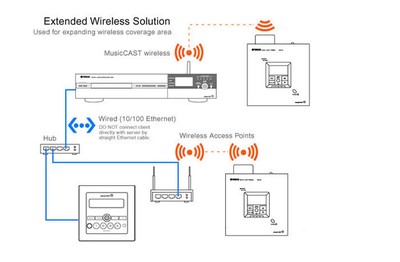 Figure 3: Extended Wireless Solution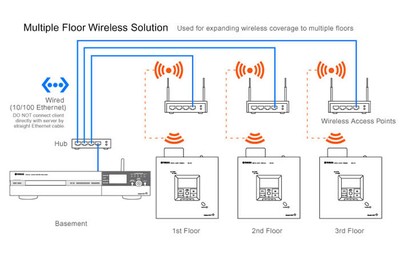 Figure 4: Multiple Floor Wireless Solution
Figure 3 represents an extended wireless solution using a wireless hub to extend the reach of the signal to serve a far away remote client at greater distance from the MCX-2000 server.
Figure 4 expands upon Figure 3 with all three remote clients being at greater distances from the MCX-2000 server, perhaps on different floors as the diagram illustrates.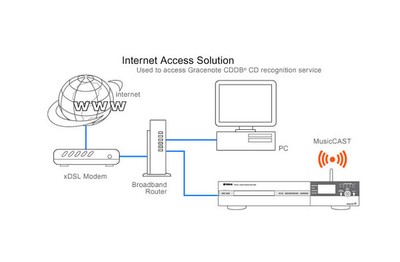 Figure 5: Internet Access Solution
Figure 5 illustrates how to connect your MCX-2000 server to the Internet to take advantage of the Gracenote CDDB CD recognition service.
What type of cables are needed for each wired remote client?
A single Cat-5e cable is needed, but for greater flexibility the use of two Cat-5e and a 16x2 for power allows for full use of all the keypad functions including the IR pass-through and amplification at the home run locations.
What cables/accessories are needed at the wireless client?
No cables are needed to be run from the home run locations. Cables are only needed within the local zone: power cable, speakers and sub cable are only cables connected to the wireless clients.
Editorial Note on the Term "Home Run"
"Home Run" is a term custom installers use to describe a centralized location where all of the prewiring will go back to. It serves as a demarcation point for the audio system and is usually where the electronics, including the controller / processor and amplifiers, reside. In the case of MusicCAST MCX-2000, their MCX-C15 in-wall client has built-in amplification, but the structured wiring still goes back to a centralized location where the MCX-2000 resides.

Please provide a brief functionality description of the wireless and wired client.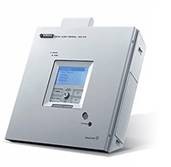 MCX-A10 Wireless Digital Audio Terminal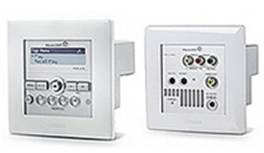 MCX-C15 Distributed Audio Controller
Wireless (MCX-A10) - Main use for home and locations where it makes it cost prohibited to run new Cat-5e cables…Older constructions and condos or apartments that a customer does not want to run cables to run multi-zone audio…
Wired (MCX-C15) - For new constructions and home run systems where placing controllers around the house allows for complete integrations with multi-channel amplifiers and multi-zone receivers and integrations with IR controlling networks so you can control other sources via the key pad IR sensor.
How many independent zones of audio can MusicCAST 2000 support simultaneously?
Total of 15 clients – up to 5 wireless
Can the user add additional hard drives to MusicCAST 2000 for even greater storage capability?
The MusicCAST dealer can replace the internal 160GB HDD to larger capacity if user chooses to expand.
What is the retail price for MusicCAST 2000 and all associated accessories?
The MCX-2000 server is $1999.95, wireless clients are $599.95, and in-wall wired clients start at just $399.95 per zone. The matching flat panel speakers are $120/pair.
What are future upgrade paths for MusicCAST?
The MusicCAST system can be upgraded via CD-ROMs provided by Yamaha to our dealers and customers.
For more information visit: http://www.yamaha.com/yec/products/musiccast/