MusicCAST Overview, Build Quality & Connections
When Yamaha offered us the opportunity to review their new MusicCAST Digital Audio server and client system, I jumped on the opportunity. Having built a home theater PC and having been a fan of MP3 audio as a storage mechanism and playback format, Yamaha's solution of an easy-to-use set top MP3 and PCM audio server seemed a timely solution. It might, I thought, even be an evolutionary step into the world of CD audio archival and playback. It is no big surprise that the falling prices of hard disks and increasing processor speed would make CD archival and playback a viable format, but with regards to the masses, an easy-to-use solution would be necessary.
The Challenges
Personal Video Recorders (PVRs) and set top DVD+/-R drives have long indicated a consumer response to digital set top recording devices, and Yamaha has done a good job of finding a simple to use solution to eliminating large, cumbersome CD collections. While some people are familiar with the tools necessary to create an MP3 server from scratch, it is not an easy task. The following items must be accomplished in order to have a truly useful solution:
Ample storage space for your entire CD collection
High MP3 bit rate playback for accurate sound reproduction
Uncompressed PCM playback (optional, but desirable for optimal playback fidelity)
Easy digitization/encoding of source CDs
Artist/track/album labelling for easy search and retrieval of music in the database
PCM digital output to receiver or processor pre-amp
In addition to this, the following is needed for setting up a client device to receive streamed audio content from the server, and (barring laptops) to my knowledge has only been partially achieved by Linksys, CD3O, Creative, and BridgeCo:
Broadcast method to client device via 802.11a/b/g
Client device (computer or other hardware device) to receive streaming content
Remote browsable content of server media content
Yamaha's Take on the Streaming Solution
Yamaha's MusicCAST system improves upon the PC/client solution and implements a server/client network. In fact, you can have up to 7 clients (5 wireless) all operating simultaneously. Why is this an improvement? Well, costs aside, a server/client solution means that your server, hosting your CD collection resides in your entertainment center and your clients can exist at other remote locations in your home (I have placed mine in the office and also in the bedroom). The server can send direct PCM digital audio to your receiver/processor without sacrificing quality. A wireless PC/client solution results in MP3 or PCM data being streamed to your home entertainment system. You can see how Yamaha's MusicCAST could potentially deliver more consistent higher fidelity.
Build Quality - MusicCAST MCX-1000 Server
The MusicCAST Digital Audio Server comes securely packaged with a remote control, optical SPDIF cable, composite video cable and stereo RCA cable. In traditional Yamaha style, it even comes with a pair of AA batteries for the remote control. On first glance, the MusicCAST server looked to be a sufficiently built device, similar to a heavy duty CD player in size, but coming in at just over 25 pounds! This is a hefty unit, packing a hard drive, PCMCIA IEEE 802.11b card, DACs, power supply and CD-R/RW drive in an ergonomically-sized chassis.
The Connections
The MCX-1000 has a (dare I say it) "plethora" of connections on both the front and back of the unit:
S-video and composite inputs (pass-through only)
S-video and composite outputs (for OSD GUI)
10/100 Base-T LAN terminal (RJ-45 ethernet connector) with Link and Active indicators
Wireless LAN (IEEE 802.11b PCMCIA card pre-loaded)
RS-232C connector (used with cross cable for controlling a compatible Yamaha receiver)
Optical and coaxial SPDIF inputs
Optical and coaxial SPDIF outputs
Analogue RCA inputs
Analogue RCA outputs
PS/2 keyboard jack (front)
Stereo headphones jack (front)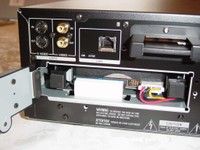 The rear of the unit also features a door that opens to reveal the 80GB 7200 RPM hard disk drive. This is nice in the event that you have a catastrophic failure or want to upgrade the drive to something greater than the included 80GB. Most likely, however, you will never touch this part of the unit.
The MCX-1000 server runs quietly, its rear fan only coming on periodically to cool the system when needed. The only sounds you will hear are the tracking noises of the CD-R/RW drive and the mechanical hard disk during seek and boot up. This is one of the advantages to utilizing a set-top device versus a home theater PC alternative.