Squeezebox v2 Operation and Remote Control


Remote Control Operation
Using the remote, you can navigate through the many pages and options provided by the Squeezebox2's VFD. There are essentially seven main levels with multiple controls and submenus below that. They are:
Now Playing
Browse Music
Search Music
Browse Playlists
Internet Radio
Settings
Plugins
Now Playing
This top menu item grants access to all information about the current playing track, including title, artist, album, and where you are in the song itself. Scrolling down allows you to see what's next in the list as well as what you previously played on the unit.
Browse Music
This area allows you to browse by Albums, Artist, Genre, Music Folder, Playlist, or New Music.
Search Music
This is a nice feature which allows you to search for music alphabetically by Artist, Album, or Song
Browse Playlists
Storing playlists is the best way to organize your music for playback and the SqueezeBox2 allows you to browse those playlists quickly to select the one that you want. I try to organize a few playlists around my moods, music styles, eclectic mixes of favorite tunes, etc.
Internet Radio
One of my favorites, this area allows access to several genres of music plus there is the ever present "Slim Devices Picks" which gives you access to some streaming content the people at the company think are cool. Other choices include Live365 Internet Radio, Radio.com, and SHOUTcast Internet Radio. The stations download and update dynamically, making sure that your choices are current and outdated stations are removed over time. Most of these choices include sub-categories such as Classical, Blues, Jazz, Talk, Rock, Pop, and even Comedy. I found Live365 Internet Radio to be somewhat annoying as after the first choice or so it constantly prompted you to log onto their website to register and login (free, but mandatory). In the interest of science I acquiesced and registered only to find that even after entering this information into the SlimServer and rebooting I still got the message. I finally gave up after realizing there is a communications issue that is being worked on with regard to Live365 and the current version of the SlimServer software. There are so many choices on the Internet to listen to I decided to simply ignore Live365 and stick to the other networks which didn't demand registration.
Settings
This eclectic area allows you to alter settings for using your Squeezebox2 as an alarm clock, change the default volume, set repeat & shuffle options, adjust how song titles are displayed, and change main and standby text sizes. You can also get statistics on your player, server and music library as well as set a screensaver. This last section is very cool and I felt the need to show off some of the new screensaver modules:
My favorite screensaver by far is the Analog VU Meter and I was extremely surprised to see it when it came on. The effect is very cool and it was a step above what I thought I would see when I initially selected it. The Spectrum Analyzer is also a good one and provides a nice frequency spectrum overview of the current track. The RSS News Ticker is also a great feature and we found we could even add our own Audioholics RSS Feed to the available selections.

Plugins

This area is multifaceted and almost a grab bag or catchall for the Squeezebox2 software. It is useful for monitoring and directly accessing installed plugins, including Games (check out the SlimTris screenshot), RSS News Ticker, and Screensavers. It also offers direct, and redundant, access to Internet Radio as well as a way to save and name Playlists. This is also the place to go if you want to Rescan your music library.
Forget What You Know
Now, are you impressed by the configuration of the menu system on the Squeezebox2? Really? Well, guess what 舑 you can completely reorganize it anyway you want using the SlimServer software. Simply go to Home / Player Settings / Menus and have at it. Want a specific Internet Radio plugin at the top level of the Squeezebox' menu system? No problem. Want to re-order the menu and (my favorite) add the "Save Playlist" menu item? Done. The possibilities are endless and you can customize the player's interface just about any way you'd like.
Using the SlimServer Software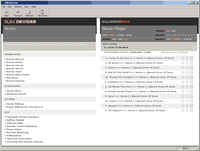 The SlimServer software (reviewed as version 6.0.2) gives you a nice interface from which to browse and play music files and control your Squeezebox2. It is actually accessing the Squeezebox2 hardware via a URL so you are interacting with the box itself when using the SlimServer software. As such, it gives you most of the features available on the unit itself, plus additional configuration and customization options. I found it to be a tad difficult to utilize in contrast to the effortless remote-driven functions of the Squeezebox2, but with great flexibility comes a more intricate interface.
The SlimServer software screen is split into two panes. The left side is your browsing and content area for searching and selecting tracks and also for your various settings and help topics. Here you can display your music by Album, Artist, Music Folder, etc. You can even browse by Album Artwork - an incredibly handy feature for quickly locating an album by sight.
The right pane is your music player which allows you to play, pause and stop music tracks as well as adjust volume, shuffle, and repeat modes. You can even turn off the Squeezebox2 here. This pane will display your current playlist, whether it be a series of just-selected music, an existing playlist, or an Internet radio station.
Speaking of Internet radio, one of the biggest oddities I found was the confusing, sometimes repetitive nature of how Internet radio stations interacted with play lists. For starters, there didn't seem to be a way to directly browse Internet Radio stations using the software, only the remote control. To access a station using SlimServer you'll first need to go there with the Squeezebox2 remote and select it. After this it should show up in your Playlist. To store it, you need to add the station as a playlist file to your playlist folder (either manually or by using the "Add" button or "Save Playlist" plugin on the Squeezebox2) where it will show up in the Playlist area of the SlimServer directory. At this point the station can be edited and its playlist manipulated or renamed.
Manually Adding an Internet Radio Station to the Playlist Folder (from the SlimServer Help Topics)
To save a pointer to an Internet Radio station that you listen to often, you can create an .m3u or .pls playlist file containing the URL of the station in your Saved Playlists folder. You can download these files by right-clicking on the links at most streaming radio web sites.

The SlimServer can also create and use M3U playlist files. M3U playlist files simply contain a list of one or more URLs or path names, each on its own line in the file.
The software also uses a custom CSS style that makes inactive and active hyperlinks the same color as the page text. As a result many of the help files, which contain very helpful links directly to the pages needed to resolve various issues, tend to be hard to see. Each page contains "breadcrumb" links that allow you to see the hierarchy to where you have traveled, also allowing you to step back one level to get to another area without starting from scratch.
I found a couple of items to be quite invaluable. In addition to fields such as title, artist , and album, the Advanced Search function lets you search your music library by such obscure data as Duration, Track, Bitrate, File Format, and File Length (size). If you can't quickly navigate through your music library to find a particular track using these tools than you might as well re-purchase the track online or re-rip the CD, cause it's probably not in your system. With that said, I found it incredibly vexing that the SlimServer software lacked any sort of Search feature for its extensive help files. Instead you need to call up a main topic and use your browser's search function to quickly jump to a part of the page containing that term. I think this is something that could be improved in future versions.
More Nifty Features
This is one example where I actually got angry at a company for providing too many neat, helpful, and otherwise groovy options! As soon as I thought I had the system figured out, yet another flexible feature would creep up and surprise me. One such feature is the ability for the SlimServer to broadcast to not only the Squeezebox2 player, but also other software-based media players. What this means is that if you have the Squeezebox2 system set up in your living room but would like to stream alternate files from your master database to another room, you can set up a computer to act as the head unit and still access the SlimServer software from that location. This allows you to utilize all of the playlists as well as broadcast stored Internet radio stations to the remote PC. In this sense you can have one centralized piece of software which controls a larger house-wide audio playback system. It's a bit convoluted, but like I said, this unit seems to be all about options and features. The only negative that I found with this was that the destination software player took upwards of a minute and a half to update with any playlist or streaming audio changes unless you restart the stream by reloading the URL.
Remote Control

The remote control that comes with the player is ergonomic and small. It contains the controls needed to navigate through the Squeezebox2 menu system and also an alphanumeric keypad to allow naming of files and typing IP address when necessary during setup or storing of information. A red power button and conveniently located play, pause, rewind and fast-forward buttons are located at the top next to horizontally-arranged volume controls. The remote, unfortunately, cannot be easily rearranged like the Squeezebox2 user interface!
There are some nice "direct-access" buttons available on the remote: shuffle, repeat, sleep, search, (display) size, and brightness are positioned at the bottom of the remote control along with a "Now Playing" button that very handily can be used to bring up the title and artist for the current song.
Overall the remote is sufficient, though I think power users will program the functions into their universal remote. With some of the more "out of the norm" button names those with an LCD-style remote will have a slight advantage.