Samsung MR-00EA1 Full Review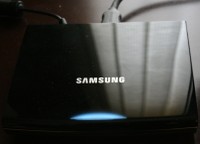 The big problem with HTPCs (Home Theater PCs) is that they end up having to be in the home theater. Most people don't have an extra computer just for use in their home theater nor do they want to spend the money on a huge, normally loud, box when they can use their cable or satellite provider's DVR. The fact is that Media Center is generally included on all new PCs - especially those with Vista. So for many they've got the computer and the capability but no way to get it into their home theater.
If you've got a new Samsung display, this might just be the answer for you.
The MR-00EA1 is a Media Center extender that works exclusively with 2008 Samsung displays model 450 and higher. It is controlled directly through the HDMI-CEC port which means you can use your TV remote to control it. The best part? It can do all this wirelessly - even in HD!
First Impressions and Build Quality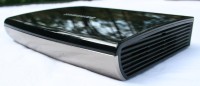 Samsung is one of the smarter companies I know. Most companies will send you a device and talk you through setting it up if you have a problem. Samsung, on the other hand, sent me a PN50A760 50" plasma display and Extender for the review, but also a preconfigured Vista laptop and 802.11n router. All I had to do was plug everything in and turn it on. Since the extender, the laptop, and the router are all wireless, it really is just turning stuff on. Whamo - I'm done and testing. Of course they included directions in case I wanted to uninstall everything and do it all myself.
Um…no. No I don't.
Those of you that have ever worked with Windows in general, and Vista specifically, know that you'll inevitably run into a snag or two during the setup. But you're going to have the problem no matter what. So rather than deal with whatever I ran into, I'll just assume that you can get it setup correctly. One word of warning is that you want to make sure you set the resolution on the PC to the highest possible. Depending on your computer, it might default to 480i which would lead you to conclude (erroneously) that you were having some sort of problem.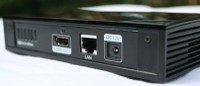 The MR-00EA1 is a small box. It comes with a specialized mounting plate that attaches to the back of your Samsung display. The downside is that it uses the same attachment points that you'd use to wall mount your display. So if you are wall mounting it, you won't be able to use the mounting plate. The upside (there's a lot of ups and downs with this review as you'll see) is that it is light enough that you can mount the plate to the wall behind the display just as easily. The unit is controlled through the HDMI port on the display so you don't need to worry about line of sight.
Samsung claims that they designed the MR-00EA1 for quiet operation. This is certainly true. As far as I could tell there were no fans or anything else to make noise. The unit is small and light though it still feels well made. There is a light on the front that illuminates when the unit is in use but it is very faint so you don't need to worry about it lighting up the wall behind your display if you choose to use that option. On the back there is a power input, LAN connection point, and HDMI out. Since the MR-00EA1 uses the HDMI input to both transmit the audio and video, and for control of the unit, it makes sense that the only connection type is HDMI.
Samsung makes sure you are set up with the MR-00EA1. You get the device and power cord (of course) but they also include an HDMI cable, a remote (that you don't really need) and the mounting bracket and hardware. The only thing that is missing is an Ethernet cable if you decide to use a wired connection.
Set-Up and Performance
Once you've configured the computer and router, all you really need to do is decide how you want to connect the MR-00EA1. It has wireless 802.11n ability, though of course Samsung suggests a wired connection. I decided to connect everything wirelessly to see how it would handle high def content. I had Ethernet cables standing by just in case.
The only thing you really needed to do to get the MR-00EA1 working was to turn on the TV. If the display is on when you insert the HDMI cable, it may not recognize it as a Media Extender. All you need to do at that point is turn the TV off and then on again. You'll see in the source menu that the Media Center is available.
Selecting the correct input for the first time, it might take up to a minute to get Media Center up and running. After that, switching between sources is only slightly longer than switching between any of the other inputs on your display.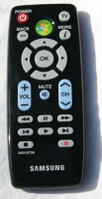 The MR-00EA1 comes with a small remote with some of the standard buttons you'll need. Missing is a keypad and many of the specific buttons to switch you to functions like Live TV or Music. When using the TV remote for control (which most of you will do), you get access to the keypad but you're still missing the function-specific buttons. This will force you to navigate manually through the menus which may or may not be annoying to you.
Responsiveness of the menus is a bit slower than I'd like, with a second or two delay between button presses and action on the screen. This may be an effect of the display (as Samsung menus in general aren't the zippiest I've ever come across), the wireless connection, or just Windows Media Center in general. In the past, I've tested a couple of different HTPCs and menu navigation was always a bit slow. The MR-00EA1 was definitely the slowest.
Samsung was nice enough to load up the provided laptop with standard def and high def content. The real test was how well it could stream HD content wirelessly. I was pleasantly surprised to find that I was getting HD images on the screen with only minor audio and visual glitches. These took the form of occasional audio distortion and a few instances of video pixilation. In the course of a half an hour of viewing, I might note between zero and 2 of these occurrences. To me, this is success enough. With a wired connection, you should be able to experience none of these artifacts.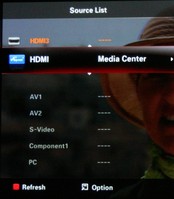 There were a few downsides in this performance. The MR-00EA1 has to be used with a Samsung display (not a problem I suppose, though why you can't use it with another display remains a bit of a mystery to me) and, more annoyingly, it has to be connected directly to the display. I tried to connect it through an Oppo HM-31 HDMI switch and through a Denon AVR-2307CI receiver to no avail. You might be thinking, "So what? I connect to the display and then send the audio down to the receiver." Well, you are right except that you can't get multichannel audio out of the display. So basically, you are limited to stereo audio. Samsung was even nice enough to include some 5.1 music videos so that I could confirm it.
On top of that, the best video resolution I could get was 720p. While this is more than enough for HDTV and YouTube videos (maybe too much for that last one), the serious videophile with high definition WMV HD files on their computer is going to be sorely disappointed.
Conclusion
In all honesty, I have to say that the MR-00EA1 is a winner. Sure, it has its limitations (no multichannel audio being the biggest to me), but for the casual user, it is a winner. The ease of setup and the price tag makes it a no-brainer for those consumers that already have a Vista-equipped computer and want a simple way to get their content to their home theater. It is the power user who is looking to maximize their experience that is going to want to look elsewhere for (and probably spend more money on) a more fully featured box.
Samsung MR-00EA1
$199
Samsung Electronics, Inc.
Samsung
105 Challenger Rd.
Ridgefield Park, NJ 07660-0511
About Samsung Electronics America, Inc.
Headquartered in Ridgefield Park, NJ, Samsung Electronics America, Inc. (SEA), a wholly owned subsidiary of Samsung Electronics Co., Ltd., markets a broad range of award winning, advanced digital consumer electronics and home appliance products, including HDTVs, home theater systems, MP3 players, refrigerators and laundry machines. A recognized innovation leader in consumer electronics design and technology, Samsung is the HDTV market leader in the U.S. and is the only manufacturer that produces all four major digital television technologies.
The Score Card
The scoring below is based on each piece of equipment doing the duty it is designed for. The numbers are weighed heavily with respect to the individual cost of each unit, thus giving a rating roughly equal to:
Performance × Price Factor/Value = Rating
Audioholics.com note: The ratings indicated below are based on subjective listening and objective testing of the product in question. The rating scale is based on performance/value ratio. If you notice better performing products in future reviews that have lower numbers in certain areas, be aware that the value factor is most likely the culprit. Other Audioholics reviewers may rate products solely based on performance, and each reviewer has his/her own system for ratings.
Audioholics Rating Scale
— Excellent
— Very Good
— Good
— Fair
— Poor
| Metric | Rating |
| --- | --- |
| High Definition Video Performance | |
| Standard Definition Video Performance | |
| High Definition Audio Performance | |
| Analogue Audio Performance | |
| Streaming Media Performance | |
| System Stability | |
| Wireless Performance | |
| Build Quality | |
| Ergonomics & Usability | |
| Ease of Setup | |
| Features | |
| Remote Control | |
| Performance | |
| Value | |

corey posts on December 30, 2008 01:43
The Xbox 360 Arcade (no HD) is also $200. How would you compare the Samsung to that?

Even if the Samsung is a better connector to your computer, the Xbox has to be a WAY better game player, and doesn't require Vista for a PC connection.