Qsonix Q100 Touchscreen Control & Setup
There are three different ripping options for getting music onto the Qsonix. All of them rely on the Windows Media 9 codec and internally store the files in the .wma format. The quality level is determined in the user settings and includes a) CD Quality which is called "Lossless" , b) 320Kbps called "High Quality" , and c) 192Kbps for "Normal Quality." The lossless setting is still reduced in size so it does save about 50% of the space on the hard drive (as opposed to a straight WAV rip). With the 160 GB version of the Q100 I had for review, I could get approximately 400-500 albums in "lossless" on the unit.
Under the playback menu, you can configure a number of options:
Basic Settings:
Crossfade Duration - Number of seconds to fade from one track to another
Muted Volume Level - Between 0 and 100% of the play volume when the mute button is pressed
Track Preview Duration - The number of seconds a track is previewed when selected
Track Preview Volume - The percent of change of the current track when a preview track is selected (between 0 and 100%). So if you chose 80%, the current track would reduce to 80% of its current volume while you previewed the desired track.
>

Advanced Settings: 
Pause Fade Duration - The number of seconds it takes for the volume to reduce to 0 when pause is pressed
Stop Fade Duration - The number of seconds it takes for a track to stop when stop is pressed
Mute Fade Duration - The number of seconds it takes for the volume to fade to "muted volume level" (as set above).
So, what does all this do for you? Well, it takes your music listening experience to a whole new level. These little touches - the way the music fades up and down, how tracks seem to overlap, the whole preview thing (I'm getting to that) is just cool. It just screams "professional" to me.
Setup and Performance - Music
Getting music into the Qsonix Q100 Digital Music System is child's play. At the initial startup, you've configured how you want the Qsonix to store music. If you want a particular album stored differently, you'll need to reconfigure it from the Quality menu before you load the CD. Otherwise just insert it into the drive. The unit will access the AMG database and try to find a match to your CD. It will display that match (if any) and ask for confirmation. At this point, you can enter the information manually if you like or accept the match. At all three of the different quality levels I found it took about 1 minute to burn 10 minutes of music. It will automatically spit out any CD that has already been loaded into the system. What is nice is that you can do all this while listening to music. It doesn't cause any stutters, jitters, or hiccups in playback.
My review unit came shipped with a bunch of albums preloaded for my convenience. After playing with the Q100 for a while, I discovered that the unit didn't burn music. Odd. One of the advantages I've found with music servers is the ability to make a copy of an album whenever you want to. For example, when we purchased a little CD player for my son's third birthday, I noticed my wife giving him some of our original CDs. I quickly showed her the steps of how to quickly burn a copy from our HTPC. That way he can use the thing for a Frisbee for all I care.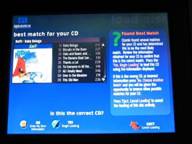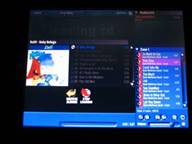 The recognition interface of CDs is very detailed. It recognized a few of the classical albums and one from the White Stripes (an import) that none of the other servers/HTPC's I've reviewed could identify. Unfortunately, it also missed a few albums from Portishead and a couple of other bands. When it does recognize an album, it doesn't just make assumptions. It gives you want it believes is the closest match then allows you to decline. It will then allow you to scroll through all the other matches to find the right one. If it doesn't find a match it asks to enter a bunch of information such as style, year published, band name, and track names. The downside is that you can't skip any of this information. It also doesn't seem to help the unit identify the album. So with my Portishead albums, when I entered the artist name, it didn't display every Portishead album in the database and let me choose. Perhaps that's because there were no Portishead albums in the database, but that seems unlikely. It isn't like they are an unknown band.
One of the neatest features is previewing music. I know that I'll often wish to find a particular song. Just as often (it seems) I'll not remember what the title is. While Album is displayed, you can double click on a track and a short snippet of the track will play so that you can determine if you want to move it into the play area. You can adjust the amount of the track will play (up to 10 seconds) from the menu. If you have music already playing, you can still preview a track.
Depending on your settings, your currently playing music will reduce in volume during the preview. That, my friends, is pretty cool and it really works during implementation. It has this sort of professional "high end" feel that can't really be adequately described in words. The only hiccup I found (really in the whole interface) was that if you moved an entire album over to the play area while previewing a track on that album, you were stuck listening to the remainder of the track from the point that the preview started. You couldn't skip to the end of the track or fast forward. You could shut down the restart the unit but by the time you did that, you could have just listened to the track. Not a huge deal.
One thing that I noticed that was sort of a big deal was that occasionally, playback would stutter. It would pause for a millisecond or two and then continue on. I tried to find a reason why that was happening but I couldn't. It happened very inconsistently - sometimes it would happen every half hour or so and others it wouldn't happen for hours at a time. What I ended up doing was just listening to a bunch of music and waiting for it to happen. When it did, I quickly rewound the music to see if it was an error in the original disc (since a lot of this music wasn't mine) or if it had something to do with the machine. I couldn't make the error happen at the same point in any disc which makes me think that is has something to do with a background process that is interrupting playback.
Touchscreen Control
OK, I've talked a lot about what you can do but not how you do it. The touchscreen control is your interface into the unit. There are no front buttons or manual controls. It is the screen. The unit is compatible with existing home automation controls such as Crestron so the touchscreen doesn't have to be used but why not? If you can get set it up within reach of a listening seat I'd say do it. The interface is awesome.
Basically, it works exactly like you think it would. The left of the screen devoted to browsing. The top right lists saved playlists, and below that is whatever is currently playing. To find music, you can browse by Album, Artist, Genre, Cover, or Year. You can also set up a search. Type in the keyword and it searches through the artists name and song titles. There is an 舠 All 舡 browsing option which shows the artist's name, album title, cover art, and song list. Of course this takes up a bunch of space so it can only list two albums at a time.
Once you want to play something, you simply need to locate the album. Then, using your finger, drag the album or the specific track to the blue play area in the bottom right of the screen. You can even just locate an artist in the browse section and drag their name over to the play area. All their albums will show up. You can either double tap on the first track or you can hit the play button at the bottom. If you decide you want modify the playlist, you can tap on the down arrow and a menu will pop up. From this menu you can delete a specific track, save the whole list to a playlist, clear the played tracks, or clear the entire playlist. Once you settle on a playlist you like, you can save it and name it. It then will appear in the box above the play area. If you want to modify it further, you can do so from that box by selecting the playlist and hitting the down arrow. You will then get a list of actions including Renaming, Editing, Deleting, and Creating a New List. You can also sort by name or by date created. Or you can just double tap on the playlist and the Edit screen pops up. Does any of this sound hard? It shouldn't. It is completely intuitive with virtually no learning curve. And it gets even easier. You don't like the order of your currently chosen songs? Just touch the song you want to move and drag it to the desired location. It is that easy. Once you learn the location of the browse, the playlist, and the currently playing areas, I can't imagine anyone spending more than five minutes figuring this interface out.
The touchscreen is nearly flawless in its execution. My only issue was that there was no screensaver mode. As far as the screen was concerned, it wasn't a problem - LCD has no real burn-in issues to speak of - but I would have liked it to dim or something after a few minutes of dormancy. Your only option was to activate the Access Protection. Then the unit would time out after a while and would display what was playing in both zones bouncing around the screen. While not a bad option, it does require you to specify a 4 digit password. It would be preferable to have the screensaver separate from the Access Protection function. It would have also been nice if you could remove a track from the currently playing list by dragging it to the left and dropping it into a blank area. That seems to be the more intuitive use rather than having to select the song then deleting it from the dropdown menu.