Olive Symphony Wireless Music Center Review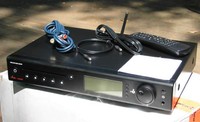 Olive Symphony
Summary
Product Name: Symphony
Manufacturer: Olive
Performance Rating:
Value Rating:
Review Date: April 19, 2008 19:00
MSRP: $ 899.99
Specifications

KEY FEATURES:
IBM PowerPC - Full-scale 32-bit processor
Hard Drive - 80 GB, 3.5"
CD mechanism - Panasonic CD-R/RW
Networking
-Wired -4-port switch, auto-sense (10/100)
-Wireless -54 Mbit/s WLAN-Access point (802.11g)
-Protocols -UPnP A/V and Apple Bonjour (formerly Rendezvous)
-Encryption -WEP, 64 and 128 bit
Audio Ports
-Input -1x analog (gold-plated RCA)
-Outputs: analog (gold-plated RCA), S/PDIF optical Toslink, S/PDIF coaxial
Other ports: 2x USB 1.1/2.0
Navigation
-Two-level jog-shuttle
-7-line, backlit, wide-screen, high-resolution LCD (400x160; 4 grey scales)
-Web interface
Audio formats and compressions
Playback: MP3 and MP3 VBR, MP3 streaming (multi-room) , RAW: AIFF, PCM, WAV
OGG/Vorbis, FLAC (Free Lossless Audio Codec), AAC (MPEG4)

System requirements (Playlist software): Mac G3, G4, G5 with OS 10.4.

Recording: RAW: AIFF, WAV (1411.2 kbit/s), FLAC (800 to 1411 kbit/s), MP3 and MP3 VBR (128 to 320 bit/s)
Frequency: Multiple frequency support: 11.025, 22.050, 32.000, 44.100 and 48.000 Hz
Internet radio: Wide selection of free Internet radio stations based on shoutcast.com

Features
Dynamic audio compression - Set a maximum volume level for your music collection
CD Database - Built-in database with 2,000,000 tracks to recognize and tag CDs. Updateable via the Internet.
Energy efficient design: 0.6 Watt in Standby- and 7 Watt in PLAY-mode
Color: Black
Dimensions: 17.13" W x  3.35" H x 11.42" D
Weight: 13.2 lb.

Box includes: Olive|SYMPHONY, Quick Startup Guide, remote control w/ battery, CD with recovery and Playlist software, power cord, RCA cable.
Pros
Extremely easy interface
Lots of choices of compression
Software upgradeable over the Internet
Great looks
Inexpensive for what it does
Cons
No onscreen interface
Internet Radio spotty over wireless connection
Hard drive a bit small
Remote substandard
Introduction
Servers… they don't just bring you your food anymore. Nope, now they've got to bring you your music and movies and just about everything else you can think of. When the Olive box arrived on my doorstep, it was just after my newest son was born and I thought, "Oh, that's nice, a salad bowl or something." Those thoughts were quickly dispelled the minute I picked it up. This was one heavy salad bowl! I've done enough of these reviews that I kind of know what to expect. It should burn. It should rip. It should give you a choice of formats when ripping. It should give you configurable playlists. It should stream Internet Radio? Hold on, wait a minute, that's not usually part of the package!