Contents and Connecting the System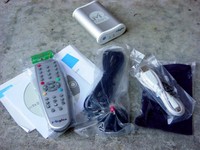 In the small box you will find the TVMini HD HDTV USB 2.0 Device, which is a small, brushed aluminum curvy box about the size of a pack of cigarettes, a CD-ROM with the Eye TV software and PDF guide, a remote control with 2 AAA batteries, a portable TV antenna, a slick little microfiber carry bag for the device, and a white USB 2.0 cable. The device weighs about 4.5 oz, and is aluminum with white plastic finish.
The front panel has a large IR receiver for the remote, and blue light indicators for channel lock and USB. The rear has a USB port and a standard cable TV input. I tested the unit with my laptop, and found it to be very portable and easy to throw in my backpack with my other gear.
Plug and Play
When it comes to computers, what you want is something that is truly plug and play. Ask any Mac user, and they will tell you that this is the main reason they have chosen the Apple platform.
I unpacked the TVMini HD and installed the EyeTV software. I then plugged the antenna into the back of the unit, hooked the unit to my MacBook Pro via the USB port, and it immediately lit up and launched the EyeTV software. For my test, I went outside to my covered, screened porch in order to get the best shot at getting over the air channels.
The software began to immediately scan the airwaves for channels. Now I should note that I live in a small town, and digital signals are sketchy around here. I was not optimistic that I would be able to receive anything, fully expecting to take the unit with me on an upcoming trip to a larger city to do the review. But to my pleasant surprise, it found and tuned in several channels, both standard and HD. At times I would lose thesignal. If you live in a larger metro area with good coverage, you might not have as tough a time as I did. (The bottom line on signal is this: It is location dependent, both the area you live in, and where you set up the antenna.)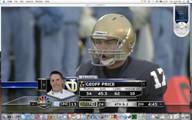 I then decided to try my Time Warner Cable. I took the unit into my theater and unhooked the cable from the cable box (Miglia explains 舠 TVMini HD is compatible with ATSC/Clear QAM broadcasts. It will let you watch unencrypted digital TV content, but is not compatible with paid digital cable or satellite services. Many cable TV providers broadcast free-to-air digital channels on their networks 舡 ) and plugged it into the device. I told it to scan for cable signals, and after about 10 minutes it found around 25 channels.