Wireless DJ - Use and Remote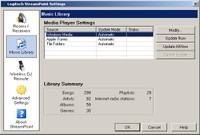 There are two main interfaces for the Wireless DJ system - the remote and the StreamPoint computer interface. Let me tackle the latter first. The menu system of the StreamPoint interface is basic but intuitive. There are five categories listed down the side of the interface that you can click on in order to change or view your settings. There are descriptions in the manual for its use but as long as this isn't the absolute first program you've every used, you'll probably be able to wing it without much of an issue.
Room/Receivers - from this menu you can select which room you want the music to be streamed too. Theoretically, you should be able to buy additional cradles or wireless receivers. I say "theoretically" because I can find no mention of them online, I see nothing on the Logitech website or a link the specifically tells me which receiver is the right one for the Wireless DJ System. I don't know if they have discontinued this sort of support or what but I can't find much information on it. From this menu you can add additional rooms (in theory), manage those rooms (rename, delete, etc), and send a short snippet of test music to each zone.
Music Library - This menu gives you access to the different locations on your computer where your music is stored. You can add or subtract sources, select which types of media it should access (Songs, Playlists, Internet radio stations), and select synchronization options (Automatic, Manual, or Do Not Include). Personally I selected Automatic for each though you have the option of forcing a manual update if you've loaded in some music and you want instant access. While you can add folders, don't forget that you have access to every computer that is on your network. I was able to successfully (and painlessly) stream the Podcasts on my laptop across my wireless network and through the Wireless DJ without any sort of stuttering or delay. The Music Library also lists the stats for the files it has access to (number of songs, artists, albums, genres, playlists, and Internet radio stations).
Wireless DJ Remote - This menu gives you access to the remote stats including the battery level, firmware version, and device ID number. In the manual it shows a lot more control here but it never showed up on my interface.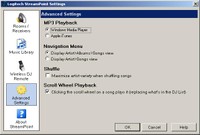 Advanced Settings - Select whether you want iTunes or Windows Media Player to be used for MP3 playback and set the order for displaying songs for an artist (either Artist -> Album -> Song or Artist -> Song). You have check boxes for maximizing the artist variety when shuffling songs and for clicking the scroll wheel on a song plays it (replacing what's in the DJ List).
About StreamPoint - While I thought this would just be a little box telling the software version, it also contained checkboxes so that you can tell the program to check for updates during launch and whether or not to launch the program on Windows startup. Also, you can force an update check if you need to and there is a link to the support website.
As I mentioned the interface is extremely intuitive and easy to configure. I like how everything you selected during the installation is simple to adjust so you don't have that, "I'm not sure what I should click" stress. Rest assured that you can change it all later if you mess it up. The product, its software, and its implementation are obviously built with "ease of use" in mind. There is very little in this interface I would change.
Remote

The heart of the Wireless DJ Music System is the remote. Sleek in appearance, its scroll wheel is reminiscent of the Generation 1 iPod players. The LCD is plenty bright enough even in a well lit room or outside (and this is in Florida, mind you) and each of the buttons is well placed and marked. Some part of me misses a "stop" button though that is, by far, a minor gripe. I'd really like to thank from the bottom of my heart the person who was responsible for ensuring that this remote didn't have a motion sensitive On function. While that seems like a cool idea in theory, in practice it ends up eating your batteries (even rechargeable ones) and lighting up at inappropriate times (like every time your subwoofer hits).
The most important part of the remote is the display. The top of the display shows a graphical representation of the amount of the current track that is left (a bunch of dots that count across the top of the screen), how much time is elapsed in the track (numerically) and the total length is just below the graphic. In the center is the track info or menu list depending on the screen you are on. You have a total of seven lines of text available with two lines of header information. Under that is a status indicator (play, pause, and track number out of track numbers), signal strength, and battery indicator. There are six selection options on the home menu - most of which don't need detailed description. The My Music menu allows you to select your track by all the usual suspects - Artists, Playlists, Genres, Albums, or Songs. The Internet radio option just lists all the stations you've chosen in alphabetical order with no groupings of any kind. The Now Playing option is fairly self explanatory and when something is playing, eventually the remote will default to this screen. The last option on the list (Rooms) allows you to change, on the fly, which room is receiving the streaming music (assumes the use of multiple receivers).
DJ List - Those of you familiar with playlists will understand the concept of a DJ List implicitly. While playlists are permanent, a DJ List is a on the fly playlist that you can create from the remote. All you need to do is browse through your albums and songs and choose what you'd like to add. If you are adding songs, you simply need to browse to said track and hit the DJ add button. If you'd like to add an album, genre, or your entire library, you can, from a special option at the top of each of these screens. While DJ Lists aren't permanent, the last one you created does stick around until you delete it (which can consist of just selecting a new song to listen to and clicking on it rather than adding it to your DJ List). While you have access (if you choose) to each of your playlists already, this is a convenient way to throw together a few songs for a special occasion or just because you feel like it. Lastly, you can either hit "Play" on the DJ Menu or "Shuffle and Play". I was really impressed with how it not only shuffled the list for you, but it changes the order on the screen so you still know what is coming next. Don't like the order? Hit Pause and select Shuffle and Play again.
Settings - There are a number of options you can adjust under the Settings tab:
Artist View - set whether you want your music displayed by album or just a song list under the Artist view (same as the computer interface).

Shuffle Mode - Applicable only for DJ List. Select either Artist Variety or Random. Both are random modes but the Artist Variety seeks to ensure that you aren't hearing the same artists songs back to back. This would be good if you have a large number of songs from a one artist and a few songs from a bunch of others.

Scroll Wheel Playback - choose either Replace DJ List and play or Do nothing. This sets whether scrolling though your music and hitting the scroll wheel (accidentally) will change your DJ List or just beep at you. A nice feature if you've set up a DJ List and someone wants to browse your library. You can let them do so without fear of them messing anything up. Otherwise, if they select a song rather than the Add button, it overwrites your DJ List completely. Listening to Internet radio does not clear your DJ List regardless of this setting.

Keypad Backlight - Select backlight setting of Never on, 1 min, 2 min, 5 min, Always on

Screen Timeout - Select how long before the screen on the remote shuts down 1 min, 2 min, 5 min, 10 min, 20 min, Always on.

Contrast - Set the screen contrast High, Medium High, Medium, Medium Low, Low

Sleep Timeout - Set how long before the Wireless DJ goes into sleep mode 10 min, 20 min, 30 min, 60 min, Always on (it took my system all of about 3 seconds to go from sleep to power on so this is really only for battery saving and not because it takes so long to boot up).