Wireless DJ - Build Quality and Setup
Logitech has their fingers in so many pots it sometimes seems really hard to put them in a category. All things wireless seems to fall under their domain but there are plenty of other products including speakers, remotes, keyboards, webcams, and gaming peripherals. So when I received the Wireless DJ Music System I had two questions - the second spurred by the first. The first was "What the heck is this thing?" and, once I found out I said, "Hey, aren't these the same people that recently purchased the Squeezebox?" The Wireless DJ System is, in essence, a device that streams music and Internet radio from your computer to your home theater. While there are plenty of devices that do this (including Logitech's own Squeezebox) the Wireless DJ has enough unique qualities that it more than holds its own in very full market.
Squeezebox vs. Wireless DJ
In the world of wireless media streaming Squeezebox is a well recognized leader in the field. Why provide a competing solution? Well, 'cause they target different people.
| | |
| --- | --- |
| Squeezebox - $299 | Wireless DJ Music System - $249 |
| Mac or PC compatible | PC only |
| Shelf mounted device with IR remote | RF remote with on-remote display |
| Digital and analogue outputs | Analogue outputs |
| Requires wired or wireless network | Provides wireless network |
It is easy to see how different consumers would be interested in each product. Have a Mac? Squeezebox is for you. Don't have an internal network and don't want one? Check out the Wireless DJ. Concerned about audio quality first and foremost? The DACs and digital output options on the Squeezebox may seal the deal. Hate the idea of being tethered to your home theater by an IR remote? Can't see the little display on the front of the Squeezebox? Check out the RF remote with its own display. With the Wireless DJ's recent price reduction to $99, this makes it an even more attractive option.

Build Quality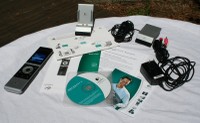 The Wireless DJ Music System comes well packed (to the point that you'll never get it back in the box the exact same way) with a remote, cradle, USB wireless transmitter, installation CD, RCA cable, and manuals. The remote has a heftier-than-it-looks feel and tends to be cool to the touch. The profile of the remote is very thin which isn't as comfortable as it could be but overall the remote feels good in the hand. The Generation-1 iPod-eske wheel control clicks as you rotate it and you use the center button for most selections. The Home and Back buttons are located above the wheel with two DJ buttons just below. Above the Home and Back buttons are your normal Skip Forward/Back and Play/Pause. Under the DJ buttons there are Volume and Mute controls.
Just below the control panel is a removable cover for the rechargeable battery. The remote sits on a cradle in your home theater (or whatever room you want the DJ connected to). The cradle must be both plugged into the wall (power) and the RCA cables connected to your sound system. The provided RCA cables are of the generic, throwaway type. The cradle is heavier than it looks which helps keeps it in place under the weight of the connected cables. The front of the cradle has a LED that glows red when there is no wireless connection in place and blue when there is. The USB wireless transmitter is light and easy to hide. Again, there is an LED on the front that glows red when there is no wireless connection and blue when there is.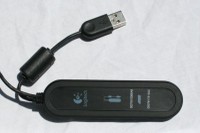 The Wireless DJ Music system does not operate on the normal wireless frequencies you are used to. No 802.11g or any of that. Instead it relies on Bluetooth technology for its wireless connectivity. Now, I have, much like many of you, used Bluetooth before for a headset connected to my cell. They often claim that it has a 10 meter range but I find that I'm lucky if I can get a clear signal with my cell in my pocket. If Logitech hadn't reported that they used Bluetooth, I'd have never believed it. From all over my house, I have near perfect connectivity with almost no misfires on the remote. Sometimes there is a delay, but I rarely have to press a button twice. I tried the remote from the farthest room from my Home Theater and outside with no problems. Logitech says this is because they utilize Bluetooth 1.2 A2DP (Advanced Audio Distribution Profile) protocol with a Class I range (50 meter/165 feet) and a 2.4 GHz frequency. The advantage of the Bluetooth is that it has a painless setup, works independently of other wireless networks in your home, and can transmit files with DRM since it is unencrypted by the sound card and re-encrypted via the Bluetooth transmitter. Therefore, you can stream music that you may not have access to with other wireless solutions.
Of course, using Bluetooth is not without its disadvantages. Mostly what you have to worry about is interference. While Bluetooth is generally resistant to interference, other devices, particularly those operating on the 2.4 GHz frequency (cordless phones, 802.11b/g networks), may cause problems. The Logitech instructions specify over and over to keep the transmitter, the cradle and the remote away from PCs, wireless routers, and other wireless devices. They suggest keeping the USB transmitter at least 2 meters away from a Wi-Fi router and 1 meter from your PC. The remote is suggested to stay a minimum of 1 meter from the cradle. Metallic items (like just about every piece of equipment in your HT) may also interfere with signal reception. While this sounds pretty restrictive, I threw the transmitter where I wanted (a bit closer than they suggested) and the cradle on my rack (right next to my DVR which is both metal and a PC (of sorts)) without any deleterious effects. You should test out different locations to see if it makes a difference in your environment.
Setup
The instructions provided by Logitech are extremely detailed and easy to follow. If you just start off inserting the disc, you can even follow the instructions on the screen as it will tell you when to hook up each of the components. I had no problems during installation.
Step 1: Insert disc and start the StreamPoint Software installation process.
During this step you'll build your library by telling the program where all your music is located. It will allow you to select Windows Media, Apple iTunes, and Musicmatch Jukebox. If you don't use one or more of these programs you can deselect it. You can also let the program know if you have additional files in other places. For example, I wanted to make sure all my AVRant and OurFirstMarriage podcasts were on there so I selected the folders where they are located (since I don't download them via iTunes or any other program). If you have a third party Podcast download program like Juice, you just need to select the file where it stores the media.
One thing I REALLY like about this process is that it is completely reversible. If you decide you don't want to include a folder or access your iTunes library, it's no problem, you can always deselect it later. I remember way back in the day when I let Windows Media player "find" music on my hard drive and ended up with every sound effect, bleep, bloop, and whir my computer makes. Was there an undo function, oh no. I was stuck with all that until I went through and manually removed them from the database. Fun? No, but the Wireless DJ does away with all that. Sure, you'll need to manage your music well (most people that have iPods or MP3 players are already familiar with the horrors of renaming all your music that you "acquired" from P2P networks so that they show up correctly on your player) but you probably already did that, right?
Step 2: Connect the USB Music Transmitter
You'll be prompted for this and the program will display a green checkmark when it detects that the transmitter is correctly connected. This is just a matter of waiting for the computer do to that voodoo that it does so well and getting the driver installed. Less than a minute for me.
Step 3: Turn on the Wireless Remote
While the instructions had some difference from what I had in my hand (most curiously, they showed the battery outside of the remote), the battery had more than enough charge to test the system. Once you power on the remote, it will try to make a connection to the transmitter. Once this connection is established, another green checkmark will appear on the screen (see a pattern here?). If, for some reason, your battery is completely dead, a quick 5 minute charge on the cradle should be more than enough to complete the installation process. Again, I had no problems here.
Step 4: Turn on the Music Receiver/Cradle
Um… plug it in, wait for the green checkmark
Step 5: Connect the Music Receiver/Cradle to your Home Theater
At this point, you need to connect the RCA cables up to your receiver/preamp. While you'll be forced to use the DACs in the Cradle, the setup is as easy as pie. Once you've connected the unit, you will be prompted to send a short test song. Later on, when I had problems with the connection, I used this test song over and over rather than subjecting my house (and speakers) to the distorted music that was playing over the connection. It turned out that upgrading my iTunes caused a bit of a problem with stuttering music. All I needed to do was to press the connection reset button on the back of the cradle and everything was fixed.