ViP 722 Overview and Setup
While we love our DVD players and Blu-ray devices, the most used piece of AV equipment in any home theater is typically the television tuner. In the case of satellite television, like DISH Network, that's going to be your satellite receiver set-top box. When you use a device this much, it needs to be flexible enough to handle your needs, and powerful enough to give you the features you want - like digital video recording and an interactive program guide that works. For years we've used cable TV at Audioholics. This year that has changed, with some of our staff moving to Verizon's Fios service, and others, yours truly included, jumping ship to DISH Network.
We made the change to DISH for several reasons. For one, cable TV isn't very conducive to reviewing innovative new products. The latest model DVR I was using came out over 5 years ago and the utilitarian program guide and user interface hasn't changed significantly in as many years. Cable TV is rather stagnant for the money they charge. Satellite, on the other hand, is making inroads every year, with new technologies like MPEG-4 streaming and additional HD satellites popping up regularly. Even though cable TV finally started adding much-needed HD channels, it was time for a change - and that change was Dish Network.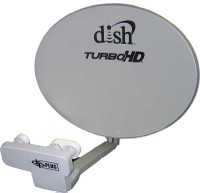 So with much anticipation I received the latest DISH technology, including their newest 1000.4 dish which had only been out in our area for a couple of months. It is a single dish solution capable of receiving signals from 61.5, 72.7, and 77 degrees West and is suitable for any Eastern US application. In the past I would have had needed to use two dishes to get the signals I am receiving from this single dish solution. Hooray for progress. This dish has three receiver output ports which support direct connection to either three single-tuner receivers or three dual tuner DISH Pro Plus receivers. We went with a dual tuner ViP 722 DVR since it would give us high definition and dual tuners which we could configure in a way that optimized our needs.

Configuration & Wiring Schema
Coming from the world of cable TV, one of my primary concerns was that I'd have to install a box into every room that wanted to view satellite television programming. With cable, you can simply plug a QAM-enabled television into the wall and you're good to go with SD and HD channels. My first thought was that satellite is going to potentially cost me a lot of money in order to get at least something into the other rooms in my home.
And then I was enlightened by the DISH Network installer who handled my install. You see, with the ViP 722 and some neat RF tricks, I could send two lines into my main theater room (the dish feed and my antenna feed) and backfeed the second tuner out of the room on the same Dish line. That backfeed line could then be split and fed to all of my rooms. What this meant was that I could watch HD content in my primary theater room as expected, but I could also pick any other TV in my home to watch standard definition courtesy of the second tuner. If I wanted to upgrade down the line I could just add additional boxes with HDTV, but this was a start.
Tech Note: Backfeeding the second tuner and splitting it throughout the house means that all the other TVs will show the same thing. You don't, as with cable service, get to tune different channels on each of the televisions. Still, most families don't watch more than two TVs at a time, so this presents a nice solution for those who aren't looking to fill their homes with additional satellite receivers right away.

We proceeded to wire up the dual tuner ViP 722 such that it could be used in dual mode and we could use the RF remote to tune in stations and use the discrete programming guide throughout the rest of the house. This was done simply by running an orange twin feeder of coax (3 GHz quad shield) where one side carried the antenna and the other handled the dish signal and backfeed. We placed the hardware into my rack system and the DISH installer hung the 1000.4 dish on my roof and configured it to received signal from the Eastern Arc of MPEG-4 satellites.
Things were looking up... literally.
If you've never wired up an antenna system or DISH receiver and satellite system, it's best to let their professional installers do it for you. It's not terribly expensive and it will save your hours of hassle. Doing it yourself involves a knowledge of splitters, combiners and often RF distribution that is quite often beyond the understanding of many consumers. In our case the backfeed system entailed the use of special diplexers to make it all work properly. If you're confused, move on - there's a lot to enjoy once you get past installation and DISH will gladly (and professionally) handle that part for you.

anbleech posts on April 29, 2009 15:23
Is there a way to download on to another drive programs from my VIP 722 DVR?
nvmarino posts on March 22, 2009 20:44
I find the menus on my 722 to be for more intuitive and user friendly than the Comcast boxes. The icon based menus on Comcast boxes are horrible, IMO.

The new Sling Guide from the upcoming VIP-922 (minus the new remote and some other features) should be out for th 722 before too long.


SlingGuide is already out in beta for ViP 612, 622, 722, and 722k users - you can sign up at dish.sling.com. For the unacquainted, SlingGuide is a fully featured web-based interface for managing and controlling your Dish DVR. It can also function as a supercool way to control your receiver on your iPod touch or iPhone. In addition, if you've got a Slingbox connected to your Dish receiver (or a 922 when they come out), you can stream live TV or DVR'd content directly from the SlingGuide web interface.
Nomo posts on March 22, 2009 10:09
Thanks for finding the 55 "minutes" typo. I'm going to get in line to review the 922 box as soon as it's available. It's a no-brainer and should make for a really cool review. I'm also going to have Tom Andry review the new OTA DVR they have which I think is a cool product for those who are going the antenna route.
Clint, I'm looking forward to your impressions of the VIP922.
I'm not so sure I'm sold on the GUI. I hate touchpads on laptops and this what it reminds me of.
It's hard to imagine how well a Harmony remote will act with it.
http://www.slingcommunity.com/article/32856/Dish-Network-ViP-922-SlingLoaded-DVR-Demonstration-2009-International-CES/
[slingcommunity.com]
Warpdrv posts on March 19, 2009 11:06
I am curious, does the Dish 722 receive content as 720p or 1080i?

How can I tell...?

I just my 65" Panny pz850 yesterday, and I would imagine the scaler in the panny is better then the Dish receiver and it automatically upconverts everything to 1080p that isn't.

I'll be using the scaler in the Anthem D2v when I get it, but that info will also apply to get the best results down the road...

Thanks
Clint DeBoer posts on March 18, 2009 15:21
Thanks for finding the 55 "minutes" typo. I'm going to get in line to review the 922 box as soon as it's available. It's a no-brainer and should make for a really cool review. I'm also going to have Tom Andry review the new OTA DVR they have which I think is a cool product for those who are going the antenna route.