ViP 722 Features and Remote
As we mentioned previously, the ViP 722 has two tuners which can be used in dual mode or as a picture-in-picture configuration. We opted for the former, but in either case users can record one show while watching another. The system comes with two remote controls - one IR and the other RF - which means of course that you can control "Zone 2" of the ViP 722 from virtually anywhere in the house. What's more, a single 'Mode' button allows you to "commandeer" the second zone when it's not in use and activate the PIP functions in your primary viewing room. Flexible? Yes. Great for football season - heck, yes!

The back panel of the ViP 722 includes TV1 connections for HDMI, component and composite video connections (it also has S-video but I hope that connection dies a quick, yet painful death on most newer products). TV2 is supported via either composite video and stereo audio or the In-home distribution F connector which sends 480i via coax. You can "split" a single dish cable feed to feed both tuner inputs on the back and there is a dedicated OTA (over-the-air) antenna input. If you are using the RF remote, you'll need to connect the remote antenna which extends the range of the remote so that you can use it throughout your house (unless your name is Bill Gates and you live in a home the size of Disney World). All inputs are clearly labeled and even the remotes are decidedly marked for use in either TV1 (Green) or TV2 (Blue) zones.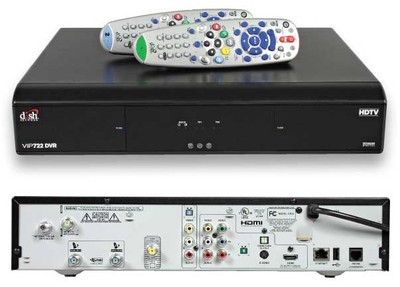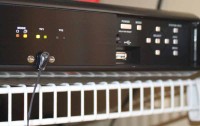 The front of the unit has two spring-loaded doors. The left reveals a smart card slot that is presently unused) and the right provides access to Power and menu controls. There is also a front-accessible USB port and System and Program Info buttons. In a pinch you could use the panel navigation to get around if you misplaced the remote - though for long-term use this would be ridiculous. In the middle of the unit are three holes for receiving IR signals. TV1 and TV2 are also represented by two lights each. The first indicates power and the second shows the record status. Dual and Single mode indicators are also present. If you can't get a signal on Channel 60 (default) in other rooms, check this mode setting.

Remote Controls
The remote controls are identical except that one is, of course, RF and the other IR (infrared). In the hand they feel very comfortable and you can reach approximately 80% of the control surface with your thumb without moving your hand from its initial position. The remote is separated into 3 main sections, with source and navigation controls at top, DVR functions in the middle and keypad at the bottom. The layout is intuitive and what I would call a perfectly dense arrangement. The buttons are close enough together that they make the overall remote small, but far enough apart that you won't be hitting anything by accident, even if you have larger hands. While the majority of buttons are round, the arrangement and size variance of buttons helps them maintain a tactile separation so you can operate much of the remote by feel. I am also VERY pleased by included functions such as Skip Forward and Skip Back which allow you to virtually breeze through commercials on DVR content. If you come from cable and have never had a 'Skip' function, this is going to change how you watch recorded TV forever.

Compared to the remote that came with my Scientific Atlanta Explorer 8300HD, I'd say the functionality is similar, but this remote is overall far easier to navigate and use.

Of course, I pulled all of the functionality of this remote into my trusty Universal Remote MX-3000 as soon as I could. This allowed me to access the system (which is located in a closet) from my theater room.

anbleech posts on April 29, 2009 15:23
Is there a way to download on to another drive programs from my VIP 722 DVR?
nvmarino posts on March 22, 2009 20:44
I find the menus on my 722 to be for more intuitive and user friendly than the Comcast boxes. The icon based menus on Comcast boxes are horrible, IMO.

The new Sling Guide from the upcoming VIP-922 (minus the new remote and some other features) should be out for th 722 before too long.


SlingGuide is already out in beta for ViP 612, 622, 722, and 722k users - you can sign up at dish.sling.com. For the unacquainted, SlingGuide is a fully featured web-based interface for managing and controlling your Dish DVR. It can also function as a supercool way to control your receiver on your iPod touch or iPhone. In addition, if you've got a Slingbox connected to your Dish receiver (or a 922 when they come out), you can stream live TV or DVR'd content directly from the SlingGuide web interface.
Nomo posts on March 22, 2009 10:09
Thanks for finding the 55 "minutes" typo. I'm going to get in line to review the 922 box as soon as it's available. It's a no-brainer and should make for a really cool review. I'm also going to have Tom Andry review the new OTA DVR they have which I think is a cool product for those who are going the antenna route.
Clint, I'm looking forward to your impressions of the VIP922.
I'm not so sure I'm sold on the GUI. I hate touchpads on laptops and this what it reminds me of.
It's hard to imagine how well a Harmony remote will act with it.
http://www.slingcommunity.com/article/32856/Dish-Network-ViP-922-SlingLoaded-DVR-Demonstration-2009-International-CES/
[slingcommunity.com]
Warpdrv posts on March 19, 2009 11:06
I am curious, does the Dish 722 receive content as 720p or 1080i?

How can I tell...?

I just my 65" Panny pz850 yesterday, and I would imagine the scaler in the panny is better then the Dish receiver and it automatically upconverts everything to 1080p that isn't.

I'll be using the scaler in the Anthem D2v when I get it, but that info will also apply to get the best results down the road...

Thanks
Clint DeBoer posts on March 18, 2009 15:21
Thanks for finding the 55 "minutes" typo. I'm going to get in line to review the 922 box as soon as it's available. It's a no-brainer and should make for a really cool review. I'm also going to have Tom Andry review the new OTA DVR they have which I think is a cool product for those who are going the antenna route.