USB to Serial Full Review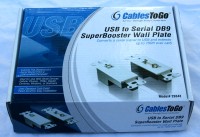 I'm used to getting strange boxes in the mail… it happens all the time. Occasionally, I open them up and don't know what they are - also not unusual. But the Cables to Go USB to Serial DB9 SuperBooster Wall Plate sent my head into a spin. Was I really supposed to rip up a wall to test this? And what the heck is it anyhow?
As it turns out, the people who hand me my review assignments knew a little more than I did and knew that I'd have the perfect way of reviewing this piece of equipment. The USB to Serial DB9 SuperBooster Wall Plate essentially takes a serial (in HT terms RS-232) signal and converts it to USB. There are plenty of devices that can do this but the Wall Plate has the advantage ob being wall mounted and extending the signal over Cat5 up to 150 feet. Is this a good thing? Sure if that's what you need. So why would you? If you have a receiver or other device with RS-232 control and a computer located somewhere else in the house, this could definitely come in handy. RS-232 is nearly a thing of the past as far as new PCs go, but in the world of home theater and AV control systems, it's alive and well. I'm sure there are other techy reasons but this is a home theater publication. You geeks get your own review.
Build Quality and Setup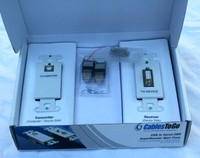 The packaging of the USB to Serial DB9 Wall Plate is very professional looking and has all the protection you'll need. The wall plates I received were white and it is unclear from the Cables to Go website that there are any other colors available - but it's likely just a matter of time. Each is labeled with a small sticker which can easily be removed. Labels are also on the back of the units just in case. The front plate is metal while the back box is black plastic. There is an Ethernet port on the back of each for your Cat5 run. You can either use pre-terminated cable or Cables to Go provides tool-less IDC RJ45 connectors for you DIYers. Everything feels and looks very sturdy and professional. Honestly, this is a five second setup for most custom installers. On top of that, there is no power required! It is bus powered (runs off the USB connection) so as soon as you plug it into the computer it is active. Talk about easy! It's so easy a… well, you know.
Everything is great except the manual which apparently had some problems at printing. If you read the manual as most westerners do, you will hit page 2, 1, 6, 5, blank, 4, 3, cover. Obviously, somebody messed something up in the print order. It was more funny than irritating. In order to get ready to use the USB to Serial DB9 SuperBooster Wall Plate you'll need to install some software. This is a fairly straightforward process where the most stressful part of it is figuring out which driver to install. They have a plethora of drivers for different devices so just make sure you pick the right one. Depending on your device, you may be done but more likely you're going to have to go into the software for the RS-232 device and let it know what port the serial device is connected to. This is done by going into your device manager and looking under Ports. You'll have to have the device connected to the computer to locate it. From there you can either tell your software what port it is connected to or change the port as needed.
Now, I'm hard core and all but I'm not so hard core that I'm going to run 150' of wire in my walls just so I can test out a wall plate I don't need. Luckily, I didn't have to as Cables to Go included a spool of 100' of Cat5 and both the wall plates. I just needed a device that output RS-232 that needed to be connected to my laptop via USB. Fortunately I had just acquired the Sencore SP395A FFT Audio Analyzer which is used (among other things) to measure speakers. I am using a short cable and standalone converter for this connection so it was easy enough to take the Sencore, plug it into the Serial side, connect the computer to the USB side, and use the 100' spool of Cat5 to connect the two. I didn't even have to unwind the cable. If you are planning on installing this system in your home, I highly suggest you do this first. Last thing you want is to run all that wire just to find out there is a problem.
Conclusion
Luckily, I didn't run into any such difficulties. The USB to Serial DB9 SuperBooster Wall Plate worked exactly as expected, even over 100' of Cat5. According to some of my peers, the Sencore SP395A FFT Audio Analyzer has a notorious habit of not being compatible with USB to Serial converters, but the Cables to Go solution had no problems with it. If you're in need of a solution like this, you can rest assured that USB to Serial DB9 SuperBooster Wall Plate will work as advertised. With the ease of installation, this is a serious no-brainer for any custom installer.
Cables To Go USB to Serial DB9 SuperBooster Wall Plate
$134.99
Cables To Go

  3555 Kettering Blvd
  Moraine, OH 45439
 937-224-8646
www.cablestogo.com
About Cables To Go
Cables To Go is a division of Lastar, Inc, a leader in computer connectivity solutions since 1984. Under the brand Cables To Go, Lastar created a line of computer connectivity products renowned for quality and value. Cables To Go uses the finest components and the latest construction technologies to maximize cable performance and ensure compliance with industry specifications for each cable and its designated application. For more information regarding Cables To Go, visit www.cablestogo.com.
The Score Card
The scoring below is based on each piece of equipment doing the duty it is designed for. The numbers are weighed heavily with respect to the individual cost of each unit, thus giving a rating roughly equal to:
Performance × Price Factor/Value = Rating
Audioholics.com note: The ratings indicated below are based on subjective listening and objective testing of the product in question. The rating scale is based on performance/value ratio. If you notice better performing products in future reviews that have lower numbers in certain areas, be aware that the value factor is most likely the culprit. Other Audioholics reviewers may rate products solely based on performance, and each reviewer has his/her own system for ratings.
Audioholics Rating Scale
— Excellent
— Very Good
— Good
— Fair
— Poor
| Metric | Rating |
| --- | --- |
| Build Quality | |
| Ergonomics & Usability | |
| Ease of Setup/Programming/Integration | |
| Fit and Finish | |
| Performance | |
| Value | |