SonicWave Subwoofer Cable Full Review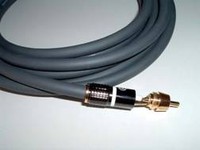 Reviewing cables is one of my least favorite things to do on Audioholics. On the other hand, debunking the nonsense science behind them is most enjoyable. Impact Acoustics makes this extremely difficult for me since I can't find any junk science - just straightforward and sound cable design. As if they didn't make my job difficult enough already, they made it harder by selling their cables at an extremely affordable price. This will likely turn off some "elitist audiophiles", but it will win the hearts of the value-minded home theater enthusiasts and music lovers. I'd just as soon let the elitists spend ten times the amount on cables that probably don't perform any better (and usually perform worse), but will allow them to reach the spiritual experiences of "cable nirvana." For the rest of us, there is Impact Acoustics.
The Impact Acoustics SonicWave subwoofer cable is nothing special. It doesn't lift veils or add any magical mysticism to your components. It won't make your subwoofer sound "chocolately rich and smooth." Instead, it will transport all of the bass content from your processor/receiver to your subwoofer. It performs this task without alteration and without inducing such nasties as RFI/EMI (radio frequency interference and electromagnetic interference). You won't find any wimpy, ineffective spiral shields on this cable. Instead you will find a good, old-fashioned, double OFC braided shield and 100% foil combination that provides a great deal of noise immunity into the far reaches of the audio and video bandwidths.
I found the termination and solder joints to be top notch. The dielectric and conductor spacing appeared to maintain a true 75-ohm characteristic impedance. This may not matter much at audio frequencies, but it's nice to know that this cable is over-designed to handle its intended job.
Cable Measurements
| | | | |
| --- | --- | --- | --- |
| Metric | @ DC | @ 1kHz | @ 10 kHz |
| Rs (total) | 17.25 mohm / ft | 16.67 mohm / ft | 17.9 mohm / ft |
| Cp | NA | 19.92 pF /ft | 19.92 pF / ft |
| Ls | NA | 0.116 uH / ft | 0.115 uH / ft |
| Rshield | 3.17 mohm / ft | 3.47 mohm / ft | 3.53 mohm / ft |
| Zo (sqrt(L/C)) | NA | 76 ohms | 76 ohms |
Cable Metric Definitions
Rdc -

Commonly referred to DCR which is the series resistance of a cable at zero frequency.

Rac -

The resistive portion of the cables series resistance as a function of frequency due to skin effect.

Rs -

Total Series Resistance (mohms) measured tip to tip at one end of the cable while the other end is shorted.

Note: Rs = Rac + Rdc (minus instrumentation inaccuracies identified below)

Ls -

Series Inductance (uH) measured tip to tip at one end of the cable while the other end is shorted.

Cp -

Parallel Capacitance (pF) measured tip to tip at one end of the cable while the other end is open circuited.
Cable Measurement Test Set-Up Notes
All of the above measurements were completed on a fully calibrated and certified, Wayne Kerr 6420 Impedance Analyzer . The 6420 was calibrated for full frequency bandwidths, and for greater accuracy, the measurements and calibration process were repeated twice.

All cable lengths measured were 12 feet and divided by their length for a normalized per foot measurement. At low frequencies the results illustrate Rs being lower than Rdc, which is inaccurate, as Rs tends towards Rdc as frequency approaches zero or DC. The LCR measurement derives Rs from signal phase and amplitude, while a DC meter measures exactly what it is looking for. This discrepancy is likely due to a meter resolution issue, as the meter in AC mode does not sport the high accuracy it would in DC mode. The cable should ideally be modeled as multiple parallel resistors, and those resistors treated as a lumped element in series with an ideal inductor.

Each resistor is a frequency dependent element, and the inner ones fall out as the frequency increases. It is important to note the difference in measuring techniques, and caution the reader not to attempt to derive any relationships with the two numbers, as the absolute accuracy between the methods has not been established. However, the rising trend of Rs vs frequency is indicative of increased Rac due to skin effect and should also be noted.
Connecting the SonicWave subwoofer f cable to my system was a breeze. The RCA connector made a snug, but not overly tight (rip your connectors off) connection. When I powered up my system I heard dead silence out of my subwoofer, just like it should be. No hum, no buzz, no noise, no fuss - only deep extended bass with the appropriate program material.
While your audiophile friends are rediscovering themselves with their high-priced cables, you can rest comfortably knowing you spent much less and received a better performing product. Now sit back and focus on the more important things of life, like which new HDTV Display to buy :-)
The Score Card
The scoring below is based on each piece of equipment doing the duty it is designed for. The numbers are weighed heavily with respect to the individual cost of each unit, thus giving a rating roughly equal to:
Performance × Price Factor/Value = Rating
Audioholics.com note: The ratings indicated below are based on subjective listening and objective testing of the product in question. The rating scale is based on performance/value ratio. If you notice better performing products in future reviews that have lower numbers in certain areas, be aware that the value factor is most likely the culprit. Other Audioholics reviewers may rate products solely based on performance, and each reviewer has his/her own system for ratings.
Audioholics Rating Scale
— Excellent
— Very Good
— Good
— Fair
— Poor
| Metric | Rating |
| --- | --- |
| Performance | |
| Value | |