Sanus Elements ELM805 PowerBridge First Look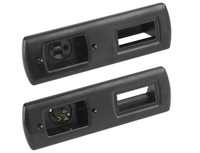 Summary
Product Name:

ELM805 PowerBridge

Manufacturer:

Sanus Elements

Review Date:

November 17, 2009 02:15

MSRP: $119.99
First Impression:

Gotta Have It!

Specifications

Product Information
Model Code:
ELM805
Price:
$119.99
UPC Code:
ELM805-B1-793795500144-Black
ELM805-W1-793795500151-White

Quantity in Box
1
Product Specifications
Product Width:
9.25" / 23.5 cm
Product Height:
2.88" / 7.32 cm
Product Depth:
2.25" / 5.72 cm
Executive Overview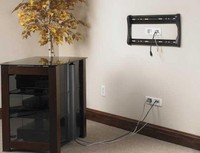 When I see all those lovely installs of flatscreens on HGTV or DIY Network usually two things come to mind - first, where are the speakers and second, how did they run the power. While I know there are many different products that can be used, they never cover them on those shows. Instead, you find that the general consumer is left to his own devices often with no idea what is code or even safe. Visit a home with a DIY install and you'll either find an extension cord in the wall or wires hanging down from the back of the display. If you are lucky, they've tried to cover them with a plastic paintable channel or cover them with some sort of furniture or decoration but this is far from that "clean" look they were expecting when they installed the screen. The husband is happy he has a huge TV to show off to friends and watch the game on and the wife is happy that she now has a failed project to point at the next time he wants an AV upgrade.
If you don't want this to happen to you, you have some options. We've reviewed some in the past and there are more on the way but Sanus has just started shipping their ELM805 PowerBridge solution. Like other in-wall power solutions, this is basically an in-wall extension cord that is up to code and won't burn your house down. The Sanus PowerBridge comes with two faceplates and a 6 foot extension cord. The faceplates come in white or black and feature power connection (male on one, female on the other) and an open channel for running your video/audio connections. The AV channel has a bend to it to mask any unsightly insulation (not that this is a solution meant to be seen) so you'll want to make sure you have the bend pointed in the direction you want the wires to run (up or down the wall). If not, you'll have to make a sharp u-turn out of the channel adding distance to your wire runs (which equates to dollars when we are talking about HDMI) and more possibilities of damage.
What you'll need to provide (and again, this is pretty standard with these sorts of products) is an electrical backbox (two actually) and some Romex. The backbox is needed for an up-to-code installation for the power cable and Romex actually conveys the power. Sanus suggests 14/2 or 12/2 but we'd suggest sticking with 12/2. You probably won't need much if your are running the cable just up the wall but a projector installation would require more. You'll need to cut the hole for the backbox and the AV wire runs, install the wires, and secure the backbox. The factplate actually connects to the single gang backbox (even though it is much larger). This should make a for a very easy installation.
Conclusion
There are a lot of things to like about the Sanus PowerBridge. The price, to begin with, is lower than much of the competition. The choice of black or white faceplate is also nice. We're not really impressed with how far it sits off the wall though we do really like how the power and AV openings are sunk into the wall. This will help clean up some of those installs of super flat panels on a wall near an opening. We wish that Sanus would have considered offering a Decora insert plate for the AV connections rather than just an open channel. The Decora plates clean up an installation and make the whole thing look and feel more professional. Plus, who wants gaping holes in their wall? The fact is, however, that this product is really not made to been seen. It is made to live behind your rack and display. For those that want to install a flatpanel like a pro, the Sanus PowerBridge might be the product for you.
For more information, please visit www.sanus.com.