Flexygy 8 Cable Measurements and Conclusion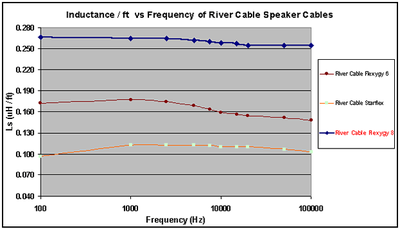 Inductance was well within their spec of .300uH/ft and reasonably low enough, though not stellar, for use in high fidelity audio systems. The Starflex cable is their best performing cable in this aspect. Though according to River Cable, users requiring lower inductance cable can order the Flexygy 8 in a different terminating scheme for lower inductance but higher capacitance.
The way they are achieving this is to alternate (+) / (-) wiring on adjacent pairs in an interleaving method as opposed to 4 adjacent (+) and 4 adjacent (-) terminations. The former takes advantage of two wires being in close proximity and thus the effects of their self-inductance is nearly canceled out by their mutual inductance terms. Listed below is a table based on their published specifications comparing the metrics of the two cable topologies.
| | | |
| --- | --- | --- |
| Flexygy 8 Topology | Low Capacitance (Standard) | Low Inductance |
| Ls | .300 uH/ft | .090 uH/ft |
| Cp | 10 pf/ft | 200 pf/ft |
| DCR | 3 mohms/ft | 3 mohms/ft |
For a more detailed discussion on cable inductance, the reader is encouraged to review our article on Calculating Cable Inductance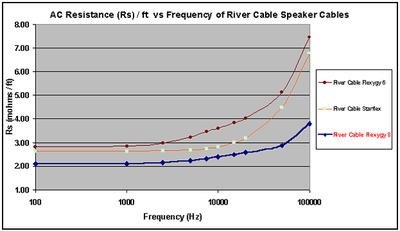 The resistance of the Flexygy 8 is about 10AWG equivalent at DC as specified by River Cable. To date, this is their lowest resistance speaker cable. We see a slight rising AC resistance with frequency (to the least degree on the Flexygy 8) attributed to skin effect, but practically speaking a non issue for the application of high fidelity audio.
For a more detailed discussion on Skin Effect, see our article on Skin Effect Relevance in Speaker Cables.
Capacitance was also on par (10pF/ft) with what River Cable specified. The reason for the slight increase in capacitance above 1kHz is attributed to measurement error of measuring a distributed device (speaker cable) with a measurement tool designed to measure lumped elements (magnetics, electrical circuits, etc). Again, if you have River Cable terminate this cable for low inductance, expect to see capacitance rise proportionally. Since capacitance is already super low, it will likely not make an significant difference. Personally, I would opt for the lower inductance termination option, especially since I don't buy into esoteric marginally stable amplifier designs.
River Cable actually touts flat cables as being the optimal geometry for minimizing capacitance. In actuality, conventional flat cables sandwich their conductors closely together which dramatically increases capacitance. I commend River Cable for producing a series of flat esoteric cables with well-controlled capacitance and reasonably low inductance. As previously mentioned, some esoteric vendors opt to sandwich the (+) and (-) conductors right on top of each other with minimal spacing. While this produces the lowest inductance possible, it comes at a penalty of ultra high capacitance, which can wreck havoc on marginally stable esoteric tube amplifiers when cables become excessively long without proper zobel compensation. High capacitance cables can also cause frequency peaking on systems resulting in a 舠 bright 舡 sonic signature. I consider speaker cables below 50pF/ft of capacitance low enough to NOT be an issue in real world applications.
Conclusion
If you are looking for me to describe the chocolaty midrange or airiness of these cables, you are reading the wrong publication. I only hear differences in cables that are poorly designed, and subsequently have poor corresponding measurements. And, at that, it takes very special circumstances for those differences to become clearly audible (i.e. a revealing system and good room acoustics & listening conditions).
The Flexygy 8 doesn't fall under the "poorly designed" category by any means. It's a superbly built product that provides higher installation flexibility because of its flat design and ultra low capacitance and resistance. It's well thought out in that you can order it from the manufacturer terminated either for low inductance or low capacitance to better suit your needs.
I love the flair pin they include with the cables that have an anti-voodoo message on them. From my experience with this company, this is certainly an appropriate message for them to instill on their consumers.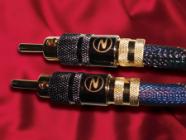 As with all River Cable products, I was thoroughly impressed with the quality terminations employed for this design. My only minor complaint is it can be difficult to make out the (+) and (-) conductors in low light situations. I prefer the conventional color scheme, Red (+) / Black (-), like they followed in the Starflex design, but realize it wouldn't aesthetically match this cable. Just use caution, or better yet, use a flashlight to ensure proper hook up. This goes double for color blind audiophiles!
The flat cable has an appeal for those looking for an unobtrusive cable that can be tucked into a corner, or under a carpet fairly easily. The Flexygy 8 is a bit wider than the Flexygy 6 so make sure you have about 1.5" of space for this cable. The Flexygy 8 measures well, is aesthetically pleasing and will make those not comfortable with ordinary 10AWG zip cord happy to purchase an esoteric cable that will do no harm to the fidelity of their system. At $373.69 for a 3 meter pair, the Flexygy 8 came in at a 90% cost premium to my favorite cable in their product line 舑 the Starflex. It's a tough sale in my opinion, but for those who need a flat cable that is also customizable it may just be worth the extra price. Considering the esoteric cable market and what you don't always get (performance, build quality) with many higher priced cables, the River Cable Flexygy 8 seems to be a bargain. I recommend these cables to consumers wishing to purchase a top-notch, nicely crafted esoteric speaker cable that can fit under their carpet and also have a grade A appearance terminated to their speakers and amplifiers.
River Cable Flexygy 8 Review

MSRP: $373.69 for 3 meter pair, terminated
888-92 RIVER (888-927-4837)
Fax: 888-776-3713
customerservice@rivercable.com
The Score Card
The scoring below is based on each piece of equipment doing the duty it is designed for. The numbers are weighed heavily with respect to the individual cost of each unit, thus giving a rating roughly equal to:
Performance × Price Factor/Value = Rating
Audioholics.com note: The ratings indicated below are based on subjective listening and objective testing of the product in question. The rating scale is based on performance/value ratio. If you notice better performing products in future reviews that have lower numbers in certain areas, be aware that the value factor is most likely the culprit. Other Audioholics reviewers may rate products solely based on performance, and each reviewer has his/her own system for ratings.
Audioholics Rating Scale
— Excellent
— Very Good
— Good
— Fair
— Poor
| Metric | Rating |
| --- | --- |
| Performance | |
| Value | |