I-Extreme Cable Build Quality and Conclusion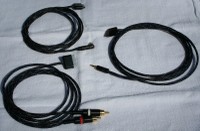 iPods have become a symbol of status among the young and old alike. Who doesn't have an iPod these days? Heck, I have one and I barely use it. But I have it. Apple introduced the Apple Lossless format to placate those that decried the dreaded MP3 compression format. But that really isn't enough is it? There are plenty of cables out there to get your audio out to your speakers from the headphone port but the dock is generally the preferred method. While you are still using the internal DACs of the iPod, the dock port is more secure and never clips. If you use the headphone dock, you have to play around with the volume to make sure you aren't clipping the signal.
First Impressions and Build Quality
When I received the Ram Electronics I-Extreme iPod cables, I knew I was looking at quality gear. First things first, they AREN'T WHITE. As much as I love the functionality and styling of the iPod (and Apple products in general), I curse the day they made while the de facto color for everything. At some point, can we all agree that the advent and eventual demise of white parachute pants should have taught us something? Have we learned nothing from the fashion faux pas of our past?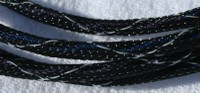 The I-Extreme cables are covered in a deep blue texflex covering with light blue accents. The ends are terminated with black hardware. Finally an iPod cable that doesn't glow in the dark! The wrap is slightly abrasive to the touch (as texflex is wont) and quite a bit stiffer than a normal iPod cable. I actually see this as a plus as it keeps the cable from getting tangled (something I'm constantly battling with my other iPod cables). The cable isn't so stiff that it won't turn corners, however. The cables I had in for review were all the 6 foot lengths so a shorter length may prove to be more difficult to work with. I image that the extra reinforcement may keep the cables from getting pinched and broken. Then again, the others get tied in knots and never seem to break.
The dock side is standard for all three versions of the cables I received. The black dock port has small buttons on the side that release the docking clamps. This makes for a very secure connection. The hardware on the other side depends on your need. There is an RCA version and two 3.5mm versions - one straight and one with a right angle. I'm not sure why Ram couldn't have had a straight version with a right angle attachment. I suppose the dedicated right angle is more secure. These connectors are gold plated Neutrik and have strain relief to minimize damage. Not that I went swinging my iPod around on the end of these cables. There is only so much I'll do for a review.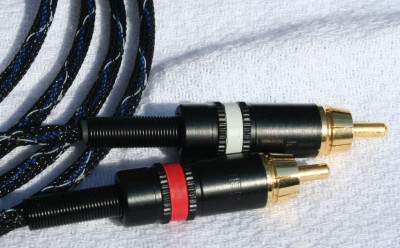 All the conductors are silver plated Teflon insulated and the wires are dual twisted. While I wasn't aware that there was such a thing as medical grade silver solder, I'm glad to know that it is being used in the I-Extreme cables. The fact is that you'll have a hard time finding cables with higher end components and connectors. These cables have the highest build quality of any cable in its price point. The only similarly constructed cables are double the price or more than the Ram offerings. That's ridiculous. No one should pay that much for a cable.
Use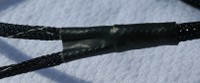 The cable that I was most interested in was the version with the RCA end. I don't have the iPod dock with my receiver and frankly I don't want one. I have way too many other ways of getting access to my music that I don't need to be transporting an iPod around. What I do need this cable for is when I travel. I get invited over to people's homes to "look at" their home theater on a fairly regular basis. This usually ends up with me toting over a bag of gear and CDs for calibrating and testing out their equipment. Afterwards, I run back home to kiss my subwoofer after having been subjected to the "bass module" I was told was "kickin'."
The truth is that I already imported some of my favorite test songs and albums in Apple Lossless to my iPod Nano. I just had no way to access them except through headphones. With the Ram I-Extreme cable, I can take them anywhere and hook them up to anything. Even when you go to a "high end" store, and all they have on hand is vinyl and maybe a CD (in their "low end" room) they still have RCA inputs on their esoteric pre-pre-pre-amp (it's only esoteric if it has a single function per lead lined box). Of course, they'll scowl at your iPod but probably not your cable. A true esoteric could hear the sustain coming off the silver solder.
The thing to be careful of is using these cables with an iPhone. While it will work, you'll want to make sure you select "Airplane mode." This will minimize interference but will also not allow you to receive calls - or as I like to call it, "built in excuse for screening calls." I connected up the Ram cable to my Denon AVR-2307CI which was pushing the Emotiva RPA-1. On my Nano I've included some of my favorite test songs plus the entire Rives Audio Test CD 2. This gives me access to test tones that are both straight and modified for the Radio Shack SPL meter. The Ram I-Extreme cables provide unparalleled access and transportability of my test tracks. Everything sounded dead on with no discernable difference. If I had one complaint about the Ram I-Extreme cables is that were weren't long enough! I'd love to have a 15 or 20 foot version so I could plug it into a receiver at a friend's house and be able to hold it rather than get up and walk across the room to change the track. Currently the longest length that Ram offers is 6 feet. If they decide to offer a longer cable, maybe they could call it the I-Extreme XL? I-Xtreme? I-eXXtreme?
Conclusion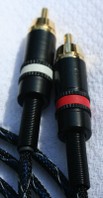 Do you need a high end iPod cable? I suppose that depends on who you are. You could make the argument that a Honda is a good enough car for everyone but try getting a BMW owner to give up their M5. Ain't happenin'. While competitor cables can be found for much less, they don't have the aesthetics and component quality of the Ram Electronics I-Extreme cable. They just don't. Plus, who else can brag about the medical grade silver solder in their iPod cable? Other than me of course.
Ram Electronics
$31.44-$38.99
RAM Electronics Industries Inc.
1704 Taylors Lane
Cinnaminson, NJ 08077
Toll Free: 888-726-2440
Phone: 856-864-0999
About Ram Electronics
Founded in 1977, Ram Electronics brings over thirty years of manufacturing experience to the Home Theater cabling market. They established their internet store to sell cabling solutions online. Over the last 10 years, they have expanded their product offerings to include a variety of connectivity solutions for home theater distribution and switching, audio video converters, network connecting, and many other areas associated with connectivity products. Their popular iPod cables and Elite Series HDMI cables, which are award winning, use silver-plated copper wire for better performance. Performance, functionality, plus value are critical and distinguish them from many of their competitors. Their in-house expertise uniquely qualifies them to bring the manufacturing practices and engineering knowledge on their commercial side to the audio, video and network connecting. They manufacture all custom cables in-house. Many custom cables have an unconditional return policy and they encourage their customers to experience their quality and value. Their in-house research and testing on products enables them to provide technical support and feedback, to their suppliers.
The Score Card
The scoring below is based on each piece of equipment doing the duty it is designed for. The numbers are weighed heavily with respect to the individual cost of each unit, thus giving a rating roughly equal to:
Performance × Price Factor/Value = Rating
Audioholics.com note: The ratings indicated below are based on subjective listening and objective testing of the product in question. The rating scale is based on performance/value ratio. If you notice better performing products in future reviews that have lower numbers in certain areas, be aware that the value factor is most likely the culprit. Other Audioholics reviewers may rate products solely based on performance, and each reviewer has his/her own system for ratings.
Audioholics Rating Scale
— Excellent
— Very Good
— Good
— Fair
— Poor
| Metric | Rating |
| --- | --- |
| Build Quality | |
| Fit and Finish | |
| Performance | |
| Value | |

tsteves posts on June 30, 2009 14:40
It works fine with my new iPod touch 2nd Gen! It works with the 1st and 2nd gen iPhone. We have not tried the 3GS yet. Trying to convince the boss he needs one, or better yet *I* need one for "work".
Daisies_2 posts on May 25, 2009 10:01
I have been using this cord for my iPod classic and the sound is terrific. I've been very pleased with it. However, I recently purchased an iPod Touch (2nd generation). Although this cable is supposed to be compatible with the iPod Touch, I think it's only compatible with the first generation. It seems that Apple is changing the connector dock (moving away from firewire). Any chance there will be a new version of this cord compatible with the iPod Touch 2G, iPhone etc.?

Thanks!
scott911 posts on March 21, 2009 17:24
I think I wil pick one of your cables up...

What would be nice for future would be an actual "dock" so the i-phone / ipod stands up. It is nice to see the album artwork. ~ and having the ability to charge the iphone/ipod would be nice too. thanks

Made is USA rocks!

Scott
tsteves posts on March 20, 2009 18:00
Yes, that is pretty much the reason we thought the cable to be a worthwhile product. Nearly all my ipod music and test signals are in AIFF lossless format. The ipod DAC is really pretty good, too, so you can get really nice sound quality in a small, portable package.
We know these cables are not cheap, but the money goes to American workers. They were pretty excited to get a nice review from a tough crowd. And if Tom Andry or anyone else wants a longer version, we can certainly do that.
scott911 posts on March 19, 2009 21:24
Thanks so, so much Tom....

I was really mistaken - seems that an i-pod dock with digital out would mean signal goes from digital (in ipod) to analog out ipod bottom - to digital again in dock - and finally converted to analog by reciever on the way to the speakers!

An RCA type analog cable connect seems to be the optimal way - at least when wanting the convienence of just running from the ipod...