HS Cables Cost and Conclusion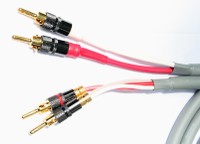 The fact is that you can get the exact same cable (minus the terminations) at other outlets for a substantially reduced price over the Ram offering. To the right is a picture of the Ram versus one of their competitors. As you can see, while the cables are the same, the fit and finish of the Ram is better and the locking banana plugs are a bit bigger than the competitor. Inside, the competitor just has bare wire instead of the ferrules crimp. The question you should be asking is if those things are worth the extra price. Regardless, if you didn't value shop, the Ram cables aren't outrageously priced. Compared to esoteric offerings that uses the same cable but wraps it in techflex so you can't tell, they are downright cheap.
Conclusion
Ram Electronics HS Speaker Cable
$ 43.01 - $150.43
RAM Electronics Industries Inc.
1704 Taylors Lane
Cinnaminson, NJ 08077
Toll Free: 888-726-2440
Phone: 856-864-0999
About Ram Electronics
Founded in 1977, Ram Electronics brings over thirty years of manufacturing experience to the Home Theater cabling market. They established their internet store to sell cabling solutions online. Over the last 10 years, they have expanded their product offerings to include a variety of connectivity solutions for home theater distribution and switching, audio video converters, network connecting, and many other areas associated with connectivity products. Their popular iPod cables and Elite Series HDMI cables, which are award winning, use silver-plated copper wire for better performance. Performance, functionality, plus value are critical and distinguish them from many of their competitors. Their in-house expertise uniquely qualifies them to bring the manufacturing practices and engineering knowledge on their commercial side to the audio, video and network connecting. They manufacture all custom cables in-house. Many custom cables have an unconditional return policy and they encourage their customers to experience their quality and value. Their in-house research and testing on products enables them to provide technical support and feedback, to their suppliers.
The Score Card
The scoring below is based on each piece of equipment doing the duty it is designed for. The numbers are weighed heavily with respect to the individual cost of each unit, thus giving a rating roughly equal to:
Performance × Price Factor/Value = Rating
Audioholics.com note: The ratings indicated below are based on subjective listening and objective testing of the product in question. The rating scale is based on performance/value ratio. If you notice better performing products in future reviews that have lower numbers in certain areas, be aware that the value factor is most likely the culprit. Other Audioholics reviewers may rate products solely based on performance, and each reviewer has his/her own system for ratings.
Audioholics Rating Scale
— Excellent
— Very Good
— Good
— Fair
— Poor
| Metric | Rating |
| --- | --- |
| Audio Performance | |
| Build Quality | |
| Appearance | |
| Performance | |
| Value | |

gorillacooch posts on August 01, 2009 15:25
Oh and one more thing, does the WBT connector really make a difference? What does River cable use?

Does River Cable use Canare4S11?
gorillacooch posts on August 01, 2009 15:22
Can you please do a comparison with Audio Art Cables? I would love to see what you think about those. Also can you do a big comparison review of XLR connectors.
gorillacooch posts on July 28, 2009 00:52
Do the HS cables use the same gas joint termination thingy that river uses?
gorillacooch posts on July 28, 2009 00:11
How much better are the cables made by mudkat, the cat 5?
chris357 posts on July 27, 2009 13:00
i get Canare form cable solutions I like the feel and the build quality and the price is very good!!! I'm almost 100% canare through my system excpet for some used audioquest that I got for 15 bucks