ZM Series RGB3HD Bundles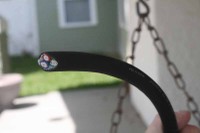 For this next cable I was itching to try out Planet Waves' new 24AWG RGB3HD bundled component video cable. This is a larger diameter cable that houses three individual coaxial cables (one for each of the red (Pr), green (Y) and blue (Pb) cables). Taking a closer look I found that the cable felt well-built. It is very flexible and each of the dual shielded coax cables was wrapped in a non-metallic insulation. I also realized I'd get to try out a new tool, Planet Waves' RC01 Radial Cutter.

The Radial Cutter is a new tool that allows you to set a specific depth with which to cut through the shield of a bundled cable (incidentally it will work with any bundled cable, not just those from Planet Waves). The way the tool works is that a small, curved-edge razor blade sits inside the tool atop an adjustable depth gauge (called a "knurled head" in the instructions). A spring-loaded upper jaw frame (cable guide) presses the cable bundle to the knife's edge. Setting the depth gauge is as simple as twisting the knurled head until the razor sticks up just high enough to slice the jacket without damaging the cables underneath. My recommendation is to test the depth on the last inch of wire or a scrap piece if you have it. After you have the depth correct you can simply insert the wire and spin the tool around the cable. It slices neatly and accurately. But there's more. The head rotates 90 degrees, so after you have made your initial cut through the jacket all the way around the bundled cable you can rotate the upper jaw frame with your thumb and then pull the blade lengthwise to split the jacket all the way down the length you are removing. In all my cuts I opted for a conservative depth, so that the blade never had a chance to penetrate any of the cables below. This gave me some additional prying to get the outer sheath removed, but was a good compromise overall. This tool fits well with the Planet Waves line - it allowed me to strip both sides of a 3 foot long component cable in less than 2 minutes.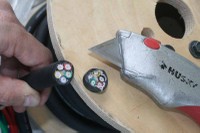 Before I moved on to actually attaching the finishing pieces and connectors I did want to point out that Planet Waves missed sending me one important tool: something that could cleanly slice through the 3-cable jacketed RGB3HD bundle. To use standard wire cutters would potentially crush the ends of the coaxial cables inside, so instead I took a cue form their other tool and grabbed a razor knife and a fresh blade and cut through the bundle cleanly and quickly. In fact, given the rough-cut state of the bundle ends, you'll want to be certain to use a razor knife on the end to make sure you have a clean starting point. Once I had my cable ready and the stray insulation cleaned up I placed two RGB3 end caps on the cable (do this first) and prepared to attach my Red, Green and Blue ZM series RCA connectors. It took all of 4 minutes and 10 seconds to get all six connectors onto the cable, including verifying my work with the Planet Waves Cable Tester. Not bad at all, and I finally made myself that 30-inch component video "jumper" cable I'd always wanted.
I duplicated this same cable, but with the addition of two more lines with the new bundled RGB5HD cable which includes 5 coaxial cables in a single bundle (Planet Waves also offers the same cable with a CAT5e cable nestled within). This would be excellent for any number of things, from legacy RGBHV lines, to component-plus-analogue audio, to analogue 5.1 audio jumper cables. In either case we made one simply to tie together component video and stereo audio for a kids room system that didn't have surround or an advanced A/V receiver.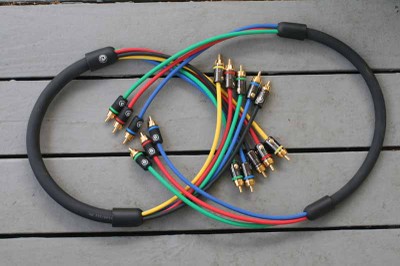 See also: