Planet Waves DIY Cable Kit Test Results
Application Performance Test Results
I tested the Planet Waves cables using a variety of displays varying resolution all the way up to 1080i which is the maximum you can get form component video connections (with the exception of Xbox 360 and a few upconverting DVD players). Most DVD players only output up to 480p via component video, but many cable set top boxes work all the way up to 1080i.
Test

Resolution

Phillips 30" HDTV

Hitachi 70" HDTV

6.75 MHz Bust Pattern

480i

Pass

480p

Pass

540p Pal

Pass

720p

Pass, slight softening and ringing

1080i

Pass, slight ringing
25ft Component Cable Run
Test

Resolution

Phillips 30" HDTV

Hitachi 70" HDTV

6.75 MHz Bust Pattern

480i

Pass

480p

Pass

540p Pal

Pass

720p

Pass

1080i

Pass
Test Results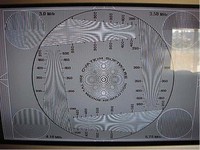 Terminating the single lead 200ft roll (wire left on spool) with RCA connectors and testing at 480i composite, the cable passed the 6.75MHz burst pattern with little to no ringing. The significance of this test is the ability to use this cable in long runs at low resolutions for multi-room installations. Composite 200ft termination 480i from standard DVD producing a clear 6.75MHz test pattern and a clear zone plate past 500MHz.
Editorial Note on Resolution Testing vs Real World Performance
It's important to note that while you can start seeing a softening of the image with longer cable lengths using test patterns, it won't be as evident using real world video signals from your DVD player or cable box. Only a discerning eye will pick this up and in most applications of long cable runs, the customer isn't always running video beyond 480p resolution.
COAX Cable Measurements & Analytical Calculations

24AWG Planet Waves
Metric

@ DC

@ 10 kHz

@ 100 kHz

@ 500 kHz

Rs (total)

30.9 mΩ/ft

32.0 mΩ/ft

32.3 mΩ/ft

44.0 mΩ/ft

Cp

NA

18.3 pF / ft

18.3 pF/ft

18.4 pF/ft

Ls

NA

.120 uH/ft

.120 uH/ft

.119 uH/ft

Rshield

4.57 mΩ/ft

5.68 mΩ/ft

5.97 mΩ/ft

7.55 mΩ/ft

Zo (sqrt(L/C))

81.0Ω
Cable Metric Definitions
| | |
| --- | --- |
| Rdc - | Commonly referred to DCR which is the series resistance of a cable at zero frequency. |
| Rac - | The resistive portion of the cables series resistance as a function of frequency due to skin effect. |
| Rs - | Total Series Resistance (mohms) measured tip to shield at one end of the cable while the other end is shorted. Note: Rs = Rac + Rdc (minus instrumentation inaccuracies identified below) |
| Ls - | Series Inductance (uH) measured tip to shield at one end of the cable while the other end is shorted. |
| Cp - | Parallel Capacitance (pF) measured tip to shield at one end of the cable while the other end is open circuited |
Cable Measurement Test Set-Up Notes
All of the above measurements were completed on a fully calibrated and certified, Wayne Kerr 6420 Impedance Analyzer. The 6420 was calibrated for full frequency bandwidths and for greater accuracy the measurements and calibration process was repeated twice for consistency.

All cable lengths measured were 10 feet or greater and divided by their length for a normalized per foot measurement. At low frequencies in cases where Rs measures lower than Rdc, this is not inaccurate, as Rs tends towards Rdc as frequency approaches zero or DC. The LCR measurement derives Rs from signal phase and amplitude, while a DC meter measures exactly what it is looking for. Thus when this discrepancy occurs, it is likely due to a meter resolution issue, as the meter in AC mode does not sport the high accuracy it would in DC mode. The cable should ideally be modeled as multiple parallel resistors, and those resistors treated as a lumped element in series with an ideal inductor.
Each resistor is a frequency dependent element, and the inner ones fall out as the frequency increases. It is important to note the difference in measuring techniques, and caution the reader not to attempt to derive any relationships with the two numbers, as the absolute accuracy between the methods has not been established. However, the rising trend of Rs vs frequency is indicative of increased Rac due to skin effect and should also be noted.
Cable Analysis
The Planet Waves cable contains Single Braid and Foil Shield combination shielding using 24AWG stranded center conductor measures about three times the resistance of standard 18AWG RG6 coax cables. For long runs (>50ft) we would have preferred to see 18AWG to minimize insertion loss and avoid issues of with some video drivers inabilities to cope with excessive signal loss due to high source resistance loading. For example, 100ft of Planet Waves cable would have about 30 ohms of AC conductor resistance at 30MHz while 18AWG equivalent cable would have about half that. When terminated into a 75 ohm load would result in about -3dB of signal loss compared to -1.6dB of loss with standard 18AWG RG6 Coax cable. Please see the tables below which calculate AC resistance and loss vs frequency for 20ft and 100ft lengths of 18AWG and 24AWG coax cables.
for 20ft

Frequency (Hz)

18 AWG

Loss (dB)

24 AWG

Loss (dB)




1000000

0.57

-0.07

1

-0.14

3000000

0.97

-0.11

2

-0.23

5000000

1.24

-0.14

3

-0.30

10000000

1.74

-0.20

4

-0.41

30000000

2.98

-0.34

6

-0.69

100000000

5.41

-0.61

11

-1.21

for 100ft

Frequency (Hz)

18 AWG

Loss (dB)

24 AWG

Loss (dB)




1000000

2.87

-0.33

6

-0.69

3000000

4.84

-0.54

10

-1.11

5000000

6.19

-0.69

13

-1.39

10000000

8.68

-0.95

18

-1.89

30000000

14.90

-1.57

31

-3.00

100000000

27.06

-2.68

56

-4.85
Editorial Note on COAX Bandwidth Requirements
The sample rate for 1080i HDTV is 74.25 Mhz. This is arrived by taking 1920 horizontal pixels plus 280 samples for sync per line times 1125 lines including sync (1080 +45) times 30fps. With a factor of 2 (based on Nyquist theorem) the highest analog frequency you can theoretically achieve is 37.125 Mhz. This approximates to a real world number of about 30 MHz for 1080i with about 20% overhead.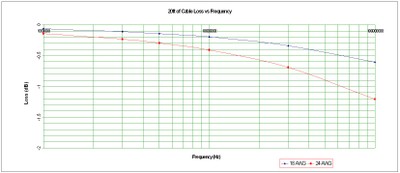 Figure 1. 20ft Cable Loss vs Frequency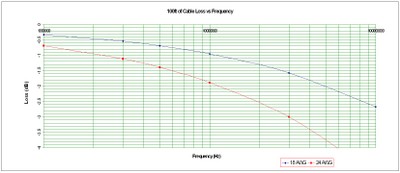 Figure 2. 100ft Cable Loss vs Frequency
Figure 3. 20ft Planet Wave Cable Frequency Response
A frequency sweep out to 200kHz verified the cable termination was good and functioned fine for audio applications. This cable was used for connecting analog audio and subwoofer components and no audible issues were found even at max lengths of greater than 100 feet. The dielectric of the Planet Waves cables appears to be of good quality as indicated by the constant capacitance over frequency measurements.
gene posts on April 24, 2008 16:26
My response is: Bluejeanscables.com
While I am huge fan of Bluejeans cable, the average end user cannot self terminate their own cables and you need expensive crimping tools and know how to do the job right with 1694 and canare connectors.
tn001d posts on April 24, 2008 14:39
My response is: Bluejeanscables.com