MIW-XT Full Review
When you are planning your new dedicated home theater, one thing is often overlooked - power. While you make allowances for video cables, too often we've seen installations with power run down the wall to an outlet or run illegally via an extension cord inside the wall. While you can run an extra outlet up to the projector, you've got the problem of protection. So unless you plan on installing a UPS in the ceiling or near the projector, you've got a second problem - blackouts and bulb life. If you plan on protecting your projector, the last thing you want is something like the Panamax MX5102 with its 10 outlets wasted by having to place it near the projector. You want it near the rest of your gear so that you can utilize it to the fullest. But, sans an extension cord, what are you to do?
Build Quality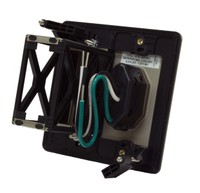 Panamax-Furman has the solution to your projector woes with the MIW-XT power extension kit. What this basically does is put a female outlet near your projector and a male IEC one near your gear. This way, you can plug your projector into the wall, run an up-to-code run of Romex or 12/2 through the wall to the second outlet, and use a second cable to plug into your UPS. What you are left with is essentially an in-wall extension cord that won't burn down your house.
While the obvious application is for projectors and longer runs, the MIW-XT is perfect for others as well. Included with the package is a small three-prong jumper. This is perfect if you are just looking to plug the MIW-XT into the wall. You place the female receptacle near the device and the male near a second outlet. Mostly, though, this sort of system is useful for flat panel displays. The jumper (or a normal power cord) can be used to run from the back of the display to the wall unit and then down the wall and out near the rest of your gear. Have you ever wondered how they have those floating flat panels on HGTV? This is how.
Panamax-Furman didn't stop with power however. They've included in insert that will fit a single gang Decora-style plate. This gives you a lot of flexibility in connection options. For something like a projector, we always suggest running at least HDMI and component video. While you may never need to use the component connection, for gaming, the lag that can be created by upconversion or even simple HDMI repeating functions on a receiver (where it reads the audio from the HDMI cable) can make certain types of games (specifically rhythm games like Guitar Hero or Rock Band) nearly unplayable. Connecting them differently to your game system will eliminate that lag. All you need to do is plan out your connection configuration and buy the right insert.
Please, do buy the right insert.
We suggest a couple of things to think about:
Do you have a gaming system? If so, it may be advisable to have a dedicated video connection for each game system, or to at least run analogue video for these systems.
Are you going to be running more than one of the same type of connection? Might you want an HDMI input from your receiver and a second one (component/YPbPr) for a game system or upconverting DVD player? For flat panels, don't forget audio and cableTV!

Over what outputs does your receiver/sources display on-screen menus? You'll want to make sure you have one of these connected.
For a projector, are you interested in setting up a 12 volt trigger? Might you want one in the future?
What inputs are on the back of the display? Having more than you need in the wall is far preferable to not enough, especially if you decide to upgrade down the road
Taking a closer look at the MIW-XT wall plates we find two basic parts, the front plate and the wall mount. The wall mount should look mostly familiar to anyone that has added a low voltage line (like speaker cables) to their walls. It's basically an old work frame. The difference is there is a large cage on one side and a blank space on the other. More on that later. You'll notice very familiar dog ear lockdowns for connecting the frame to the drywall.
The MIW-XT wall plates are constructed out of very sturdy nickel plated steel which means they are rugged, durable... and probably match nothing else on your wall. One side has the power connection while the other has a rubber grommet for cable pass-through. You can cut a slice in the rubber and push your cabling through or use the included keystone adapters for up to two connections (which is not going to be enough more than likely) or replace them with the Decora-style inserts. While you'll be surprised how many connections you'll be able to make with a single insert, it's going to be hard to find anything other than white or ivory. Black is available but you'll most likely have to order it online and usually at a premium. Hopefully, the placement of the wall plates will be somewhere unobtrusive or out of sight (like it was in our installation).
Installation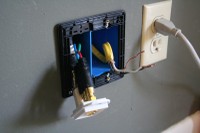 The hardest part of installing the MIW-XT wall plates is reading through the directions. The mounting plate has a number of accessories and attachments that can be removed or added based on what you want to do. The basic thing to remember is that you do NOT need a back box for the low voltage connections (like video and audio) but you do for the power. For this, you don't need a full double gang box but just a single for the power side. Panamax-Furman recommends:
New Work

Old Work

Plastic

Carlon SC200DV

Carlon B114R

Metal

Raco 8355

Raco 508
(hardware removed)
Once you connect the backbox and run the wires, you'll just need to install the mounting plate on the wall, connect the wires from the power terminal on the faceplate to the 12/2 power cable, the connection on the Decora plate to the wires, and attach the faceplate. We recommend you seriously think about the terminals on your in-wall wire when choosing. A lot of times there is not much room to make the 90 degree turn you need from the back of the Decora plate. For component, composite, 12 volt, and others, this isn't much of a problem. But HDMI has been notoriously unwieldy in such situations. Make sure you have room to make your turn or a cable that is more flexible. Alternatively, you can buy one of those right angle HDMI adapters and use that for the connection. Regardless, careful planning will make this entire process a lot less stressful.
Use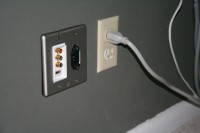 You would do well to make all your connections and test the MIW-XT before you install it but you probably won't. We didn't. Running 12/2 power cable is a fairly straightforward and simple process and as long as you don't damage the wire and make good connections you should be fine. As you'd expect, once everything was installed, we had little trouble. Since we hid the plate behind an acoustic panel that had an air gap, aesthetics didn't matter. The three prong IEC receptacle had no problems accepting an aftermarket cable that we purchased for extra length over the one provided.
When connecting the video cables, you're going to want to be careful of the force you use. Many manufacturers get a little overzealous in the tightness of the connection. We've had RCA style connectors literally pull the terminals off the back of a receiver before - they'll have little problem doing the same here if you are not careful. we found that the power connection was solid even if the cord was pulled slightly out from the terminal. This gives you a little wiggle room at the connection point.
Conclusion
Overall, the Panamax-Furman MIW-XT Remote Power kit does everything you want. It may be a little on the pricey side, but it gives you a foolproof and up-to-code way of running power to your display or other devices. It also provides the convenience of the included Decora insert compatibility. While the metal faceplate may not match anything else in you theater (including the Decora faceplate), maybe it won't have to. All in all, it is a very good solution to an increasing common problem.
Panamax-Furman MIW-XT Remote Power
$149.95
Panamax-Furman
1690 Corporate Circle
Petaluma, CA. 94954
Toll Free: 800-472-5555
Phone: 707-283-5900
www.panamax.com – www.furmansound.com
About Panamax ~ Furman
Panamax and Furman have been international leaders in providing award-winning, innovative power management products for more than 35 years. Their power management products give audio/video systems the pure, noise-free power they need for superlative performance, providing longevity to the components connected while protecting them from damage caused by power surges and lightning. Together, as part of Panamax, Inc., Panamax, Furman, and PFPower (a Panamax/Furman brand) address all major electronic markets, including home theater, professional audio and music, broadcasting, audio/video recording, OEM, and office equipment. The company is based in Petaluma, Calif., and sells through an international dealer network and through select retail outlets. More information is available at www.furmansound.com and www.panamax.com.
The Score Card
The scoring below is based on each piece of equipment doing the duty it is designed for. The numbers are weighed heavily with respect to the individual cost of each unit, thus giving a rating roughly equal to:
Performance × Price Factor/Value = Rating
Audioholics.com note: The ratings indicated below are based on subjective listening and objective testing of the product in question. The rating scale is based on performance/value ratio. If you notice better performing products in future reviews that have lower numbers in certain areas, be aware that the value factor is most likely the culprit. Other Audioholics reviewers may rate products solely based on performance, and each reviewer has his/her own system for ratings.
Audioholics Rating Scale
— Excellent
— Very Good
— Good
— Fair
— Poor
| Metric | Rating |
| --- | --- |
| Build Quality | |
| Ergonomics & Usability | |
| Ease of Setup/Programming/Integration | |
| Fit and Finish | |
| Performance | |
| Value | |

Omega Supreme posts on September 24, 2009 16:17
Thanks JohnA. Now THAT makes sense. I guess that is what Rick was trying to say in post 8.

Rick, If you read my 1st post I stated that was how I had my TV connect for about 5 years now. And no I am not trying to rationalize it, im just trying to understand what the hazard was. Looks like I will be making a trip to HD today:-)
Rickster71 posts on September 24, 2009 13:50
It sounds like you want to / or you already have, run your TV appliance cord through the wall; and are now trying to rationalize it.

Is any answer I can give you really going to matter at this point?

With that in mind, it seems like you aren't completely reading and / or understanding the answers I've already given you.

Appliance cord insulation is rated for 'free air' use. That type of insulation has a chance of over heating if used in a enclosed space.
(like a wall cavity)
This slow deterioration and drying out and cracking, will not be seen inside the wall; until it causes a fire.
From my post #8 It has to do with flame spread. Romex and / or in-wall rated wire won't support combustion, once the ignition source is removed.
Wire insulation is much more complicated than 'just' the thickness of the insulation. Too much to type here.

NEC 400.8 (Uses NOT permitted)
(1) as a substitute for fixed wiring of a structure. The word "Structure" means house or building. NOT your TV.
JohnA posts on September 24, 2009 13:39
The main issue for not running power cords or ext cords behind a wall is the outer insulating jacket in relation to its fire rating. This rating determines how long a jacket will continue to burn once the heat/flame source is removed. It also covers how much toxic fumes are allowed to be released from the burning jacket. For in wall rated cables the jacket will self-extinguish itself after "X" amount of time. The point is to reduce the spread of fire within a building. Standard power cords and ext cords do not meet these standards and are therefore against code to run them in wall.
Omega Supreme posts on September 24, 2009 08:37
Thanks for answering my questions Rick. I'm still confused thought.
Isn't the power cord a "fixed wiring of a structure". The power cord is fixed to the TV (at least it is on mine).
The code views extension cords as temporary. So much in fact; that holiday lighting cords can be in place for no longer than 90 days. I'm not saying the Xmas light police will show up at your house on the 92nd day, but that's how the code reads.
I'm not talking about using and extension cord but the power cord that is attached to the TV. An extension cord is not the same as a power cord. If it was you could not leave a lamp, microwave or any other electronic device plugged in over 90 days.
I guess here are my ultimate questions: Why is it unsafe to run the "TV's fixed power cord" (not an extension cord) inside a wall? Will it burst into flame? Does putting it behind a 1/2 piece of sheetrock make it more flammable? If so then would it be more dangerous to take the 6' power cord and roll it into a 6" loop and plugging it into an outlet. It seems like a cord rolled up onto itself would be more dangerous.
Also is this really dangerous. I'm not asking is it against NEC code but if it is really and truly a fire hazard (if so why, please don't say because it's not compliant to NEC code because I really want to understand "why" it's a hazard). Take for example: My dad works for Caterpillar as a welder. He had a 4' fiberglass step ladder. One day one of the legs was mashed and it had about a 2" crack. Well according to OSHA he had to throw that ladder away. So he had to get another ladder for work. Well he brought that step ladder home and he made a steel brace for it and bolted it to the cracked leg. It still does not meet OSHA's code but in reality it is just as safe as it was when he bought it. Once again thanks for any comments. I'm really not trying to be hard headed I just want to understand what the hazard is
Rickster71 posts on September 24, 2009 07:00
This just doesn't make sense. So there is no power cord that exists today or could ever exist that would be safe to run in-wall? I would think that the NEC has spec's/standards that in-wall wire has to meet and if it meets those specs then it is safe to run in-wall. And how do I know that the power cord does or does not meet those spec's. All of this may be answered if Rickster answers my first question.


Even though this is getting a little weird; I'll take a stab at it.

NEC 400.8 (Uses not permitted)
(1) as a substitute for fixed wiring of a structure. (2) Where run through holes in walls, structural ceilings, suspended ceilings, dropped ceilings or floors...... you get the idea.

The code views extension cords as temporary. So much in fact; that holiday lighting cords can be in place for no longer than 90 days. I'm not saying the Xmas light police will show up at your house on the 92nd day, but that's how the code reads.

This just doesn't make sense. So there is no power cord that exists today or could ever exist that would be safe to run in-wall?

Power cord manufacturers know the part of the code that pertains to them; knowing how cords are ruled on, they wouldn't re-invent the wheel. Since in-wall use is already covered by other types of wire.

I agree the code has some quirky parts.- i.e. Federal installations are exempt from the NEC.
Back when I took my code classes, it was on an Air Force base. Since my instructor worked on the base for 30 years; he would walk us around and see if we could find all the code violations. The biggest, was seeing million $ CNC machines powered with S.O. cord. Hope this helps.

Rick