K&B Concert Series Overview and Design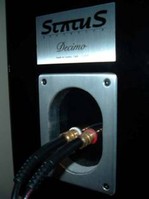 K & B Signal Solutions is a newcomer to the audio industry. A group of Mechanical Engineers set out to produce affordable and well performing cable products, snake oil free . One unique perspective they bring to the table is their very clever and practical terminations comprised in their new speaker cable known as the Concert Series . I know you have heard this before, what could possibly be unique or differentiate this company from the next cable company? It's called "Interconnection Modularity". This allows the end user to swap out cable terminations or add extenders to increase cable length without any needs for crimping or soldering. It is basically a "tool-less" design involving pressure applied by the end user to make the connections and terminations.
The Concert Series cable comes fitted with banana plugs which interfaced quite well with my Status Acoustics Decimo's . It has always been a challenge to say the least to find non compression style banana plugs that fit snugly on these speakers. The nice thing about this cable, is if the banana plug doesn't fully insert into the binding post, you can pull the PVC rubberized sleeving over the connector to make it fully flush.

The Design
The Concert Series cable is a basic 12 gauge twin feeder cable (or more popularly known as " Zip Cord "). However its cosmetics are dressed up via a slick wine color nylon sheath with a slidable strain relief PVC insulator to encase the terminated cable and ensure no metal contact area is exposed once fully pulled over the terminations. The terminations are gold plated brass alloy construction. The default base terminations are banana plugs which are soldered snugly to the cable.
Your cable termination choices are as follows:
Banana Plugs (default) - used for pushing into back of binding posts of most amps and speakers.
Splice Cable Connection - for seamlessly adding cable lengths via daisy chaining.
Positive and Negative Fastons - popular when interfacing with raw speaker drivers.
Flexible Pin Connector - similar to a gold coated wire which is easy to pass through a speaker's binding post before tightening down much like you would do with bare wire only there is no strand fraying to deal with since it is coated and self contained.
Spade/Fork Terminations - popularized by many esoteric audiophiles though in my opinion usually more problematic then beneficial. In this case, the furnished Spade connector was not wide enough to accommodate any of the speakers I had on hand for review. I would have preferred an offering of different sized spade connectors or one adjustable one.
Editorial Note
Regarding Faston Connectors: The most common Faston size is .205". Many loudspeaker drivers, (IE. American, Chinese or European-made) also are spec'ed with .110 for the negative terminal. The American design engineers do this so that the assembly line workers can't mess up the polarity changes, if any, that are inherent on their specific design.

Regarding Spade Connectors: This spade- connector-too-small-to-go-around-the-threaded-terminal-shaft is an almost universal problem. Many of the Chinese-made terminals have threaded shafts large enough so that a hole, large enough to accept a banana terminal, can be drilled through the shaft. This allows the consumer to have banana plug wires and still crank them down much more securely than would be the case with just sticking them in the end of the terminal. According to K & B Signal Solutions, the original intent of this connector was to interface with car amplifiers.