SonicWave Cables Packaging and Design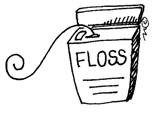 Does your speaker wire suffer from gauge envy? You know the kind - the dental floss cable that is typically thrown in for free when you buy that HTIB system that's supposed to replace your rack of equipment.
Well there is another kind of cable that also suffers this fate. Sadly it's the kind that a so called audiophile will gladly shell out thousands of dollars on because they were sold a great story about how this new magic cable would transform their sonically lifeless system into a botanical garden of musical delight.
"Don't waste your money on room treatments or better speakers till you try our magic cables . Measurements? Nah, we don't do those since they are meaningless. Trust your ears. - Ask any Scientologist, oops I mean any "Cable Expert" and they will tell you.
While the debate rages on with the "Cable Experts" or those whom I usually refer to as "Cable Soothsayers", its nice to know Impact Acoustics is on the same mission as Audioholics' a "no BS" approach while delivering the best products and/or services.
Note: For a list of the common snake oil we have so far uncovered, I recommend reading the following Audioholics article Top Ten Signs a Cable Vendor is Selling You Snake Oil .
Refreshingly, Impact Acoustics Cables are fully "snake oil free" and we have so much confidence in their products and methodologies that we actually syndicate some of their editorials on our website.
It's All in the Packaging
While most esoteric cable companies will jump through hoops to deliver the most aesthetically pleasing cable designs, they often overlook the packaging. In the great tradition of SonicWave Impact Acoustics products, their packaging is top notch. It's almost a crime to discard their magnetically sealed boxes after you pull out the cables for usage. I suggest keeping them as a memento for choosing a product that spares no expense in detail from design, material usage all the way to its wrappings. You can always store your discarded exotic battery powered, strand-jumping-reducing exotic cables in it as a reminder to never let marketing misguide your purchasing decision again.
Terminations to Please the Terminator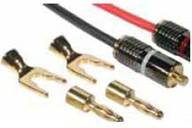 Just like we found with their Meteora speaker cables, this is no girlie man cable solution. Wimpy spade connectors that won't fit a standard speaker or amplifier binding post have no place here. Until I tested these 5/16-inch spade connectors, I wasn't a fan of spade connectors. Most slid off even after tightening down the binding post, or simply didn't make a good connection with the binding post. This was NOT the case with the SonicWave cable spade terminations.
Don't like spade connectors? No problem, check out their excellent banana plugs which, although aren't the locking type, do make excellent contact and provide a snug fit with every speaker terminal I tried including receivers from Denon and Yamaha; amplifiers from Emotiva and Panasonic; and loudspeakers from Axiom, Rocket and RBH Sound.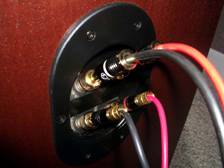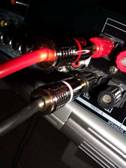 RBH T-30LSE (left) and Panasonic SA-XR50 Receiver (right)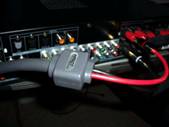 Changing out terminations on the SonicWave cable system was a breeze. All you do is screw on/off the connector(s) of your choice and you're good to go. If you are snaking the cable behind your equipment rack or speakers, I recommend doing so unterminated. Applying the terminations just before you make the connection to your components and speakers is a good measure to avoid accidentally losing a connector should it come loose during the cable installation process. I did however find that once you firmly tightened down the connector by hand, it remained locked in place just fine. As an extra precaution, you may wish to further tighten with a pair of pliers once you make up your mind which terminations work best for you.
About the only thing I wasn't too keen on was their bulky plastic square blocks located towards the end of each cable before they terminate to the connectors. This is a constant theme or should I say fad of SonicWave products that I wish Impact Acoustics would let die with the likes of Bell Britney Spears music, 8-Track tape and the Atkins diets. Seriously this is a hindrance to any custom install application where the Installer wishes to work cables through a conduit or component rack. I'd much prefer a nice flexible sleeving to finish off these cables.
The Cable Design
There is no rocket science to this cable design, nor should there be for any good speaker cable design. Remember the Borg mantra "Resistance is futile" and you are halfway there to designing a good cable since that is the dominant metric which governs good speaker cable design. The SonicWave speaker cable is good old-fashioned twin feeder (10 AWG oxygen-free copper cable that, according to Impact Acoustics, is constructed from seven bundles of 18AWG conductors for maximum flexibility. A 12mm PVC jacket envelopes both cables which also serves twofold: protecting the cable and enhancing the aesthetics.
Though Impact Acoustics doesn't specify their cable metrics, they are easy to figure out by simple inspection based on our articles authored on cable inductance and capacitance titled "Calculating Cable Inductance in Speaker Cables" and "Dielectric Absorption in Cables Debunked"
...inductance and capacitance values are interrelated and based on the dielectric and conductor spacing between the (+) and (-) conductors.
I was unable to inspect conductor spacing since the cables were encased with PVC, thus I made detailed measurements to determine the specifications.