RapidRun Evaluation and Conclusion
We chose the component video/SPDIF coax module, HT runner cable, and Component/SPDIF coax break out cable for the first evaluation.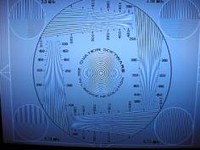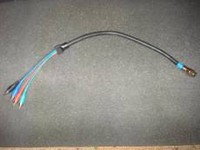 We used a modified DVD player with 480i, 480p, 1080i, and 720p video up conversion and SPDIF coax output. We also used the Panasonic PT-44LCX65-42-inch 1280x720 LCD HDTV. We began testing the capabilities of the 50-foot HT runner, component termination module, and component RCA break out cable.
The cable transmitted the 480i, 480p, and 1080i video and SPDIF audio bit stream perfectly with no signal degradation or loss of resolution. The 6.75Mhz burst pattern was easily discernable. There was no sign of ringing or fixed pattern noise with any of these resolutions. A slight amount of softening of the 6.75Mhz burst pattern line structure at 720p was noticed. This may be attributed to the 28 AWG wire used in the construction of the cable and the long 50-foot length. Check out our RapidRun FAQ for more details. The audio bit stream for both Dolby Digital and DTS was flawless with no dropouts or lag at all.
One thing we noted was the quality of the RCA connectors on the break out cable. The connectors are functional but we would like to have seen better RCA connectors than the standard nickel plate thin wall type used here. But considering the price of the cable system, this is something that we can overlook.
Editorial Note on RCA Connector Issue:


Based on our feedback with Impact Acoustics on this review, the RCA connector issue has been addressed back in summer of 2007 and this is no longer a problem.

The bottom line is that the HT/Runner Cable, termination module and the component/SPDIFcoax break out cable is easy to install. It was built to high quality standards, very well shielded and preformed near flawlessly in every test we threw at it.
Next, we decided to evaluate the S-video/Stereo analog termination module, HT Runner, PC/Video Runner and S-video/Stereo Analog break out cable. The S-Video/Stereo analog termination module will work with either the HT runner or PC cable. Consequently, we decided to test them both. Generally, we have found that very long runs of S-Video can create serious problems with excessive ringing and noise.
This is by and large due to small gauge conductor and poor shielding used in most mass marketed s-video cables. This type of construction creates high resistance and signal loss for the very long run.
Testing the Rapid run cable surprised us; we found no amount of ringing or excessive noise in the image. We compared the 50 ft RapidRun cable to our 6 ft Impact Acoustics S-video cable and found no difference in image quality at all.
The analog signal was equally impressive with no signal dropouts or problems of any kind. Both the HT runner and PC/Video runner cables were outstanding in their ability to transmit pristine signal from the source to the monitor and amplifier.
This would be the perfect solution for guest bedrooms, game rooms, or rooms where you want low-resolution display devices and analog sound.
Finishing the evaluation, we decided to test the PC/Video runner, HD-15 VGA termination module, and VGA break out cable.
We decided to perform the evaluation with two types of monitors: a Samsung 17 inch Sync Master CRT and the Panasonic PT-44LCX65. We tested the cable at 800x600, 1024x768, and 1280x720 @60Hz refresh rates. We used a Radion 8500 and NVIDIA 6800 Graphics cards for the evaluation. Both monitors and both graphics cards sync'd perfectly when using the 50ft PC/Video Runner, VGA termination module and VGA breakout cable. Text was razor sharp and there were absolutely no anomalies in the static images or video when using the DVD drive.
We compared the RapidRun cable to a high quality 6ft VGA cable and we could find no discernable difference in the resolutions we tested. This cable system would be the perfect choice for the individual wanting to install PC work stations or Multi-media PC's in their home.
It would also be a great solution for a laptop center. All an individual would need to do is connect a VGA cable between the VGA modules, the laptop and view their work on a larger pre installed flat screen. The VGA modules'clean appearance would also make it perfect for placing beside a bed for those of us who like to work or surf the net in a relaxed position.
Another use for the RapidRun PC/Video or HT runner would be to use the runner cable for your front projection component video input and use the termination module with five RCA inputs. This would allow the installer to use the extra two inputs for triggers, I/R repeaters or pickup feeds.
Installing the termination module in close proximity to the ceiling mounted projector and using a Decora wall plate will make a nice clean installation.
Conclusion
Concluding the review of the RapidRun cable system, we must say that this is a break through (pun intended) product. This is the perfect cable system for the DIY homeowner or custom installer. The ease of installation and ability to change terminations at both ends make it flexible and near fool proof. The RapidRun Cable systems' low cost, expansive selection of termination modules, and break out cables make it a no brainer and obvious choice for our 2005 Product of the Year award for the most innovative cable solution.
Planning, installing and terminating a home for multi-media can be a real headache even for the professional. The RapidRun cable system is the perfect medicine for that headache. Highly Recommended!
Impact Acoustics
Rapid Run Multi Use Versatile Interconnect System
1501 Webster Street
Dayton, OH 45404
http:/www.impactacoustics.com
The Score Card
The scoring below is based on each piece of equipment doing the duty it is designed for. The numbers are weighed heavily with respect to the individual cost of each unit, thus giving a rating roughly equal to:
Performance × Price Factor/Value = Rating
Audioholics.com note: The ratings indicated below are based on subjective listening and objective testing of the product in question. The rating scale is based on performance/value ratio. If you notice better performing products in future reviews that have lower numbers in certain areas, be aware that the value factor is most likely the culprit. Other Audioholics reviewers may rate products solely based on performance, and each reviewer has his/her own system for ratings.
Audioholics Rating Scale
— Excellent
— Very Good
— Good
— Fair
— Poor
| Metric | Rating |
| --- | --- |
| Audio Performance | |
| Video Performance | |
| Build Quality | |
| Ergonomics & Usability | |
| Ease of Setup/Programming/Integration | |
| Features | |
| Performance | |
| Value | |