Meteora Measurements, Installation, and Conclusion
Using our Wayne Kerr 6420 Impedance Analyzer which graces our Test Equipment Laboratory , I measured all of the critical metrics which directly affect cable performance.
Cable Metric Definitions
| | |
| --- | --- |
| Rdc- | Commonly referred to DCR which is the series resistance of a cable at zero frequency. |
| Rac- | The resistive portion of the cable's series resistance as a function of frequency due to skin effect. |
| Rs- | Total Series Resistance (mohms) measured tip to tip at one end of the cable while the other end is shorted. Note: Rs = Rac + Rdc (minus instrumentation inaccuracies identified below) |
| Ls- | Series Inductance (uH) measured tip to tip at one end of the cable while the other end is shorted. |
| Cp- | Parallel Capacitance (pF) measured tip to tip at one end of the cable while the other end is open circuited. |
Cable Measurement Test Set-Up Notes
All of the above measurements were completed on a fully calibrated and certified, Wayne Kerr 6420 Impedance Analyzer . The 6420 was calibrated for full frequency bandwidths and for greater accuracy the measurements and calibration process was repeated twice for consistency.

All cable lengths measured were 20 feet and divided by their length for a normalized per foot measurement. At low frequencies the results illustrate Rs being lower than Rdc, which is inaccurate, as Rs tends towards Rdc as frequency approaches zero or DC. The LCR measurement derives Rs from signal phase and amplitude, while a DC meter measures exactly what it is looking for, thus this discrepancy is likely due to a meter resolution issue, as the meter in AC mode does not sport the high accuracy it would in DC mode. The cable should ideally be modeled as multiple parallel resistors, and those resistors treated as a lumped element in series with an ideal inductor.

Each resistor is a frequency dependent element, and the inner ones fall out as the frequency increases. It is important to note the difference in measuring techniques, and caution the reader not to attempt to derive any relationships with the two numbers, as the absolute accuracy between the methods has not been established. However, the rising trend of Rs vs frequency is indicative of increased Rac due to skin effect and should also be noted.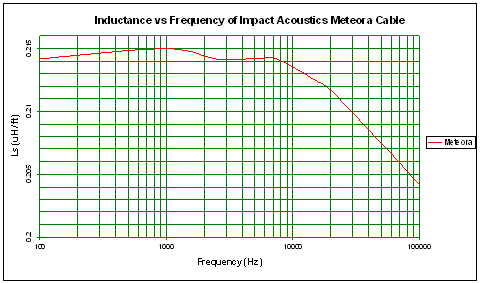 Figure 1. Inductance vs Frequency of Meteora Cable
Inductance was a tad higher than I expected - around 0.215uH/ft. We like to see cable inductance below .200uH/ft to minimize high frequency rolloff for long cable runs. This cable exceeds our guidelines by around 7% but that is by no means a showstopper. The slight decrease in cable inductance above 20kHz is a result of minimized internal inductance due to skin effect. This is an inaudible and barely measurable phenomenon and is only discussed herein for academic purposes. However, tighter control of conductor spacing would have made this a complete non-issue and we are hopeful Impact Acoustics considers this for future design iterations to appease the Audioholic type of customer (like myself) that listens to cables with their LCR meters.
For a more detailed discussion on Cable Inductance, please see our article on Calculating Speaker Cable Inductance .
Figure 2. AC Resistance vs Frequency of Meteora Cable
The resistance of the Meteora measures just around 3mohms/ft which represents an equivalent effective gauge of around 12 AWG at DC as specified by Impact Acoustics. This is a very low resistance speaker cable making it ideal for long runs throughout the home with minimized losses. We see a rise in AC resistance with frequency above 20 kHz attributed to skin effect, but practically speaking a non-issue for the application of high fidelity audio especially since even at 50 kHz it maintains an equivalent 14AWG resistance which is still lower than many much costlier esoteric cable designs are at DC!
For a more detailed discussion on Skin Effect, see: Skin Effect Relevance in Speaker Cables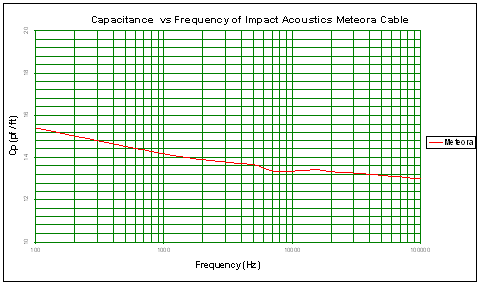 Figure 3. Capacitance vs Frequency of Meteora Cable
Capacitance was very low, weighing in around 15pF/ft. We like to see cables measure under 50pF/ft. This ensures there won't be any stability or frequency peaking issues for long runs on marginally stable amplifiers with high unity gain crossing, or excessive high frequency roll off on amplifiers with high output impedances driving a reactive loudspeaker load. The reason for the slight decrease in capacitance with increasing frequency is likely attributed to measurement error of measuring a distributed device (speaker cable) with a measurement tool (Magnetics Analyzer) designed to measure lumped elements (magnetics, electrical circuits, etc). Rest assured this cable has very low capacitance and can be connected to virtually any amplifier without risk of loss of stability or frequency peaking or roll off regardless of amplifier characteristics.
Cable Installation
As you can see in the photos below, the Impact Acoustics Meteora cables have excellent terminations that were very compatible with all of the gear I currently have hosted or under review in my reference systems.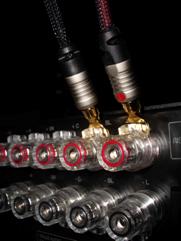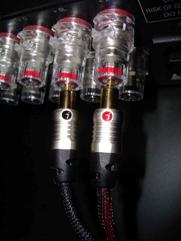 Spades on Thule PA350B Integrated Amp (left);Bananas on Denon AVR-5805 receiver (right)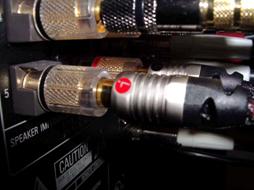 Notice the snug fit and the fully recessed banana connector pin into the binding post


Recommendations
If you are looking for a beautifully constructed cable that will accommodate all of your ever-changing termination needs, measure well, and be snake oil free, the Impact Acoustics Meteora speaker cable should be on your short list of legitimate and affordable speaker cable solutions.
In the market of pre-terminated cables, the Meteora solution is dynamic and flexible and will support your home theater system during its inevitable evolutionary upgrades and changes. Simply select your termination preference, install, connect and you're done. If you're an Audiophile and get an itch to explore the magical sonic differences between spades and bananas we suggest therapy, or at least enrollment in a good 10-step self-help program to overcome your audio affliction. Alternatively you can spend hundreds of hours and invest significant money into setting up a controlled DBT (Double Blind Test) to affirm the lack of sonic differences. At least Impact Acoustics provides the easiest possible termination swapping we've seen to make this fruitless task a lot easier. Highly Recommended!
The Score Card
The scoring below is based on each piece of equipment doing the duty it is designed for. The numbers are weighed heavily with respect to the individual cost of each unit, thus giving a rating roughly equal to:
Performance × Price Factor/Value = Rating
Audioholics.com note: The ratings indicated below are based on subjective listening and objective testing of the product in question. The rating scale is based on performance/value ratio. If you notice better performing products in future reviews that have lower numbers in certain areas, be aware that the value factor is most likely the culprit. Other Audioholics reviewers may rate products solely based on performance, and each reviewer has his/her own system for ratings.
Audioholics Rating Scale
— Excellent
— Very Good
— Good
— Fair
— Poor
| Metric | Rating |
| --- | --- |
| Fit and Finish | |
| Ease of Setup | |
| Audio Performance | |
| Build Quality | |
| Performance | |
| Value | |