Rhino Labelers Overview & Features
Rhino has long been the serious user's choice in label creation for quite some time now. I say this for several reasons. One, the company has an extensive line of products that are specifically targeted for the professional and "pro-sumer" markets, and two, the Rhino brand is backed by labels that will work in a variety of applications and environments. From simple nylon tape that is available in white and yellow, to flexibly vinyl tape that is available in many colors, to permanent polyester that can handle outdoor use and rough surfaces, Dymo has paid attention to the needs of custom A/V installers, electricians and journeymen everywhere.
The Rhino 5200 and 6000 Label Printers

First and foremost, the Rhino line of printers has been around for quite some time. I first saw them advertised in a magazine about 5 years ago (coincidentally, that was about the time I stopped reading print magazines and switched to the Internet for most of my news and articles). What first struck me as enticing was the obvious attention to professional features that seemed to be taken for granted by manufacturers such as Brother - who seem to cater to the office crowd rather than people out in the field. Even the body of the Rhino labelers seemed a cut above what I was used to seeing. Fast forward to late last year and I was blown away when I saw the Rhino labelers at CEDIA. They had come out with their new 5200 and 6000 models (I was familiar with the 5000) and it looked like they had really stepped up the usability.

To give you an idea of the microevolution of the product, Dymo's Rhino 5000 labeler had a rubberized case that the labeler fit into like a wet suit. It was difficult to get on and off and it allowed dust and dirt to get trapped between the case and the machine. Furthermore, the case had to be removed in order to change out the batteries - for which the only option was to use the multitude of AAs (6) required to get the 5000 to work. So what did Dymo learn? For one, the rubberized overmold is now firmly attached to the tool. It's an excellent solution (not to mention elegant) and it both protects the tool, while keeping dirt away from the body of the labeler. The second big change was in the area of the button labels dealing with the label type. On the 5000 these buttons were small, in fact about 95% of all the buttons are the same size. On the 5200 and 6000 labelers, the machine separates the label types into larger buttons (called "Hot Keys") that sit in a prominent position at the top.
Rhino 6000
H. WRAP/V. WRAP
PPANEL
SELF-LAM/FLAG
FIXED
MODULE
TBLOCK
VERTICAL
BARCODE
SYMBOL
LIBRARY
Rhino 5200
WIRE/CABLE
MODULE/PANELS
FLAG/VERTICAL
LIBRARY/FIXED
BLOCKS
SYMBOL/GENERAL

Compare that to the Rhino 5000 whose small buttons simply addressed: WRAP, FIXED, PPANEL, TBLOCK and VERT (with a couple shift functions and some drill-down options as well. The new label makers make it easier (less buttons, less effort) to get where you need to go. The new label printers also ask you the label width up front, and adjust automatically to get you a consistent and workable size for each label you print. Gone are the frustrating errors that the 5000 would give you when the font size you selected wouldn't fit. The 5200 and 6000 just make it work - and THAT is the kind of intelligent functionality you want in a label printer. Both label printers also come with an inventory of over 250 industry terms and symbols which can be brought into and used on any label quickly. For customization and repeatability (we're all creatures of habit after all), you can store over 1000 custom labels for later recall and tweaking.


RHINO 5200
SKU: S0841460

RHINO 6000
SKU: S0773780

Backlit display:
Y
Y
Cutter:
manual
Power-assisted
Intuitive Graphical Interface:
Create, edit and preview multiple
labels on a backlit LCD
Create, edit and preview multiple
labels on a backlit LCD.
Rechargeable Battery:
Li-Ion
Li-lon
Memory:
99 memory locations
1000 + labels with logos and symbols (1 MB)
PC / MAC connectable:
N/A
via USB
Font size:
XXS / XS / S / M / L / XL / XXL
Big / Auto
XXS / XS / S / M / L / XL / XXL / Big / Autom
Max. lines of print:
5
5
Printing Process:
Thermal transfer
Thermal transfer
Tapes
Tape width (mm):
6 mm / 9 mm / 12 mm / 19 mm
6 mm / 9 mm / 12 mm / 19 mm / 24 mm
Type:
RHINO tapes
RHINO tapes
110 BLOCK:
Y
N/A
BARCODE Hot Key:
2 barcodes: Code 39, code 128
6 Barcodes: Code 39, Code 128,
UPC A, UPC E, EAN 8, EAN 13
ELECTRICAL PANEL:
Y
N/A
FIXED Hot Key:
Y
Y
FLAG Hot Key:
N/A
Y
H. WRAP Hot Key:
Y
Y
HOT KEYS:
Y
N/A
LIBRARY Hot Key:
Customize your own library of terms
Over 250 pre-programmed terms.
Customize your own library of termis.
MODULE Hot Key:
Y
Y
PPANEL Hot Key:
Y
Y
REVERSED PATCH PANEL:
N/A
N/A
SELFLAM:
N/A
N/A
Serialisation:
Simple / Advanced
Simple / Advanced
SYMBOL Hot Key:
Over 100 industry symbols. Categorized.
Over 100 industry symbols. Categorized.
TBLOCK Hot Key:
N/A
Y
V WRAP Hot Key:
Y
Y
VERTICAL Hot Key:
Y
Y
With the Rhino 5200 and 6000 you get a label printer that offers excellent portability with a host of available features. It is fully certified by the organizations that matter, meeting all ANSI and TIA/EIA-606-A labeling standards. While it runs on 6 AA batteries, you can also pick up an optional, rechargeable lithium-ion battery or just pick up the hard case kit that includes it. For anyone intending on using this on the road or for extended periods of time, the lithium-ion upgrade is essentially (it recharges in roughly 30-45 minutes, so it's very convenient and we don't recommend the need for a second battery unless you are labeling all day long and desire no downtime). Both printers also have a convenient 3-bar battery-life indicator right on the LCD display and an auto-shutoff feature makes sure you don't waste the battery life, regardless of how it's powered.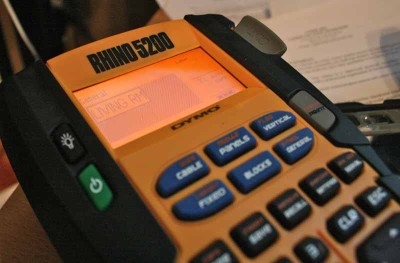 If the 5200 wins the "best update of the year" award, the Rhino 6000 has to receive an even bigger honor for introducing the construction, electrical, and custom install industry to the concept of two-way communication and PC-software enhancements. The Rhino 6000 is the company's first printer to facilitate this type of connectivity. But that's not all - not only does the printer allow you to download labels from your PC with their Windows-based Rhino Connect software (sorry, no Mac version as of yet), it also empowers you to create and edit labels immediately at the job site. And the communication is two-way, so any changes you make on-site can be transmitted back to your computer to update the database of labels in your arsenal.
jberger posts on April 04, 2011 09:05
I've had poor results from a couple of different Rhino label makers and switched in Brother instead.

A couple of years ago I purchased both the Rhino 6000 and 6500 units for everyday field use. The ability to use a 1" label was the deciding factor in the purchase. Both of these units had rechargeable batteries, software, etc and were the top of the line units. Both have suffered the same issues and after talking to other users of the same models, the problems seem to appear across the line.

One issue is the cartridges, I use the flex nylon exclusively since it's designed for cable wrap applications. I've had dozens of the 1" nylon cartridges refuse to dispense the first foot to 18" of label. They need help getting started and will not self feed.

The cartridge itself only holds 18 ft, so you are throwing away quite a bit of tape from a brand new roll. Remember this is about a $30 cartridge and you just threw away a chunk of it.

Even if you manage to get a cartridge that feeds correctly, odds are that the black transfer tape is going to get caught in the cutter assembly and be cut with the label. This cut prevents the transfer ribbon from being wound back into the cartridge as it's used, so you end up with short, statically charged ribbon pieces which end up all over the place during a label session, if it doesn't get caught around the outfeed roller instead. . .

Imagine the sticky tenacity of packaging peanuts as small slices of plastic ribbon and you'll have a good idea of how long it will take to clean up.

Both the 6000 and 6500 have difficulty maintaining the print contrast on flex nylon 1" labels. The starting 1/3 of a cartridge will be printed very lightly on most units, even manually adjusting for contrast rarely fixes the issue. The resulting light print is difficult to read and suitable only for temp labels.

Cutter Errors,
These are the bane of the my issues with the Rhino's. Constant cutter errors which prevent the devices from printing. Even if you disable autocut, you still can't print because the machine thinks there is an error. Careful examination usually shows no error at all, but good luck convincing the unit to clear the error and return the printing. Leaving the battery out overnight might clear the error if you are lucky.

Even when the cutter is working correctly, Flex Nylon is rarely cut 100%, leaving a small thread of label which must be trimmed up with scissors or it will curl around the outfeed roller and jam the unit.

I've attempted to work through these issues with tech support, to no avail. They just don't care.

I'm in the process of changing over to the Brother models and so far it's been an improvement. The cartridges themselves retail for about the same price, but the Brother units include almost 2 times the label (30ft?) in place of the 18ft of a typical Rhino cartridge. No issues with the print contrast so far and the DPI appears to be higher on the Brother with a much better print quality, especially if you use graphics.

I think the design of the rhino units is nice but everyday use has brought up a number of issues which are show stoppers if you need something that works everyday.
Rickster71 posts on March 31, 2011 08:29
Masking tape won't fly on a million dollar commercial / industrial job.
I use one of these (not that exact model) It's older, I think it's the 5000.
It works well; it sure beats writing on motor controls or panel doors with a sharpie.
On lower end printers the heat activated ink is built into the label, so it can be smeared after installation by heat or pressure.
Just keep extra batteries and consumables handy. I ended up getting the ac adapter, the batteries don't last when it's really cold and it's been out in the truck.
The EZ Code wire marker books by Thomas & Betts work nice for some applications:
http://www.tnb.com/ps/endeca/index.cgi?a=nav&N=571+4294952250&Ntt=
[tnb.com]
Writing on pieces of NM sheath and sliding it over the hot works well when first tying in a panel;
if
you're using Romex.
WaynePflughaupt posts on March 30, 2011 18:33

Noooo, no masking tape! That stuff doesn't stick long term, and leaves a gooey mess when you take it off (or it falls off)! Ugh! I use white 3M Scotch 35 electrical tape. You can get it at Lowes hardware stores. It's not cheap, about $3+ a roll, but it sticks very well and leaves minimal residue if you remove it. I have cables that's had it on for over 10 years. The only issue I've seen with it is that the Sharpie writing fades over time.

Regards,
Wayne A. Pflughaupt




kevon27 posts on March 30, 2011 08:43
You know a sharpe and some masking tape would work just fine...