CITS - Build Quality Components
Solid. That was my first impression of the CITS system as it arrived at my doorstep. The cases are built like little tanks. They are easy to maneuver, thanks to the roller wheels and ample handles which surround the case, but they feel as if you could throw them off a 2-story building onto concrete and they'd survive with only a few scratches. (Oh yeah, I really wanted to try that, but I wasn't willing to risk someone else's property just to satisfy my curiosity.) You can't really get a feel for how robust the kits are until you wheel them around and open them up.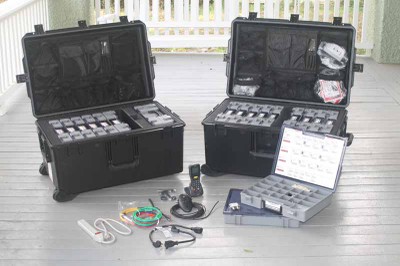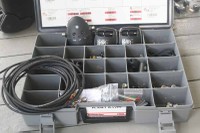 Each kit locks up tight with 5 latches which have a center release button and flip open easily to reveal the contents of each case. The two cases are filled with a total of 17 organizers. Ours included an extra double-width organizer which was empty, while the typical standard system carries a single layer empty organizer. Each organizer holds various parts, the contents of which are summarized on the front with a custom sticker and also internally by barcode, part number, and photo. Each organizer's label also includes the name of the custom installer, so they won't easily get jumbled up or switched when multiple installers are on-site.
The first case contained 10 organizers and was broken down into: data cables, D-sub & fuses, electrical, infra-red & batteries, labeling tape & zip ties, port plates & inserts, signal distribution & splitters, test & repair, wire connectors & wall plates. The second contained: audio & phone solder terminations, bolts/lags & fasteners, screws & anchors, F/BNC/RCA ends & adapters, video cables, audio cables, and (for us) Planet Waves components. The Standard CITS typically comes with FConn compression connectors and not with the Planet Waves product. We've reviewed the Planet Waves products and found them to be incredibly easy to use.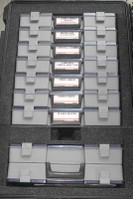 The Standard CITS kit comes with a healthy assortment of starter parts
I found the Standard kit to have an abundance of parts which spanned the entire realm of audio, video, electrical, networking, and cable installation areas. If there was an initial downside it was only that there was simply not enough of each part in some areas. Those custom installers who know their business well will simply order an abundance of necessary components and keep those on hand, in bulk, in the work van. CIS will also allow you to customize the initial contents of the CITS system, so the kits can carry adequate quantities for each installer's expected job duties. In my case I almost never touched any of the networking or power products, but spent most of the time in the audio and video connector, inserts and wall-plate organizers.
Now, if you want to scan, track and report non-Custom Install Supply (CIS) barcodes, you can do so, but with a few limitations that CIS hopes to have resolved by CEDIA. Currently, the CITS scanners will read just about any barcode out there. The limitations are that currently any CITS customers that are scanning non-Custom Install Supply parts usually enter additional information in the scanner before the part is scanned. If they don't do this than the only information that will be passed through is the barcode number itself. What this means is that if, for example, you scan a barcode for a Xantech IR receiver, you would still enter in the Quantity and Job, but would also need to add a quick description in the comments field. Then all of this information is passed through to the site and with a couple of button clicks can be exported to a CSV file or printed to an excel spreadsheet. For most companies in our industry this replaces the guys in the field having to hand write the information, so even with the extra step of adding a quick description it is still a better solution. The scanner, of course, makes entry of data like this more of an exercise in "texting", so your mileage will vary.
Currently when the scanner data is uploaded to the CIS website it separates the parts that it recognizes as CIS parts and puts them in the Restock list for easy reordering. Then when a user goes to the Reports section they can view and report on all parts scanned. In September, at the 2008 CEDIA Expo, CIS plans to introduce a feature to their website that will allow clients to upload their entire parts list to a database that will then allow for all scanned parts to be recognized based on the information that they provide. The nice thing about this new feature is that they will also have the ability to input their sell price into that table so that it will appear with the rest of the information. If that isn't flexible then I'm not sure what is - especially considering that CIS is, after all, first and foremost a parts distributor. That's why they're so darn good at this in the first place.
Where non-CIS inventory becomes more important is with parts that you'll use often, but which may not be purchased through CIS - namely commonly-used AV manufacturer-specific parts (think Lutron,) Of course, those with local access to a cable distributor will also likely bypass shipping fees and delays for large spools of cables. Shipping bulk AV and network cables is best avoided if you have a local alternative with competitive pricing.
See also:
Haoleb posts on August 07, 2008 20:58
This definetly would have been a nice kit to have with me when I was out doing installs. I could only plan so far ahead, Most times I had not been to the job myself before hand so I wouldnt know what all i would need, and of course I did not have an entire stock of everything you can imagine with me. Lot of times Ive had to make runs to home depot or go back another day because of not having what I needed.