Accell AVGrip Pro Locking HDMI Cable Preview
Summary
Product Name: AVGrip Pro Locking HDMI Cable
Manufacturer: Accell
Review Date: September 08, 2011 05:57
MSRP: $14.99
First Impression:

Pretty Cool

Specifications

Supports 1080p, 4k and 3D

Throughput up to 10.2 Gbps (340MHz)

Supports Deep Color and x.v.Color

Passes DTS-HD or Dolby True-HD HD

Locking connectors

Executive Overview
Accell is a cable and A/V switching company that bombards us with every new thing that the company puts out - and they put out a lot of products. This week, the company got our attention with a new type of HDMI cable designed to prevent the cables from falling out - a common issue with HDMI, particularly with heavier gauge cables. We've looked at locking HDMI cables before - and they really make sense. The new cable is called the AVGrip Pro Locking High Speed HDMI Cable. It's available in nearly any length imaginable - provided your imagination stops at 3 feet. While it's particularly suited for rack mount installations, the 3-foot limitation leaves us wanting more... more options.
Accell's new AVGrip Pro Locking High Speed HDMI Cable is ATC certified, unlike many locking-HDMI solutions that use different form factors and other methods which aren't approved by HDMI Licensing. And Accell's cables are typically pretty decent, featuring 100% foil shields and a high-density metal braid to reject em (electromagnetic) and RF (radio frequency) interference. And the jackets are slick too - literally. Dubbed "UltraFlex" they provide protection and are also easy to pull. Of course, since they only cmoe in 3-foot lengths, you won't be pulling them too far. Accell also sells these in 1-foot lengths, making them perfect for interconnecting gear in equipment racks - for which these cables are specifically designed (Accell makes longer HDMI cables in other form factors for those of us who need distance.)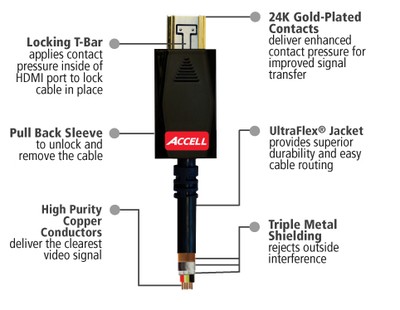 Accell's AVGrip Pro Locking High Speed HDMI Cable has an MSRP of $14.99 each and will also be available in a value package of six cables for $79.99.
For more information please visit http://www.accellcables.com.
See also:
mtrycrafts posts on September 09, 2011 22:03
admin;829526
..., the 1-foot limitation leaves us wanting more... more length options.
...
.
Yes, but the write up states 3 ft. Which is it, 1 or 3?
Or, was that suppesed to be 1 meter
its phillip posts on September 08, 2011 09:03
Yeah, I would assume 1m/3ft as the correct length (which is too short for most people).
smurphy522 posts on September 08, 2011 08:44
Well I'm sure it's just a clerical error but on the home page of Audioholics the listed length is 1 foot and when you read the article from its own page the length is listed as 3 foot.

I can't imagine a 1 foot HDMI cable being of much use so I'll assume it's 3 foot.