7/1250A Setup, Listening Tests and Conclusion
Inputs and Outputs
The backpanel of the Sherbourn 7/1250A is pretty standard of multi-channel amplifiers in this price class. I would have preferred to have seen WBT 5-way binding posts rather than the typical red/black generic lugs. The reason I prefer WBT is they seem to make a better fit with various types of banana plugs and, should you choose to utilize bare speaker wire, the holes in each of the speaker connector shafts can be situated so that all cables will be vertically-oriented – a nice touch, resulting in a cleaner cable assembly.
The 7/1250A allows for both balanced XLR and unbalanced RCA input signals, so if you have a high-end processor with balanced XLR outputs you can maximize your potential. A 12V trigger connection for the amplifier is provided via two wire connection with options for On (always on), Music (triggers on line level input), or 12V (triggers on DC trigger from preamp or power center). The power cord is a 3-way detachable.
Set Up
Set up for this amp was a breeze. The 7/1250A is reasonably compact enough so that it can be carried in one arm with little difficulty, and the amplifier fits into a standard 19"rack. Quick, simple set-up was accomplished by making all of my balanced line level connections, speaker level connections, setting the trigger to "music" and finally plugging the power cord in. Voila, the soothing blue front panel lights came on immediately after I fired up a CD. For those who wish to maintain a low profile, Sherbourn provisions a front panel button to disable the LED display.
Listening Tests
Judging the sonics of an amplifier can be a difficult task. Some believe all amplifiers sound the same, still others believe that amplifiers should have distinct sound characteristics. Both views have merit if you lay down some basic boundaries on which to judge the amplifiers. I have always been of the viewpoint that all well designed amplifiers are very difficult to discern sonic differences, provided that they are operated in their linear operating region.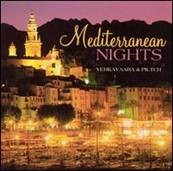 I began my review with some familiar tunes from a CD I picked up in Canada visiting Axiom Audio called "Mediterranean Nights" by Vehkavaara & Piltch. I spent a lot of good listening time on another amplifier we currently have under review, the Emotiva MPS-1. However, when I switched over to the Sherbourn 7/1250A I immediately noticed about a 3dB raise in SPL for the same given volume level, thus I had to recalibrate my channel trims to match subwoofer levels before proceeding. I did note a slightly elevated noise floor when compared to the Emotiva amp, but it was barely noticeable at the listening position. However, I do caution users of highly efficient speakers (>92dB SPL @ 1 meter), in close proximity to the listening position (4 to 6 feet) that this may become an audible concern especially during quite music or movie passages.
I continued on with my listening evaluation taking note of how dynamic and punchy the Sherbourn amp sounded. However,I did feel the sound was more sterile or analytical on this amp when compared to the Emotiva. I also felt the 7/1250A had a more forward (in your face) sound character to it and again advise users of aggressive/bright sounding speakers to perhaps look into other options. Overall, the 7/2150A did a commendable job with music, but it would have better mated with a more laid back sounding speaker than my reference speakers. The RBH Sound T-System is a very dynamic and revealing speaker system that can sound aggressive when mated with certain electronics. I discovered this amp was a better compliment to a pair of Von Schweikert VR-1s I had in house from a previous review. My advice is to demo this amp in your own setting before fully committing to it.
Moving on to next stage of review, the cinema, I engaged Star Trek Nemesis for two reasons: 1- it has some cool sounding battle scenes, 2 – I am a closet Trekkie J The 7/1250A had no problems driving my system to theatrical levels without breaking a sweat. After about an hour of watching the Enterprise get pounded by the Reman Schimitar, I brushed my hand across the 7/1250A and found it to be only warm to the touch. With moderate ventilation, this amp ran cool driving all 4 ohm speakers in a 3,000+ cubic foot room flawlessly. My overall enjoyment of this film was unadulterated using this amp. If your main focus is home theater, the Sherbourn 7/1250A will not be a disappointment.
Conclusion
The Sherbourn 7/1250A proved to be a competent performer. Reasonably lightweight in design in a manageably sized package is certainly a highlight when considering a seven channel amplifier. Though I found the 7/1250A was a bit finicky about what speakers it liked to drive for critical music listening, it did an admirable job with home theater and it had plenty of power reserves to achieve theatrical levels not requiring any special cooling or ventilation to keep it running cool. I missed the LDS feature previously found on the 7/2100A which was useful for detecting system shorts or mis-wirings, but in the advent of today's processors and receivers with auto setup, it likely won't be an issue.
This amplifier has enough voltage gain (I measured about 30dB) and high enough input impedance (40kohms) for any moderately priced receiver to drive without issues. My preference would have been for about 2dB or so less gain, or at least an adjustable global setting to lower the noise floor slightly but this is more of a nitpick than a strike against the design. THX gain structure actually recommends 29dB of gain, so the 7/1250A falls right in line.
The 7/1250A is a dynamic, cool running amplifier that exceeds its power rating and will have no issues fitting in standard racks or home entertainment centers. Sherbourn's proven product reliability, and conservative rating methods, is only equaled by their excellent customer service and dealer support. If you are looking for an amplifier upgrade for your existing A/V receiver, or simply wishing to upgrade your system to seven channel surround, you should check out this amplifier to determine if it's right for you.
The Score Card
The scoring below is based on each piece of equipment doing the duty it is designed for. The numbers are weighed heavily with respect to the individual cost of each unit, thus giving a rating roughly equal to:
Performance × Price Factor/Value = Rating
Audioholics.com note: The ratings indicated below are based on subjective listening and objective testing of the product in question. The rating scale is based on performance/value ratio. If you notice better performing products in future reviews that have lower numbers in certain areas, be aware that the value factor is most likely the culprit. Other Audioholics reviewers may rate products solely based on performance, and each reviewer has his/her own system for ratings.
Audioholics Rating Scale
— Excellent
— Very Good
— Good
— Fair
— Poor
| Metric | Rating |
| --- | --- |
| Frequency Response Linearity | |
| SNR | |
| Output Impedance | |
| Measured Power (8-ohms) | |
| Measured Power (4-ohms) | |
| Multi-channel Audio Performance | |
| Two-channel Audio Performance | |
| Build Quality | |
| Fit and Finish | |
| Ergonomics & Usability | |
| Features | |
| Performance | |
| Value | |