7/1250A Overview and Build Quality
It seems apparent these days that home theater has pushed beyond the boundaries of "excessive" as evident by the almost endless options of surround processing, video formats, and the number of channels present in a typical home theater system. This has caused manufacturers to be smarter ergonomically by squeezing out every last option and feature into the smallest footprint possible while keeping the price within the boundaries of most consumers. Sherbourn is no stranger to this design concept, as we learned when reviewing their venerable 5/1500A and 7/2100A multi-channel amplifiers. Their previous amps were true mono block designs with completely independent power supplies for each channel. Unfortunately these amps weighed over 100lbs, making installations a bit of a challenge and transportation even more so. In order to get the size, weight and price down, Sherbourn designed a slightly less powerful version of its big brother 7/2100A, but with dual power supplies to feed all of the seven channels. As you will see later in the measurements section of this review, there are advantages to this design approach in addition to the obvious space and cost savings.
Build Quality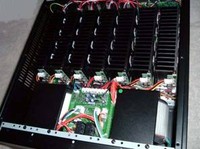 Open up the 7/1250A amp and you'll be greeted with a densely-packed assembly of solid state technology. The first thing that should catch your eye are the dual 1kVA toroidal transformers and row of aluminum tapered heatsinks. Upon first glance I couldn't find the power supply capacitors and for a brief moment pondered if Sherbourn defied the laws of physics. Upon closer inspection, I found the 80V, 6800uF capacitors neatly tucked just below each row of heatsinks . You won't be able to get a good look at them due to their location within the enclosure, so take my word on it. The 7/1250A also employs 28 power transistor output devices. 14 are configured as PNP and 14 as NPN making a push-pull class AB amplifier design.
Editorial Note: Details on Sherbourn Amplifier Design


Four high current complementary output power BJTs per channel – paralleling multiple BJTs is a good method of ensuring amplifier output impedance is low enough to deliver high current while driving low impedance loads
Multiple high voltage (80V) capacitors (2 x 6,800uF = 13,600uF per channel). In order to do 125wpc a minimum recommended cap voltage of sqrt(2)*31.6 + 5 = 50V should be used. Using 80V gives them plenty of design margin and added headroom since the rails are set for +/60V.
Dual 900VA transformers ensures this amp can utilize the full rated power from the wall outlet (120V,15A) if called upon.